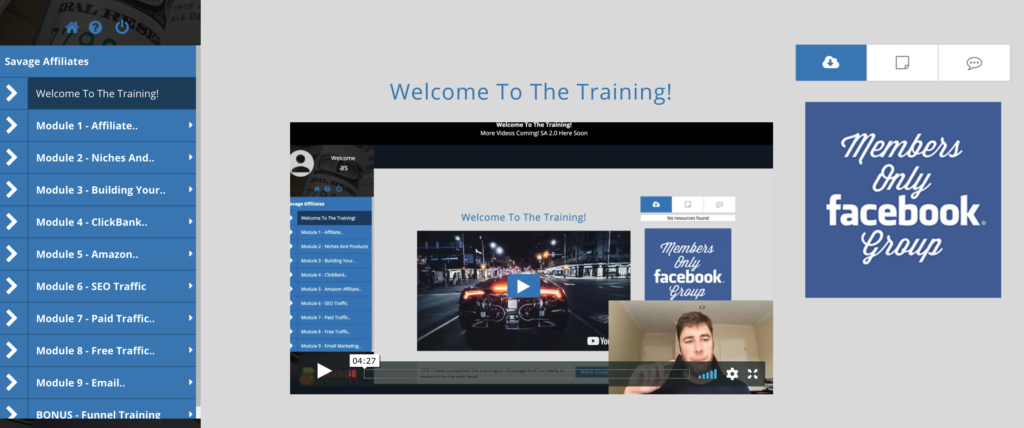 This post may contain affiliate links. Read the disclosure for more info!
I first know about Franklin Hatchett was from his YouTube channel. He shows tips and tricks of making money online. After digging deeper, I later found his affiliate marketing training called Savage Affiliates. Is Savage Affiliates a legit training program? Here is my Savage Affiliates review.
Savage Affiliates covers most, if not all, lessons that newbie affiliate marketers need. It also includes advanced strategies to help you achieve success in affiliate marketing. It is not perfect, but one of the very few legit training courses that deserved recommendations.
At a glance
---
---
Things to consider before purchasing Savage Affiliates
---
While Frank did his best to teach you about affiliate marketing in the course, it does require a lot of effort at your side to make it work. The course provides you a blueprint, you need to execute it. This takes time and effort.
This course focuses on Affiliate Marketing. You might find Frank because of his well-known Dropshipping training. In case you were after Dropshipping training, check out his eCom Elites instead.
Pick one method and stick to it.
Throughout the course, Franklin tries to explain all types of platform and methods he has been using. Some are recommended for newbies, while others are for more advanced students. It could be overwhelming at times. Especially for newbies. As recommended by Franklin, pick one platform or method and work on it. Do not try to do too much stuff at once.
Now, let's continue to find out more about Savage Affiliates.
Behind Savage Affiliates – Who is Franklin Hatchett
---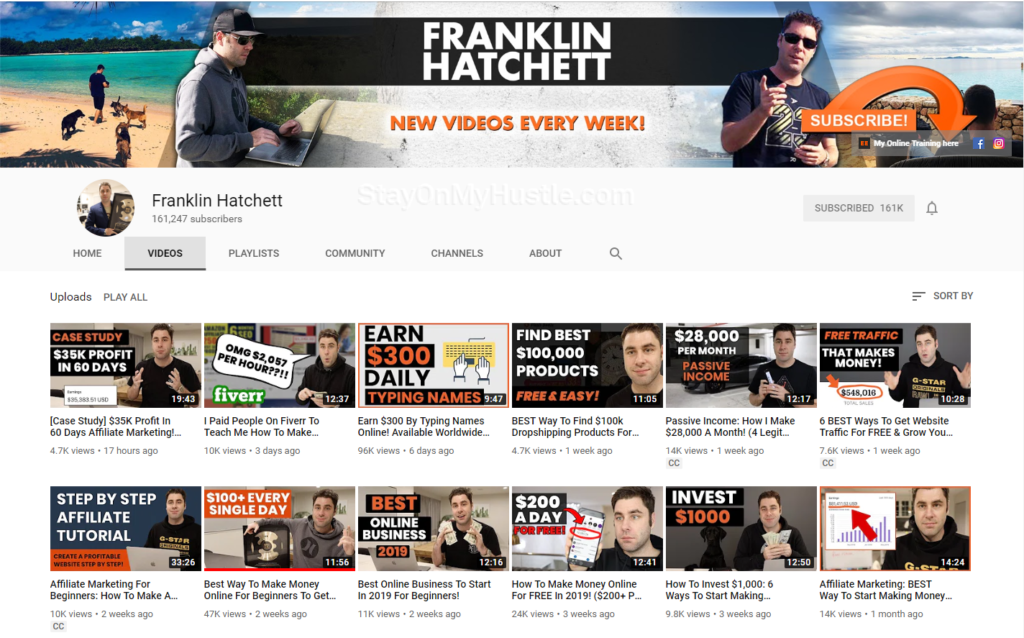 Franklin Hatchett is a well-known internet marketer. He was best known for his dropshipping training eCom Elites, and premium Shopify theme Ecom Turbo.
If you haven't, you should check out his popular YouTube channel where he posts a series of Dropshipping and affiliate marketing tutorials. There are new videos posted every week.
I think it is important to mention that Frank is a successful internet marketer. He has been making money from Affiliate Marketing for years. To me, this gives him the credential to teach affiliate marketing. You want to learn from someone who makes money from doing affiliate marketing, not from selling courses.
What's inside Savage Affiliates? The key features of Savage Affiliates
---
There are 9 modules in Savage Affiliate training course. Each module targets on a specific topic. I will give a quick walkthrough of the modules and discuss the key takeaways.
Module 1: Affiliate Introduction
This is the introduction of the course and Affiliate Marketing in general. There are several videos in this module. Franklin starts with the explanation of what affiliate marketing is and the reasons he likes it.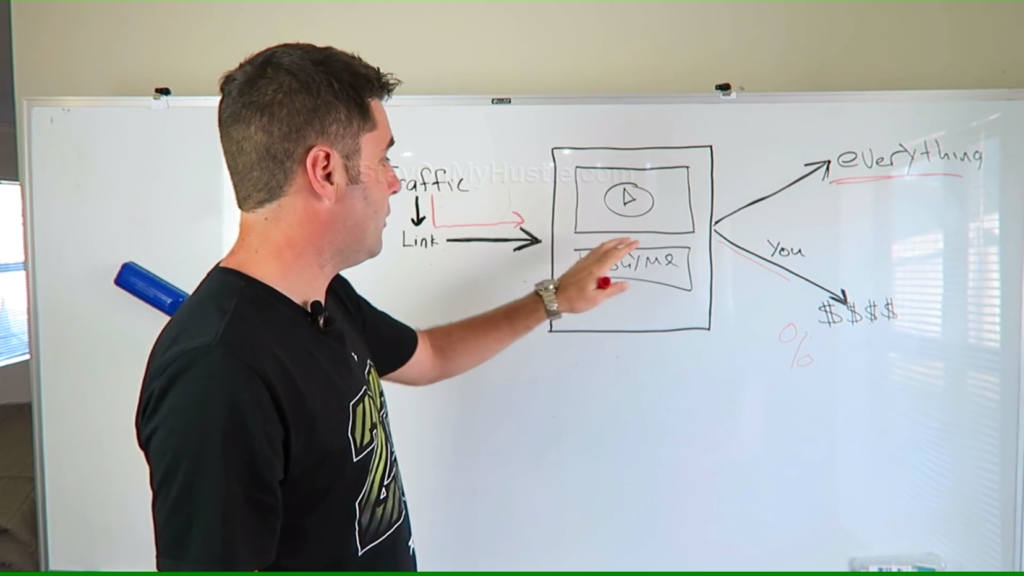 Next, he shows his results (his income) from different platforms. In a way, he is showing you what he has achieved and what you can achieve in the affiliate marketing business.
Another part of the module is the introduction of free and paid traffics and the discussion of the pros and cons of them. This should give you a little background for the full SEO module later.
The last part of the module is the legal stuff such as affiliate disclaimers and privacy policy etc. This is important and often being left out by most of us.
Key Takeaway: This module sets the expectation of the whole training, and gives you the foundational background to move on to the rest of the modules.
Module 2: Niches and Products
This module is about how to choose your niche and where to find products or offers for your niche. There are 12 videos in the module.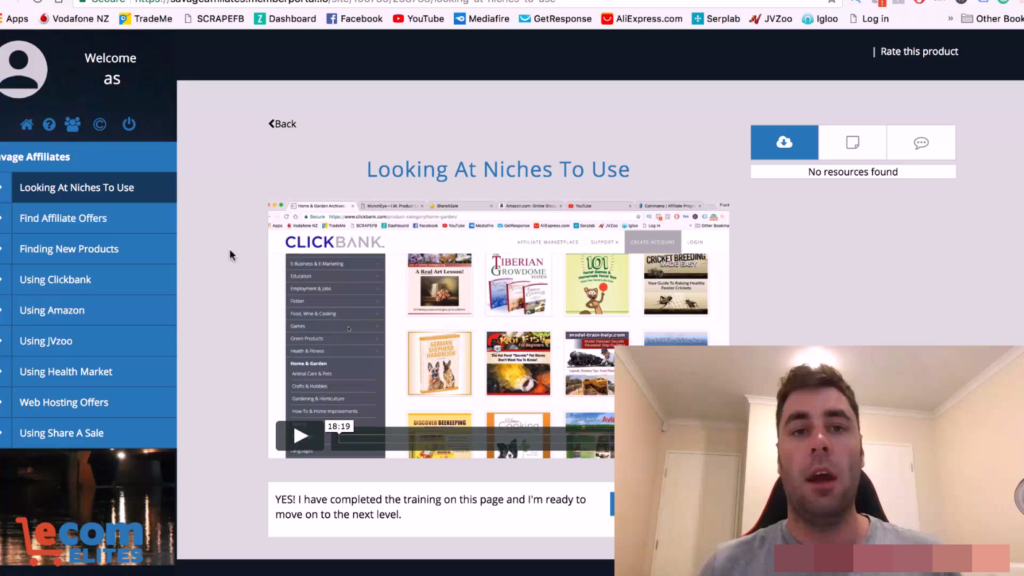 At the beginning of the module, Franklin explains things you need to consider when choosing a niche and selecting offers or products to promote. He also explains what types of blog posts or videos you can make to promote your affiliate products or offers.
There are two separate videos to teach you how to find affiliate offers and products.
The latter part of the module, Franklin goes on to explore some popular affiliate networks. And he creates separate videos for each of them to show you how to use these networks to make money.
Networks covered in this module include:
Clickbank
Amazon
JVzoo
Health Market
Web Hosting Offers
Share A Sale
CPA Networks
Key Takeaway: Franklin tries his best to explain each affiliate marketing network, each of them has its merit. It is important to focus on ONE when starting. Don't get overwhelmed by all the shiny objects.
Module 3: Building Your Assets – Your Website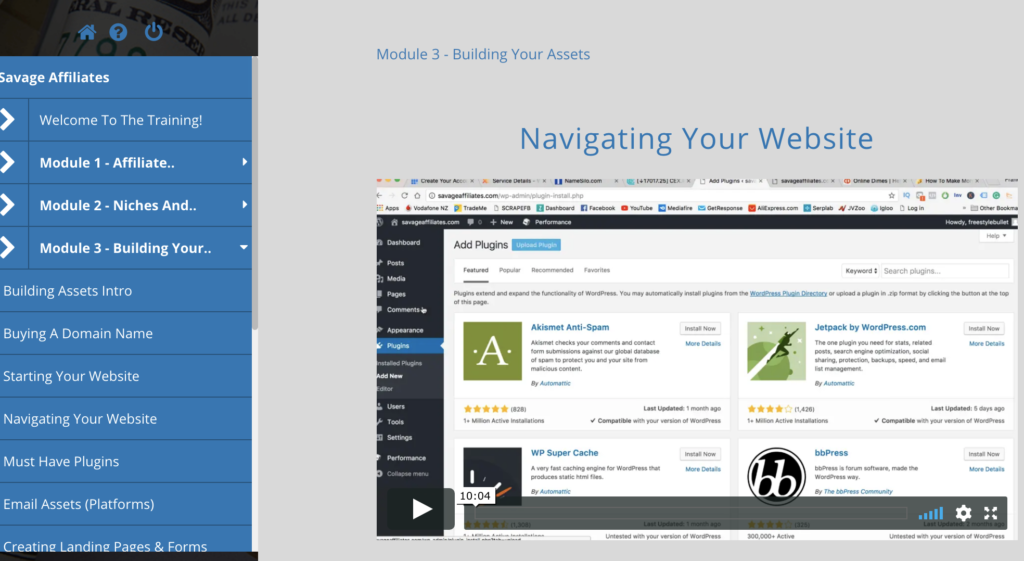 Your website is one of the most important assets of your online business. This module is about the technical setup of your website. It is designed to cater to the need of newbie marketers.
There are 9 videos in module 3. The first half of them talk about Domain registration, setting up web hosting account, WordPress installation, menu configurations, and some plugins recommendations. Pretty basic stuff, but essential for newbies.
The 2nd half of the videos talk about Email Assets, Landing Pages, Facebook Chat Assets and social media platforms.
Franklin explains the importance of Email Marketing and Landing Page design. He then goes on to show you the tools that he uses.
The module is wrapped with the introduction of Facebook Chat Bots and the power of social media.
Key Takeaway: An important module for newbies. Not so much for an experienced blogger as it focused on the technical side of website setting.
Module 4: ClickBank Affiliate Marketing
This is one of the biggest modules with 27 videos. This module is so rich that it can be sold as a mini training course by itself.
Though the module covers ClickBank specifically, a lot of the lessons learned in this module can be applied elsewhere.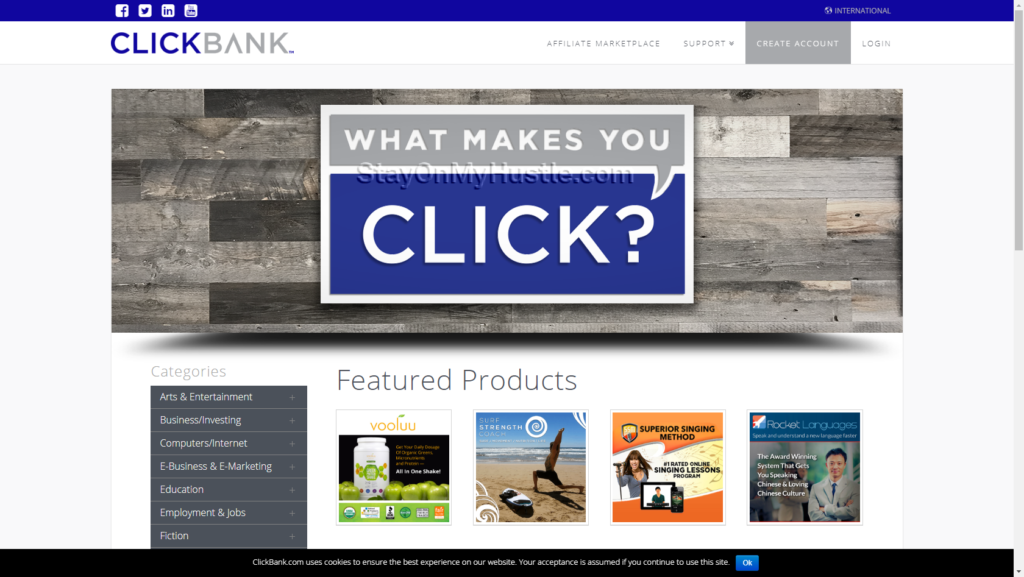 Here are some topics covered in this module:
ClickBank setup, and some important facts about ClickBank
Finding Keywords
The 1 vs 1 review method
The single product review method
Paid Google traffic and Landing Page
Building A Simple Funnel
Franklin covers most of the tips that you need to build a ClickBank affiliate website. He also teaches effective techniques such as different type reviews that you can use to promote the product of your choice.
Key Takeaway: ClickBank is one of the most popular affiliate networks. The key concept is to find a suitable product on ClickBank that you can promote. Using different techniques to draw traffic to your site, and convert them into customers.
Module 5: Amazon Affiliate Marketing
This module focuses on another popular platform, the Amazon Affiliate. There are 20 videos in this module. Just like the ClickBank module, Franklin provides you all the details and strategies possible to make money with Amazon.
In this module, Franklin shows you the drill to set up a proper Amazon affiliate website. From Amazon niche research, buyer intent keyword research, choosing ideal Amazon product, to structuring your Amazon website, there is a video for each of these topics.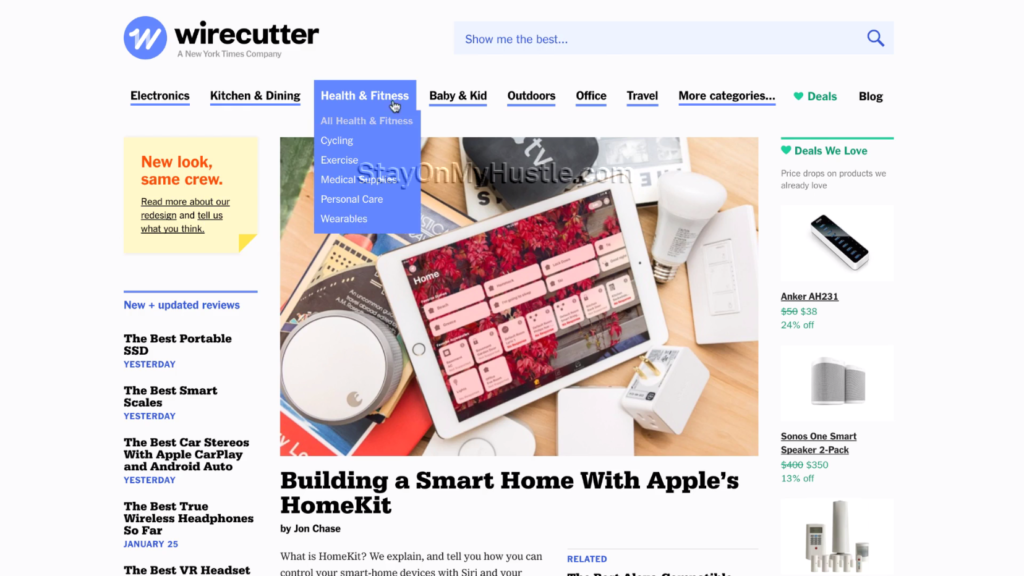 Franklin uses a few actual Amazon affiliate sites in the module. One of them was sold for $30 million. These examples are inspiring.
Key Takeaway: This module is comprehensive. For those who are keen on getting started with Amazon Affiliate Marketing, you will find this module very helpful.
Module 6: SEO Traffic
This is one of the most important modules. Traffic is all that matters for an online business. With all the hard work in building up your website, you need the traffic to make sales.
There are 29 videos in this module dedicated to Search Engine Optimization. This is like another mini-course of SEO by itself. Franklin covers everything from On-page SEO and structuring your website correctly to link building strategies.
Some link building videos include topics like blog comments, Quora backlinks, PBN Links and Franklin's secret links.
Besides, there are videos teaching you how to set up Google Webmaster tool (now called Google Search Console), Google Analytics and tracking keyword movements.
Key Takeaway: This is a power-packed SEO mini-course within an affiliate marketing training. I am impressed by the details Franklin provided in this module.
Module 7: Paid Traffic Training
If you have the budget and prefer instant gratification, paid traffic is likely your cup of tea. Franklin has years of experience in paid traffic, particularly from his dropshipping business.
In this module, Franklin focuses on 3 main paid traffic sources:
Facebook Ads, Google Adwords, and Solo Ads.
A big portion of this module focuses on Facebook ads. This is probably due to his experience. Franklin covers important topics such as funnels, eBook cover creation, Pixel set up, and campaign management, etc. You will learn everything you need to use Facebook ads effectively.
Solo Ads could be a costly experience if you don't know what you are doing. Franklin does a good job to teach you how to find suitable sellers to achieve the best result.
In the last section of the module, Franklin focuses on Google Ads. He teaches you how to set up a Google Ads campaign, explains Maximum Bid of Google Ads, keyword targeting, tracking and choosing audiences, and finally, how to scale your ads.
Key Takeaway: Paid traffic should not be ignored, it does work. Although it is not the best path for newbie marketers, it is important to have the knowledge and skills in your toolbox for future expansion of your online business.
Module 8: Free Traffic Training
This module is different from the SEO module. It is about gaining traffic to your site from sources other than search engines, for example, forums, YouTube, social accounts and blog comments.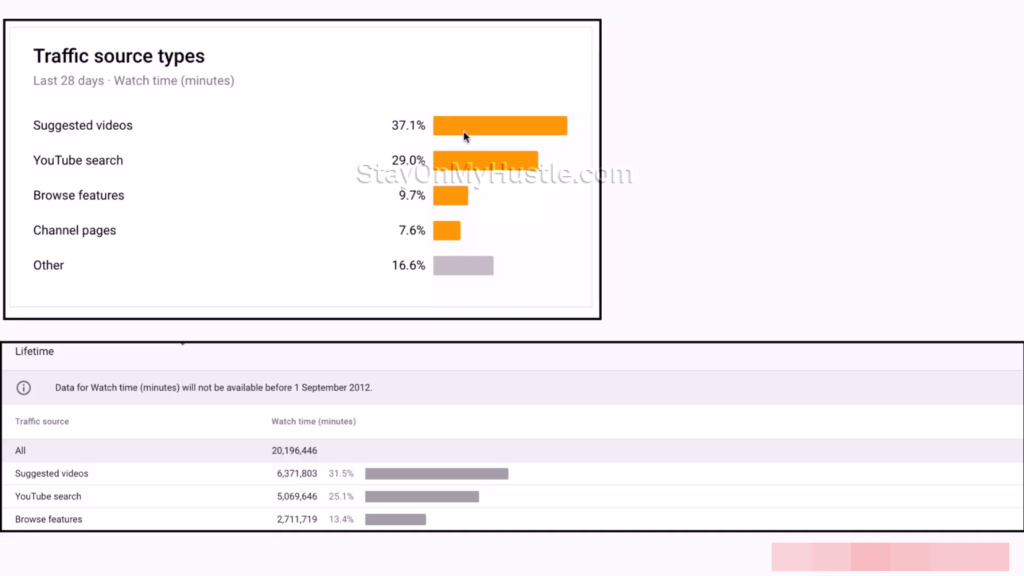 The big portion of this module is about gaining traffic from YouTube. This is where Franklin achieve success for himself. There are 10 videos to teach you details from set up of a YouTube channel, choosing the best YouTube keyword, to ranking your videos.
Key Takeaway: Free traffic is a great way to start your affiliate marketing venture. The only catch is, it takes time and a lot of work. So, be very patient when implementing a strategy to gain free traffic.
Module 9: Email Marketing Training
This is the last module of the training. I guess, it is positioned at the end is because you need to have traffic to your website first before you can implement email marketing.
In this module, Franklin teaches you how to start, optimize, and automate your email campaign as well as newsletters by using an autoresponder. He also discusses methods to improve your email open rates.
At the end of the module, Franklin goes on to discuss Clickfunnels, which is a little odd, as it is more on the commerce side.
Key Takeaway: Money is on the list. It is as simple as that. This module is only useful after you have gain traction to your site. However, it is a must-do as part of your affiliate marketing business.
How much does Savage Affiliates cost?
---
Savage Affiliates cost a one-time fee $197.
At the time of writing (July 2019), Franklin is working on the updated version of Savage Affiliates, which is expected to be launched soon.
The training offers a money-back guarantee. Though I did not try the refund request, it is good to see this option is available. You have 30 days to go through the course, if you are not 100% satisfied, you can request for a full refund.
Pros and Cons
---
Pros
Low price for a training program with good quality
30-day money-back guarantee
Modules are detailed and easy to follow
The instructor knows his stuff and uses real-life examples to teach
Cons
No support community ( the Facebook group is limited time offer)
No live chat support, only Facebook message
All videos, no written material for quick reference
Final Thoughts
---
In short, Savage Affiliates is a training program with very good quality. It covers a lot of topics in details. It does not come with community support.
I have a different opinion about the community thing, it could be very useful at times, but it could also be time-wasting. But that's just my take.
The Facebook group could be messy and filled with beginners' questions. But the training itself is well worth the price of $197. This is one of the best training I wish I had when I first started.
Do I recommend this training? YES.
Start Your Affiliate Marketing Business Today
Learn from Top-quality training course
Alternatives
The best alternative I want to recommend is Affiliate Secrets 2.0 by Spencer Mecham. Affiliate Secrets 2.0 is a high-quality training course that focuses on affiliate marketing training and sales funnels. Spencer is a successful ClickFunnels affiliate. In the training, he demonstrates the strategies that help him to achieve success. You can find the full review of Affiliate Secrets 2.0 here.
---
The second alternative I would like to mention is the Wealthy Affiliate. This training is best for beginners and those with a tight budget. It provides good affiliate marketing training, WordPress Hosting, and Keyword research tool. It is an All-In-One package. You can check out my review HERE.
Do you have experience with Savage Affiliates? What's your thought about it? Do leave me a comment or question below.
To your business success.