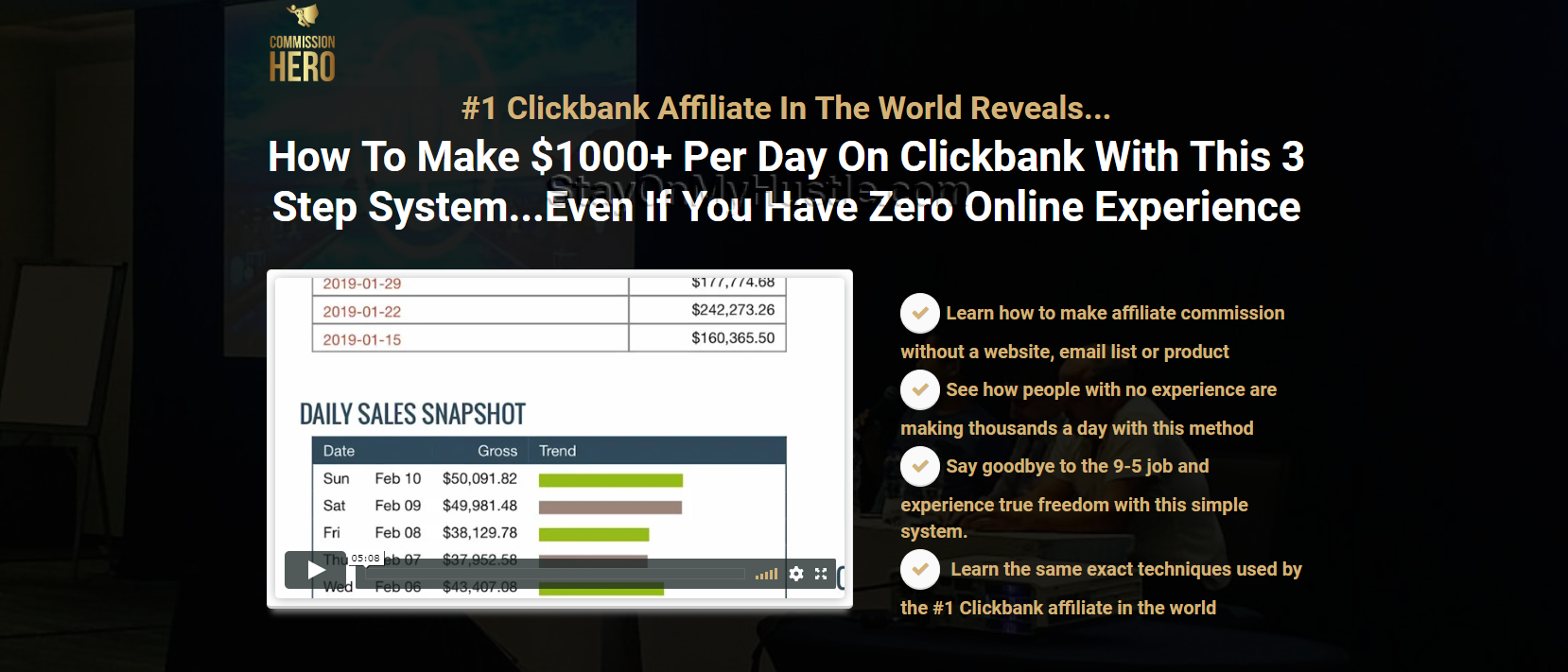 This post may contain affiliate links. Read the disclosure for more info!
I came across Commission Hero while researching on ClickBank. The instructor, Robby Blanchard claims to be the world's no.1 Clickbank affiliate with monthly sales of over $920,000 and he claims to teach you how to make $1000 per day using ClickBank. With these bold claims, is Commission Hero legit? Here is my Commission Hero review.
Commission Hero is a legit training course. It only focuses on paid Facebook traffic and Clickbank affiliate. It is an above-average training course but it is overpriced and with a questionable refund policy.
---
Want To Learn More About How I Make Money From Affiliate Marketing? I Reveal The EXACT Process I Am Using.
---
Things to consider before purchasing Commission Hero
It is very easy to be attracted by the idea of making $1000 a day. However, there are a few things you need to be aware before making your purchase decision:
Commission Hero is a Clickbank focused training course.
The training focuses on Facebook ads which are a type of paid traffic.
Assuming the big sales figure shown on his website is true, Robby does not show the marketing cost to achieve this type of result. Given the fact that he focuses a lot of paid traffic, the cost could be very high.
Although a refund is possible, you need to wait for 12 months before you are allowed to request.
Behind Commission Hero – Who is Robby Blanchard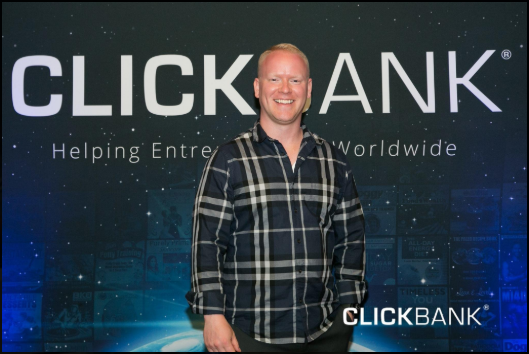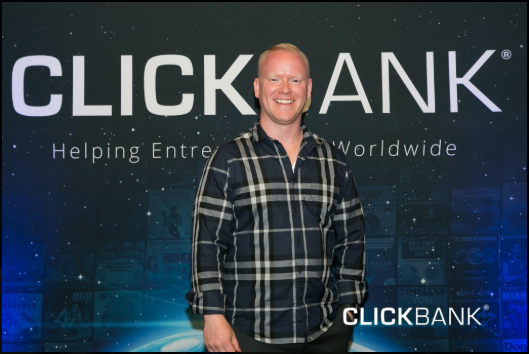 Robby Blanchard is the CEO of Blanchard Media which serves clients like SVELTE, FITBODY Bootcamp, Paleosecrete, etc.
He got into Facebook Ads while promoting his gym business. It turned out to be very successful. Since then, he has honed his skills and duplicated the success in affiliate marketing on Clickbank platform.
Robby claims to be the biggest Clickbank affiliate who made $920,000 per month from Clickbank affiliate offers. That is a very impressive achievement. He created Commission Hero to help you achieve success with his strategy.
What's inside Commission Hero? The key features of Commission Hero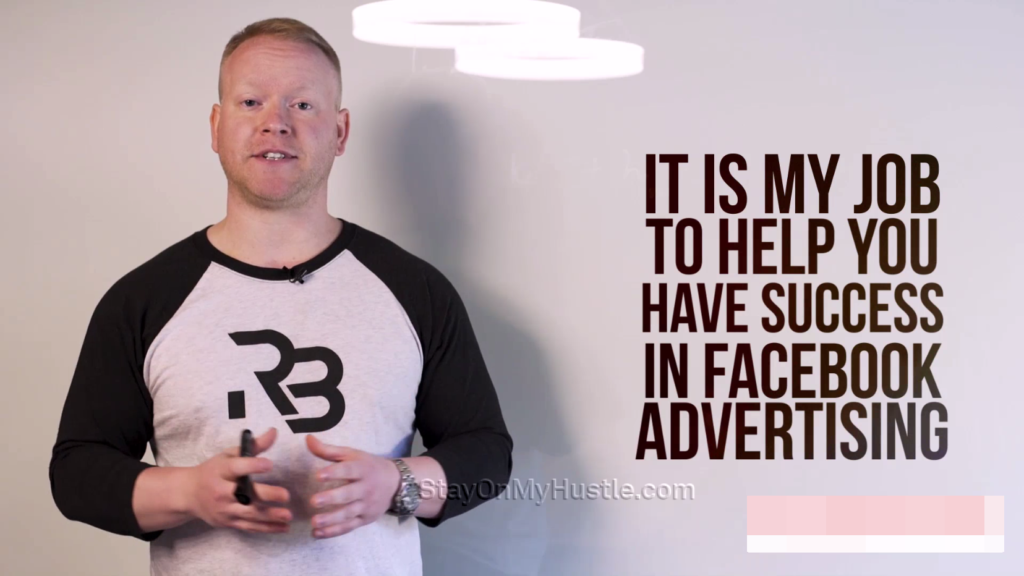 The core strategy of Commission Hero is sending Facebook paid traffic to Clickbank vendors to generate commissions for you.
As you can expect, a big part of the course is focusing on Facebook Ads strategy.
Here is the quick rundown of the course. There are 10 modules in the course. All modules are delivered in the form of videos.
Module 1: Getting Started
In Module 1, Robby gives an introduction of Affiliate Marketing, setting up Ad Accounts, Clickbank and Clickfunnels.
Module 2: Choosing The Right Offers
This module teaches you how to find the right offers on Clickbank and other CPA networks.
Module 3: Finding Your Ad Image
In this module, Robby teaches you all about Ad images, what an ad image should contain, and how to find the right designer on Fiverr.
Module 4: Setting Up A Landing Page
This module teaches you how to set up a landing page, setting up Clickfunnels, Clickfunnels domain and setting up affiliate links. Clickfunnel is a third-party service which requires separate subscription.
Module 5: Setting Up Facebook
Module 5 is about setting up Facebook ads. It covers topics from creating a business manager, setting up Facebook campaign and Adset to live campaign set up.
Module 6: Setting Up Facebook Pixel
Facebook pixel is an analytic tool that allows you to track conversions of Facebook ads. This module explains Facebook pixel and how to set up.
Module 7: Tracking Your Campaign
In this module, you will learn more about using tracking links.
Module 8: Scaling
In this module, Robby shows you how to scale your winning offers to increase your earnings.
Module 9: Ninja Tactics
This module covers topics like reaching out to affiliates, and how to deal with Facebook account shut down.
Module 10: Bonus
In this bonus module, Robby gives away some freebies such as his landing pages, images, and some ready-to-use ad campaigns.
How much does Commission Hero cost? Is there a refund policy?
There are 2 payment options. You can choose $997 one-time payment or two payments of $597.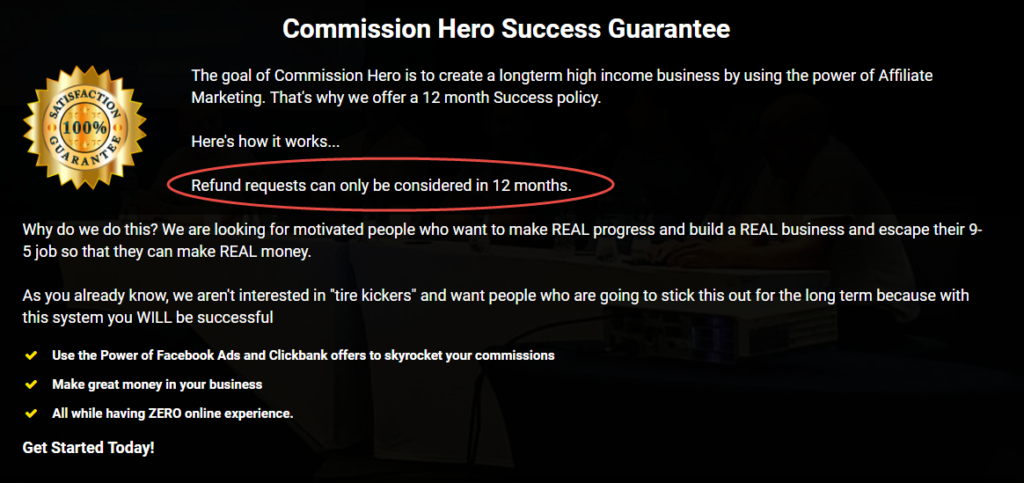 Commission Hero does offer money-back guarantee, but it is an unusual one. Refund requests can only be considered in 12 months. Yes, you read it correctly, 12 months. On its website, it states the reason as 'We are looking for motivated people who want to make real progress" which does not make so much sense to me. In short, I don't like it.
Other than the course fee, there are few tools you will need to purchase to implement the strategies taught:
LeadPages, $48-$79 per month
GetResponse, $15 per month
ClickMagick, $12-$17 per month.
Pros & Cons
Pros
Detailed teaching of paid Facebook ads application
Robby Blanchard is a real successful affiliate marketer. You are learning from a real deal.
Robby tries to teach without pushing you for any expensive upsells.
Cons
Overpriced for a course like this.
Focus on paid traffic only.
No email marketing training. (not sure if it is deemed unimportant?)
A Refund will only be considered after 12 months.
Commission Hero Review – Final Thoughts
Commission Hero is a legit training. It is considered above average training if you are into Clickbank affiliate and paid Facebook traffic. However, with the high price tag of $997, I am not too keen to recommend it to my readers.
Secondly, the poor refund policy which requires you to wait for 12 months is a big turnoff. Just a suggestion, if you were to purchase the course, treat it like there is no refund.
Can Commission Hero teach you how to make $1000 per day from affiliate marketing? Possibly. But as it focuses on paid traffic, and require quite a few paid third-party tools and services, you need to be aware of the overall cost.
Alternatives
If you are looking for an Affiliate Marketing course that provides more comprehensive training, I would like to invite you to check out Affiliate Secrets 2.0 by Spencer Mecham. Affiliate Secrets 2.0 is a quality training program that teaches you to build a successful affiliate business with sales funnels.
The second alternative I would like to recommend is Wealthy Affiliate. This training is best for beginners and those with a shoestring budget. It provides comprehensive Affiliate Marketing training, Web Hosting, Keyword Research Tool, and Community. It is an All-In-One package.
Do you have experience with Commission Hero? What do you think about it? Do leave me a comment or question below.
To your business success.