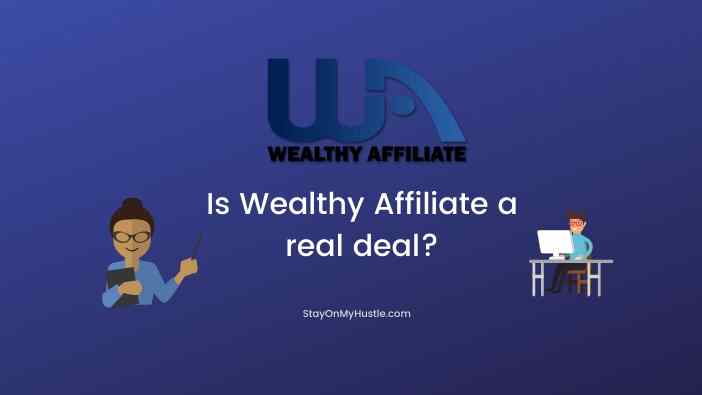 This post may contain affiliate links. Read the disclosure for more info!
Affiliate marketing (or Digital Marketing) is one of the most popular side hustles. If you are searching for an affiliate marketing training program, you would probably hear about Wealthy Affiliate.
Is Wealthy Affiliate a real deal?
Wealthy Affiliate is a real deal. It is an all-in-one package that offers Training, Web Hosting, and Community. It is best suitable for beginners and those who had previous experience but want to give it another shot. It is affordable and with quality.
Summary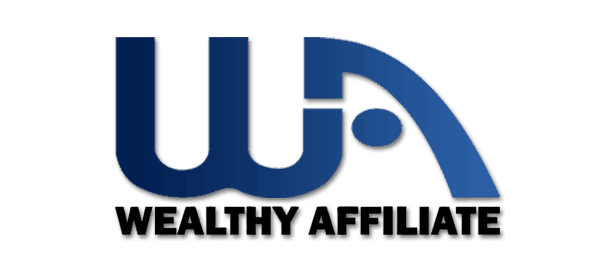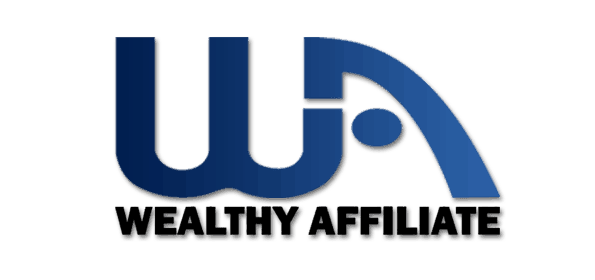 It has been more than a year since I joined Wealthy Affiliate. I now have a better understanding of the WA business model and the quality of the platform. It is time to update this post.
Here is my Wealthy Affiliate Review.
Firstly, let's look at the upsides and downsides of joining Wealthy Affiliate platform.
What are the Upsides of Wealthy Affiliate?
#1 One-stop service
Wealthy Affiliate offers a one-stop service to its members. A premium member has access to the complete digital marketing training, managed WordPress Hosting, Keyword research tools, and the WA community.
#2 Digital Marketing Training
Training programs at Wealthy Affiliate are well structured. It takes care of beginners and advanced marketers alike.
They are two forms of training: Prerecorded video lessons, and weekly live webinars.
I found weekly live webinars to be very useful. It keeps you up to date, and easy to follow.
#3 Low start cost and no upsell
Wealthy Affiliate offers 7 days free trial and a 59% discount for the first month's subscription. This is a good opportunity for you to test out the platform and training.
There is no Upsell. You are not required to buy any tools or services in order to continue your training.
#4 Community
There are over 1.2 million members globally, the Wealthy Affiliate community is lively and responsive to questions. Use it wisely, it could smooth your learning curve.
#5 Responsive SiteSupport
Wealthy Affiliate offers a Managed WordPress Hosting service (named SiteRubix) as part of the membership. SiteSupport is the dedicated support team for the hosting service.
So far my experience with SiteSupport is positive. They are very responsive, and issues are usually resolved quickly.
What are the downsides of Wealthy Affiliate?
Wealthy Affiliate is not perfect. Just like every training platform, there are downsides.
#1 Quality of member-created training is inconsistent
A premium member who has been with Wealthy Affiliate for more than 6 months are allowed to create training.
To be honest, I am not a big fan of member-created training. There are quite a number of poor quality ones, which I do not want to waste my time reading or watching.
Focus on formal WA training and Weekly Live Webinars for quality training.
#2 Live chat & members blog are distractive
WA Members are able to create blog posts on the platform. There are some gems amongst them. Unfortunately, there are junks as well. I found members' blog posts are mostly distractive.
The community could be a helpful resource or a time-waster. You gotta be disciplined not to be sucked into mindless conversations.
#3 No refund available
Wealthy Affiliate offers monthly, bi-yearly and yearly payment options. But, there is no refund available. This could be a problem for yearly members who decided to quit.
However, with the free trial and first-month subscription discount, there's ample time to decide if the service for you.
Now you know the upsides and downsides of Wealthy Affiliate. If you have made your decision, you can join me here.
Still unsure? Keep reading.
A little story of myself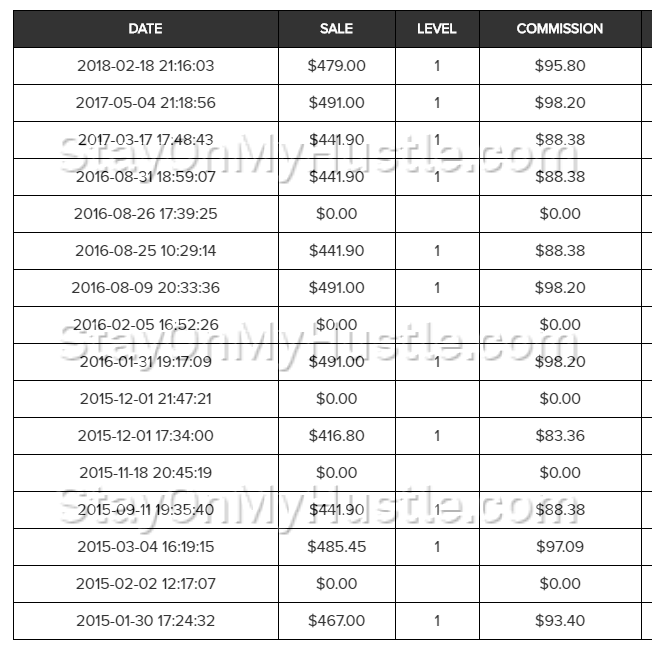 Years ago, when I first started blogging, I had no idea what affiliate marketing was. I began to realize the potential of affiliate marketing after getting in contact with product vendors and advertisers.
I got paid for displaying ads or mentioning products in my blog posts. How easy was that?
I thought I figure it (affiliate marketing) out after reading materials from blogs, and forums. Nope, It did not work out. Naturally, the next step, I went around different training.
Long story short, the blog never achieved its full earning potential. While I made money from the affiliate commission, it was not consistent, and earning was pathetic. I knew I need proper training and a blueprint for running an affiliate marketing business.
Then I stumbled upon Wealthy Affiliate.
Having previous experience with other courses, I was skeptical. I signed up for the free account, went through educational materials as much as possible.
I found the structural training and the community was very helpful. It actually accelerated my learning process. I continue my membership with Wealthy Affiliate and building websites with them.
Now, let's look into details of Wealthy Affiliate.
What is Wealthy Affiliate?


Wealthy Affiliate is a combination of education, community and managed hosting service. It is a one-stop-shop for affiliate marketers. Simply put, the 3 main features are:
Learn Affiliate marketing, how to create and promote online business.
Build your websites. All technical stuff is taken care of by the Wealthy Affiliate team. All you need to do is research and write.
If you need help, simply post your question in the community or Live Chat.
There are two types of membership: Free and Premium
| | | |
| --- | --- | --- |
| Features | Starter $0/month | Premium $49/month |
| Live Help | First 7 Days | Unlimited |
| Websites | 1 | 10 |
| Free .com Domain | x | 1 |
| Website Security Package | x | Include |
| Online Entrepreneur Certification | Phase 1 | All Phases |
| Live Video Classes | x | Include |
| Keyword Research Tool | 30 Searches | Unlimited Searches |
| 24/7/365 SiteSupport | x | Include |
| Website Feedback & Comment Platforms | x | Include |
Who is behind Wealthy Affiliate?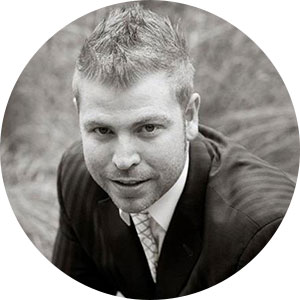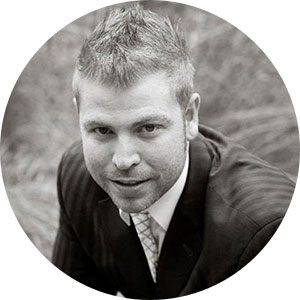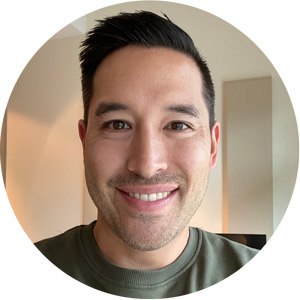 Wealthy Affiliate was co-founded by Kyle and Carson back in 2005. It started as a keyword list membership site offering high searched keywords for digital marketers.
They continue to invest and improve over the years. Wealthy Affiliate now has its hosting infrastructure and network- SiteRubix and premium Keywords Research Tool – Jaaxy.
Fast forward today, Wealthy Affiliate has developed into a full-fledged training and hosting platform.
What's Inside Wealthy Affiliate?
The Training: Learn Affiliate Marketing via a structural training program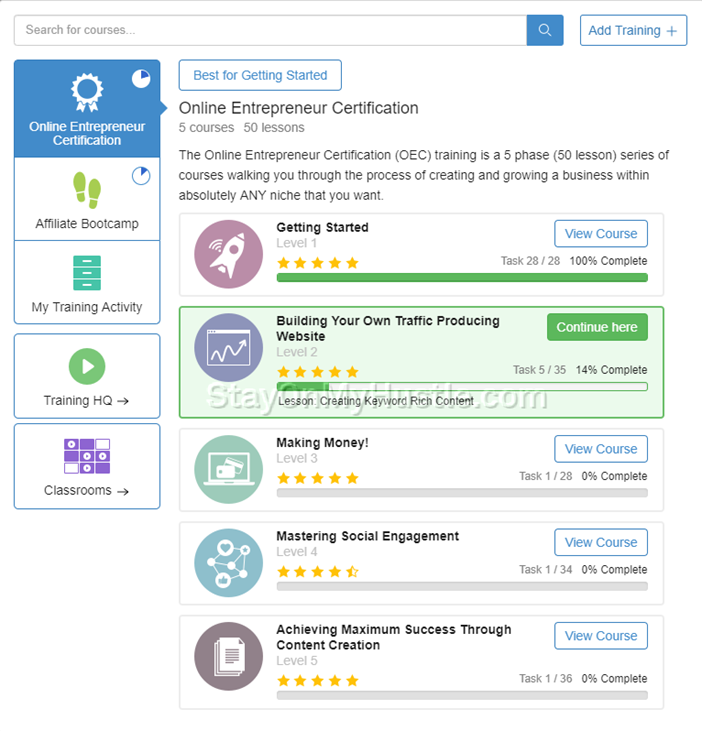 Wealthy Affiliate training consists of Certification courses and individual courses (they called it 'classroom') for specific topics.
All members are encouraged to start with Online Entrepreneur Certification. This is the foundation of affiliate marketing. It is a 5-phase series of course, which consists of 50 lessons. The training will walk you through the process of creating and growing an online business in any niche of choice.
Personally, I like the way the course was designed and conducted.
There are tasks in each lesson, which you have to complete the task in order to proceed. This is powerful, it means you are applying what you've just learned into practice.
If you follow the instructions, by the time you have finished the course, you have built a complete website. In other words, you have your own online business started.
Learning does not stop there. In addition to Online Entrepreneur Certification, there is a wide range of training in the Training HQ.
Some of the topics covered:
Website development
Social Engagement
Authoring & Writing
Keyword research
Search Engine Optimization (SEO)
Just to name a few.
Affiliate Bootcamp
If you are interested in promoting Wealthy Affiliate or into the Make-Money-Online niche, Affiliate Bootcamp is for you.
The Bootcamp consists of 7 phases with 70 lessons in total. It walks you through the process of creating and establishing an online business.
Here is what you can expect from the Affiliate Bootcamp:
Getting Your Business Rolling
Content, Keywords, and Conversions
Giving Your Site Social Value
Get Visual, Get Aesthetic, Get a Brand Through Media
Knowing Your Audiences & Catapulting Your Referrals
Bing, Yahoo, & The Power of PPC
How to Scale Successful PPC Campaigns
Community
All Wealthy Affiliate members (free or premium) form a part of the WA community. Members communicate by the forms of live chat sessions, blog posts, private messaging and public questions where others can comment.
Wealthy Affiliate community includes members from all over the world. You can expect to have your question answered almost immediately at any time of the day.
Word of caution: While the community is helpful, it could be a big distraction. And also, you have to know who are you listening to.
Technology: SiteRubix takes care of the technology, while members focus on business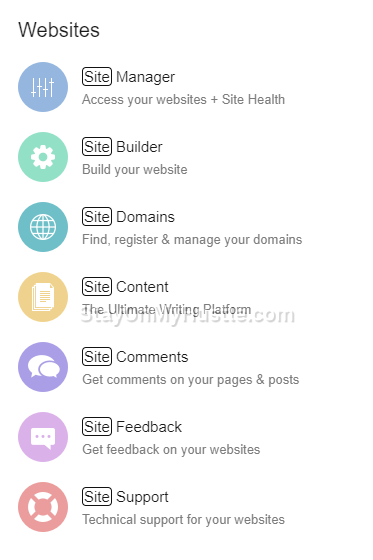 Wealthy Affiliate offers managed WordPress service through SiteRubix. It provides all the tools that you need to create and operate an online business.
The streamlined process makes it easy for beginners to start. From Domain registration, WordPress installation, to start writing your first blog post, you can complete them in just a few clicks.
All technical processes such as security, speed, uptime, back-ups, etc are taken care of by the SiteRubix team.
As an experienced blogger, I have been self-hosting WordPress site for years, I found this is a pretty sweet deal.
I would prefer to focus on content creation, and growing business instead of worrying about hackers, updates or back-ups, etc.
Starter member is allowed to create 1 free website. Premium member is able to create 10 websites (combining SiteRubix subdomains and own domains).
How much does Wealthy Affiliate cost?
It is free to join Wealthy Affiliate as a Starter member.
Premium Membership costs $49 monthly or $495 yearly.
Wealthy Affiliate Success stories – Turn passion into thriving business
It is normal to ask if the program really works. Wealthy Affiliate started for more than 14 years, and there is no shortage of success stories. Here are some inspiring stories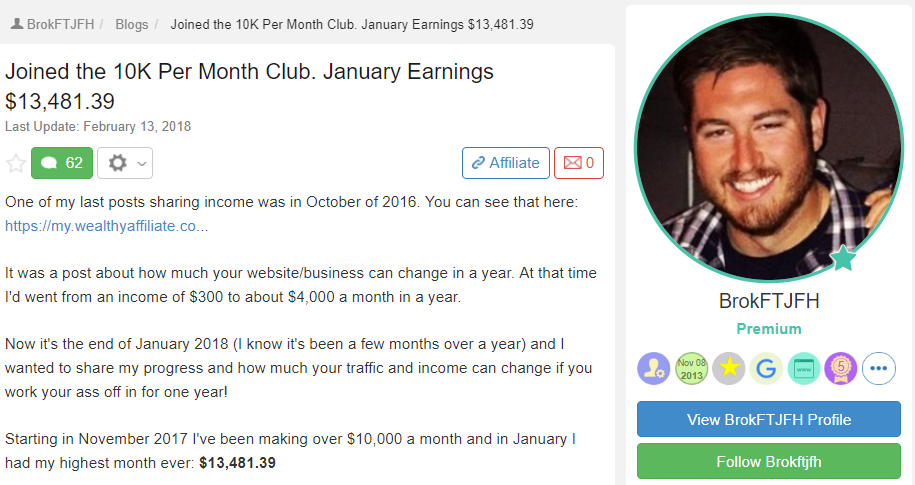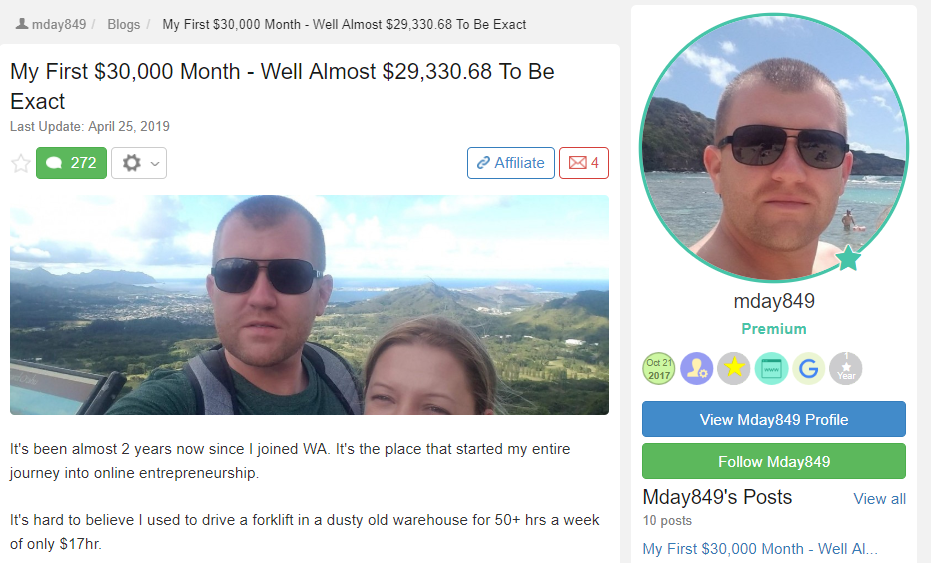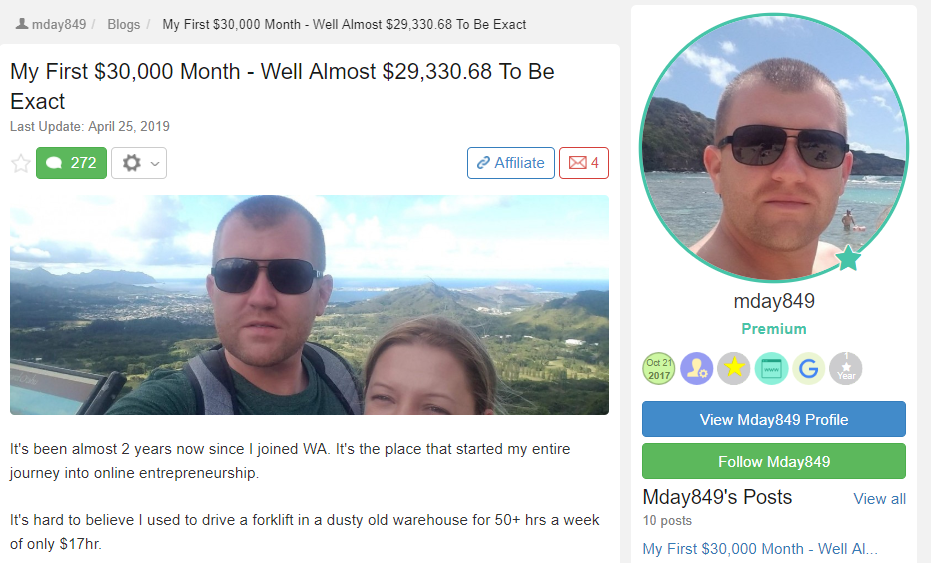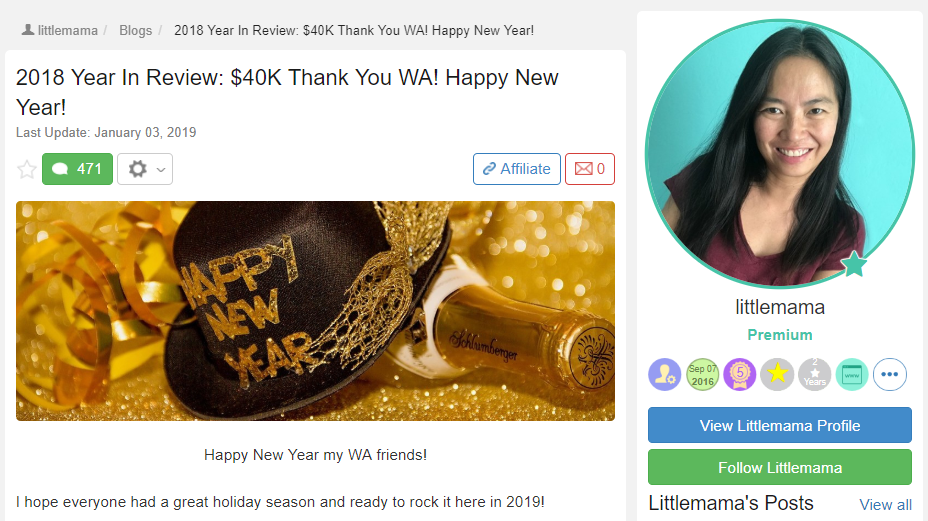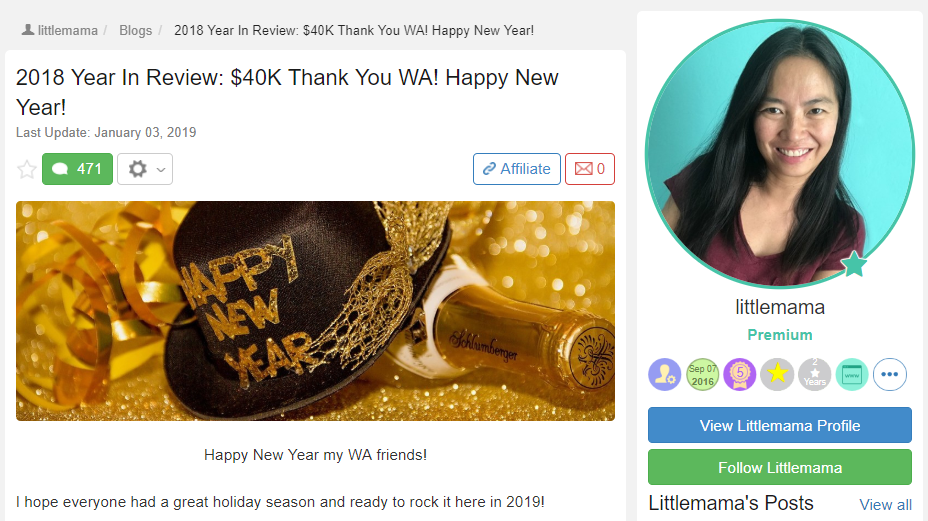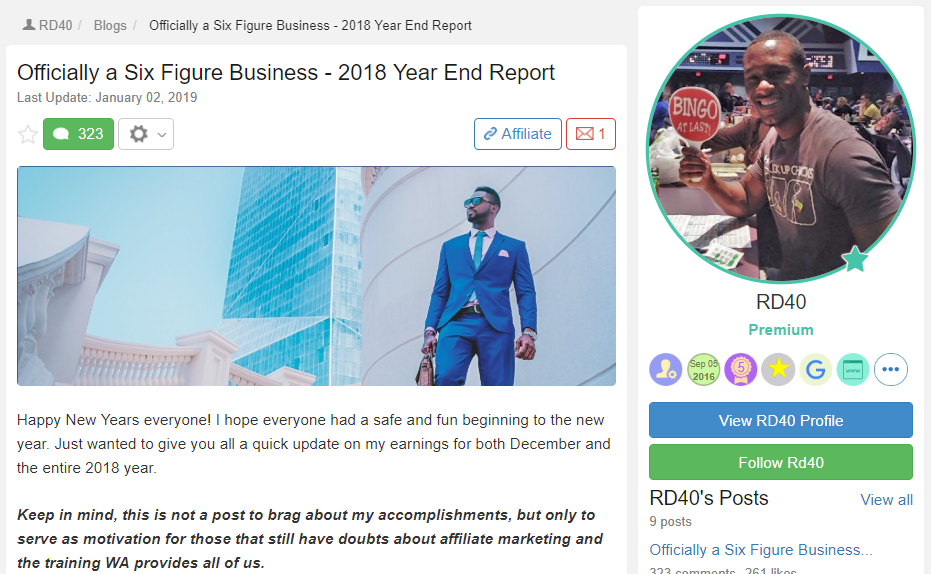 There are more success stories in the members' blog section.
You do not need to promote Wealthy Affiliate in order to be successful. Most of these successful members are not promoting Wealthy Affiliate products. Instead, they are applying what they have learned and shined in their own niche markets.
What Wealthy Affiliate is NOT
Unfortunately, Wealthy Affiliate is NOT a get-rich-quick scheme. It doesn't and can't help you to get rich quickly. There are a lot of reviews online might have given you the wrong impression.
Wealthy Affiliate offers the training, services, tools, and support you need to start and grow your online business. However, it is up to you to put in the hard yard: Research, create content and grow.
It requires time and a great deal of hard work.
Should you join Wealthy Affiliate? My opinion
My short answer is Yes. Am I being biased here just because I am their affiliate? Maybe.
I have built websites, studied, and review many courses. Being an active member of Wealthy Affiliate for more than a year now, I can confidently recommend the platform.
If you are interested in learning affiliate marketing, Wealthy Affiliate is really a good place to start.
Firstly, the starting cost is low. With $49 a month, you have access to complete training packages, a premium Keyword research tool, and Web hosting service. To me, it is a good deal, especially for beginners.
Secondly, as mentioned above, training materials and weekly live webinars are well-structured and with good quality.
Finally, the supports system is excellent. There is a dedicated team from SiteRubix to take care of your hosting needs.
The community is lively and extremely helpful. Whether you have questions or need advice, there will be someone able to assist.
Wealthy Affiliate has a big number of active, and successful members globally. They are always willing to share what they know to the community.
Is Wealthy Affiliate a real deal? Final Thoughts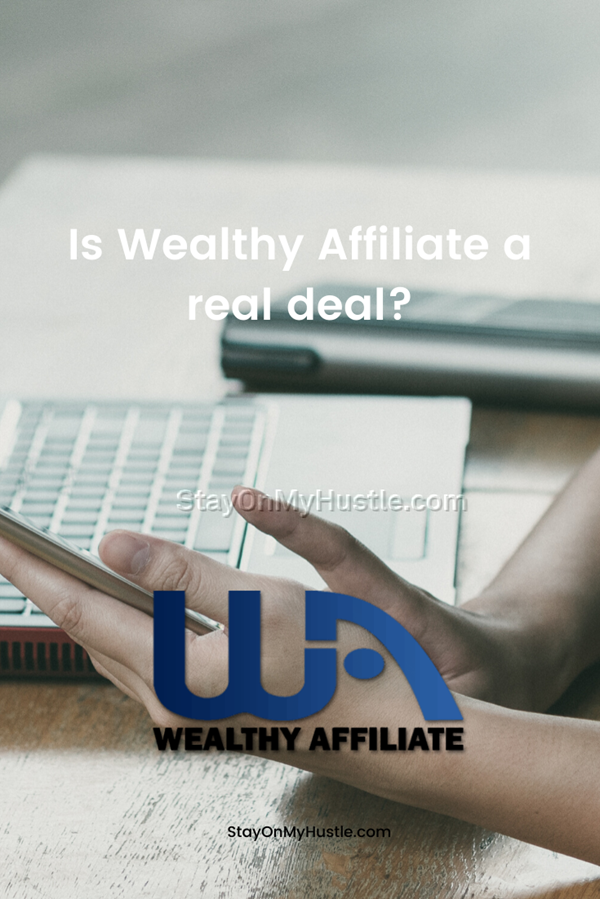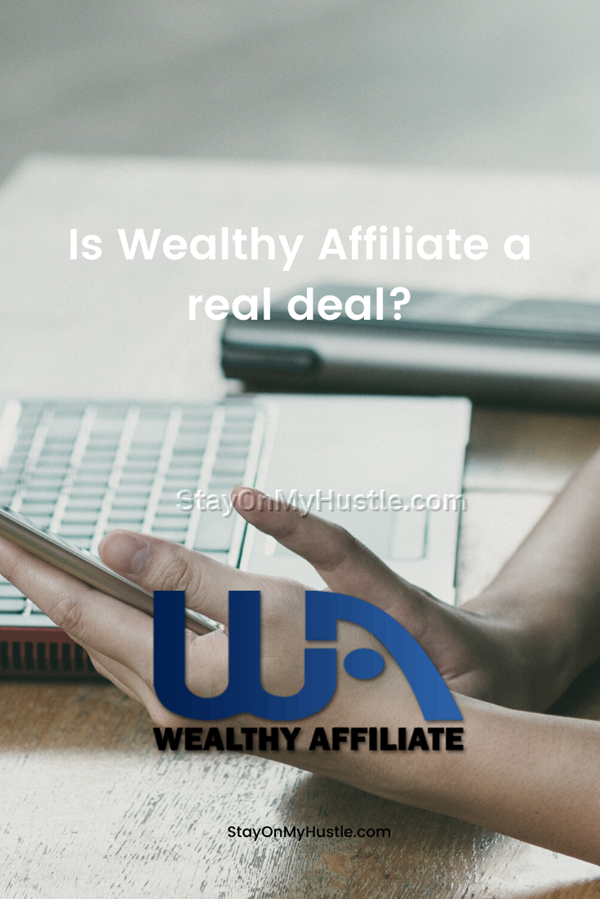 So, is Wealthy Affiliate a real deal? To me, it is. It delivers what it promises, in fact, more than it promises, but at a very reasonable price.
To finish up this review, I think it is important to repeat this point again:
If you are ready to put in the massive hard work, success is not too far away.
A Special BONUS for you
Join the free membership now, it is FREE. Yes, $0.
To enjoy the full benefits of the Wealthy Affiliate platform, you need to set up your account after joining. It is a simple process and you will be guided through upon joining Wealthy Affiliate.
The 59% Discount for your first-month membership
If you decide to upgrade to a premium membership, Wealthy Affiliate offers a 59% discount off the first-month fee. It costs only $19 for the first month.
Besides, the Bonus of Premium membership also includes 1 Free .com Domain, 100 Community Crets, Bonus live Class (AMA with Kyle, Succeeding in 2020)
Start Your Online Business Today
Learn Affiliate Marketing For FREE
Frequently Asked Questions About Wealthy Affiliate
Is Wealthy Affiliate Legit?
Yes. Wealthy Affiliate is legit. It is not a get-rich-quick scheme. The platform prepares you with skills, but it is up to you to put in the hard work.
Can you make money with Wealthy Affiliate?
You can promote Wealthy Affiliate for a commission through its affiliate program.
Is Wealthy Affiliate a pyramid scheme?
No. Wealthy Affiliate is not a pyramid scheme or multi-level marketing scheme. It is a digital marketing training platform. It also offers an affiliate program.
Is Wealthy Affiliate suitable for a newbie?
Yes. Wealthy Affiliate best suits new marketers. It offers web hosting, digital marketing training, and an online community. It is low-cost and easy to start.
How much does it cost to join Wealthy Affiliate?
It is free to join. Premium membership costs $49 monthly.
If I change my mind, can I request a refund?
No. Wealthy Affiliate does not offer a refund.
What support does the Wealthy Affiliate offer?
There are multiple support channels available. For website-related questions, you can contact SiteSupport. SiteSupport is the dedicated support team for all web hosting services.
You can also post your question as a blog post, use the Live Chat, or contact your personal coach.
Are there any upsells to the program?
No. With one subscription fee, you have access to all tools and services. There is no upsell.
What are the payment options available?
You can choose to pay Monthly, Bi-yearly, or Yearly.
Can I create a website for free with Wealthy Affiliate?
Yes. Starter member is allowed to create 1 free website under SiteRubix domain.