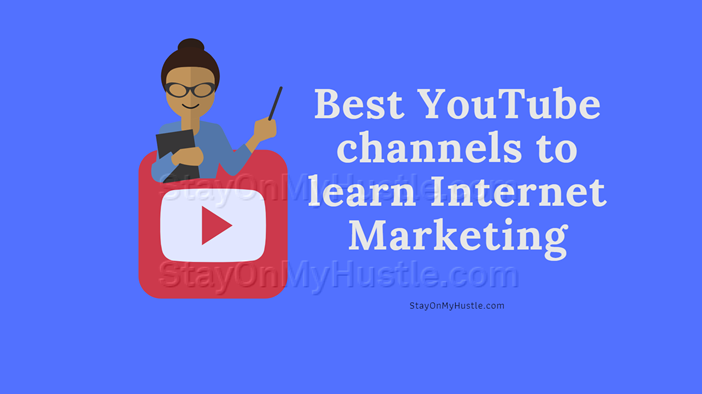 This post may contain affiliate links. Read the disclosure for more info!
You are here because you are searching for youtube videos that can give you free internet marketing training. Is there any? There certainly are.
It takes time to weed out poor quality Youtube videos. Aren't there just so many fake gurus, or cheeky salesman who are always trying to sell you something without providing value in their videos?
I hated them. It was a waste of time.
In this post, I am going to show you 10 Best Internet Marketing Youtube Channels that worth visiting. They offer valuable information and free quality training.
10 Best Internet Marketing Youtube Channels
#1 Miles Beckler
---
Miles Beckler is a digital marketing expert who built multiple online businesses. He was the man behind the scene of the successful spiritual-niche website Ask-Angels.com.
Miles' Youtube Channel is the extension of his personal-branded website milesbeckler.com. He shares SEO and online business strategies that have helped him achieve success.
You can find a variety of free training videos on his Youtube Channel.
Here are some of my favorite videos from Miles:
Steal My 9-Step Process To Create Blog Posts That Dominate Google & Drive Traffic
Keyword Research
Help Choosing Your Niche
#2 Income School
---
Income School is one of my recommended training resources. Project 24 from Income School teaches you how to create a niche website that aims to replace your current income in 24 months. It is a very well crafted, step-by-step training program.
Income School's Youtube channel is one of my favorites. It packs with many useful videos that provide tips and tricks to improve your internet marketing business.
Besides, it is very entertaining. These guys know how to make their videos fun and educational.
Here are some noteworthy videos from Income School Channel:
How to Write a Perfect Blog Post in One Hour
The Complete Guide to SEO in 2019
How to Go Full-Time with Blogging in 24 Months
#3 Brian Dean
---
Brian Dean is one of the web's leading SEO and internet marketing experts. He is the founder of Backlinko, a widely successful SEO training website. If you are a blogger or online entrepreneur, you should follow Brian.
Brian Dean's Youtube channel offers actionable white-hat SEO, link building and content marketing strategies. Just like his blog, he doesn't publish content in high frequency. However, you can expect very high-quality blog posts or videos from him every time.
Here are some recommended videos from Brian Dean:
Advanced Step-By-Step SEO Tutorial (2019)
How to get more Organic Traffic (FAST)
The SEO ranking factor you must master in 2019
#4 Neil Patel
---
Neil Patel is a well-known online marketer, New York Times best selling author, and top influencer. He is the founder of Crazy Egg and Hello Bar.
He runs a marketing blog at NeilPatel.com, a free keyword research tool Ubersuggest, Marketing School Podcast, and a digital marketing Youtube channel.
Neil Patel's Youtube channel is everything about Marketing. He shares his experience, tricks, and tips about marketing in the form of short videos. He updates his Youtube channel frequently.
Here are some popular videos from Neil Patel:
SEO For Beginners: 3 Powerful SEO Tips to Rank #1 on Google
How to Promote Your YouTube Video When You Have Zero Subscribers
How to Monetize Your Blog Without Destroying Your User Experience
#5 Matthew Woodward
---
Matthew Woodward runs an award-winning SEO blog MatthewWoodward.co.uk. He publishes tutorials, case studies, and articles that help readers to build and grow a successful online business.
Matthew Woodward's YouTube channel teaches you a range of internet marketing techniques. There is a range of tutorials covering topics like SEO, link building, traffic generation, email marketing, copywriting, and social media marketing, etc.
Here are some popular videos by Matthew Woodward:
The SEO Audit That Increased Search Traffic By 45%
How FAQ Rich Snippets Increase Your Search Visibility
How To Start A Blog The Right Way
#6 Franklin Hatchett
---
Franklin Hatchett is best known for his Dropshipping course eComElite and affiliate training Savage Affiliates. He has been around online business space for a long time. Franklin makes his fortune from Facebook advertising, Dropshipping, and affiliate marketing.
I reviewed and recommended Franklin's Savage Affiliates 2.0 training. You can find my review here.
Franklin covers a variety of topics of the Make-Money-Online niche in his YouTube channel. From general make-money-online ideas to affiliate marketing tutorials.
Here are some useful topics covered in Franklin's channel:
Clickbank For Beginners: How To Make Money On ClickBank for Free
How To Find Shopify Products
Step By Step Shopify Tutorial
#7 Kimberly Ann Jimenez
---
Kimberly Ann Jimenez is a digital marketing strategist and the founder of The Business Lounge, a training service for aspiring online entrepreneurs.
Kimberly's Youtube channel covers a wide range of topics that help online entrepreneurs to grow their business. The topics include Content Creation Hacks, Branding strategies, Email Marketing strategies, and Content Marketing, etc.
Here are some popular videos by Kimberly:
The Easiest Online Business To Start With No Money in 2019
How To Use Canva 2.0
Create The Best Content Marketing Strategy 2019
#8 Ahrefs
---
Ahrefs TV is a Youtube channel by the team behind the popular SEO tool. The Youtube channel provides actionable tutorials on keyword research, link building, content marketing, and technical SEO, etc.
Whether you are a beginner or experienced blogger, Ahrefs TV offers you something you can implement to improve your online business.
Here are some useful videos from Ahrefs TV:
SEO For Beginners: A Basic Search Engine Optimization Tutorial for Higher Google Rankings
SEO Tutorial: 10 Detailed Steps to Rank #1 in Google
Top 10 On-Page SEO Techniques (Backed by Data)
#9 Nick Nimmin
---
Nick Nimmin is a YouTube influencer with over 475 thousand followers. He shares tips and tricks that help you grow your YouTube channel. Nick Nimmin is also the owner of TuberTools.com a one-stop-shop for video creators.
YouTube is one of the most popular and effective channels for online entrepreneurs. Nick Nimmin's YouTube channel offers a lot of how-to tutorials for both beginners and experienced viewers. He also regularly holds live sessions.
Here are some popular videos by Nick Nimmin:
How To Be A YouTuber(Step-by-Step Beginners)
How To Make Cool DIY YouTube Backdrop
How To Write A Video Script For YouTube
#10 Owen Video
---
Owen Video is another Youtuber that focuses on video marketing. He is the founder of The Video Marketing School where he teaches business owners the art and science of online video marketing.
On Owen Video's YouTube channel, you can find video training that helps you to get started with video marketing. The topics covered in the channel range from basic video creation to video branding strategies.
Here are some interesting videos by Owen Video:
Video Sales Funnels – the 7 Steps to Making Sales with Online Video
YouTube for Business – How To Write a Sales Video
Video Content Strategy
Final Thoughts
---
Here you have my pick of 10 YouTube channels that worth visiting.
While these channels provide educational value, you will learn more by actually start doing. Execution is the best way of learning.
Having said that, if you are new to internet marketing, I strongly recommend you check out Wealthy Affiliate.
Wealthy Affiliate offers affiliate marketing training, web hosting, and an active community. It provides you a step-by-step guide to start your first affiliate marketing website. You can check out my review here.
Do you have any favorite YouTube channel for learning Internet marketing? Or do you have any questions? Please leave a comment below. I am happy to help.