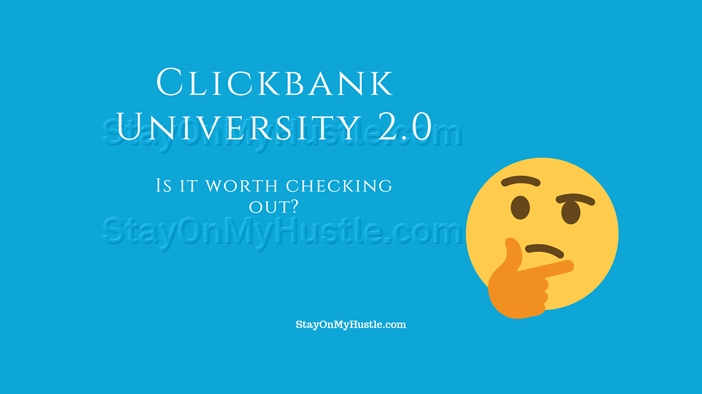 This post may contain affiliate links. Read the disclosure for more info!
Are you interested in making money online with Clickbank? Do you wonder if Clickbank University 2.0 is the right training for you? If this is you, please keep reading. 
In this post, I will walk through Clickbank University 2.0. Let's look into the details of the training, find out the good and the bad, and finally discuss the alternative of it.
Clickbank University 2.0 Review
What is Clickbank University?
---
Clickbank University is Clickbank's flagship training and community service. It aims to educate aspiring online entrepreneurs to make money with Clickbank platform.
Clickbank University 2.0 offers two different sets of training for Product Vendors and Affiliate Marketers.
As a product vendor, you create and publish digital products such as e-books or video training courses.
As an Affiliate Marketer, your job is to promote other people's products for commissions.
I will go into more details of both sections in this review.
Who are behind Clickbank University 2.0?
---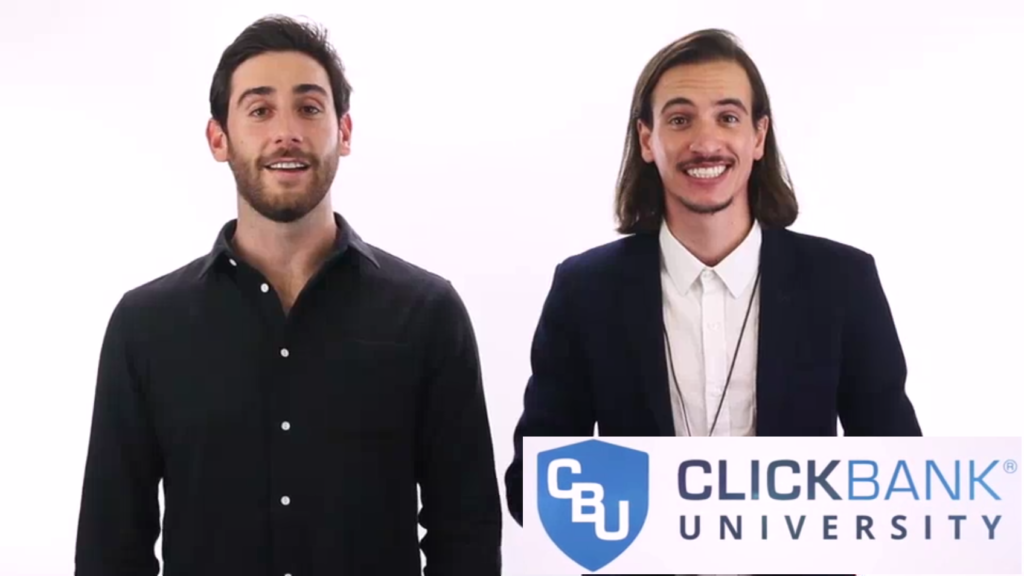 Clickbank University was the brainchild of Justin Atlan and Adam Horwitz. To be honest, there is not so much information about the duo. I don't have any proof to verify their credentials. 
According to Clickbank, at the age of 17, Adam had the No.1 selling product on Clickbank. He grossed over $1 million in 7 days.
Justin Atlan was pulling in a full-time income through affiliate marketing on Clickbank at the age of 18. 
I decided to ignore these profit claims. Instead, I will look into the course details and the way they deliver the training in this review.
What's inside Clickbank University 2.0?
---
As mentioned in the introduction of this post, Clickbank University offers training to both Product Vendor and Affiliate Marketers. 
It is best to pick your track before getting started with the training.
Are you going to start with being an Affiliate or a Vendor?
Now, let's look inside the course.
There are 4 main sections within the Clickbank University 2.0:
Vendor
Affiliate
Traffic
Toolkits 
Let's look into more details of the Vendor section.
Clickbank University 2.0 Product Vendor section
---
If you are planning on starting as a vendor, you will be joining Justin Atlan. Justin leads the vendor section.
The Vendor section is about teaching you how to create digital products and how to market them. 
The vendor section is a 12-week program. The first 3 weeks of training videos are unlocked for you to start with, and the rest to be unlocked week after week. You can choose to unlock all of the training within the training portal.
Week 1- How Everything Works
In this module, Justin first discusses the importance of having the correct mindset as well as Goal setting. He also explains the advantages of creating your own product. 
The key topic of this module is about starting your Product Profit Plan. You need to start thinking about your passion, the profitability of the niche and your own experience. These three elements need to work together to make the plan successful.
Topics covered in Week 1:
Introduction
Product Profit Plan
Mindset for Success
Creating Goal Fuel
Week 2- Finding Your Perfect Product
Week 2's module teaches you how to find your perfect product to create. In this module, Justin walks you through the Clickbank marketplace, exploring different types of products, and also analyzing your competition.
Topics covered in Week 2:
Discovering Your Passion
Analyzing Your Market
Learning From Your Competition
Week 3- Creating Your Avatar
Avatar refers to your potential customers. In this module, Justin talks about how to identify the Avatar's need and desire. Next, you will learn how to pitch to your avatar to make them buy your product.
Topics covered in Week 3:
Finding Your Avatar's Desires and Fears
Creating Your Elevator Pitch and USP
Choosing a Name and Domain
Week 4- Course Content Creation & Outsourcing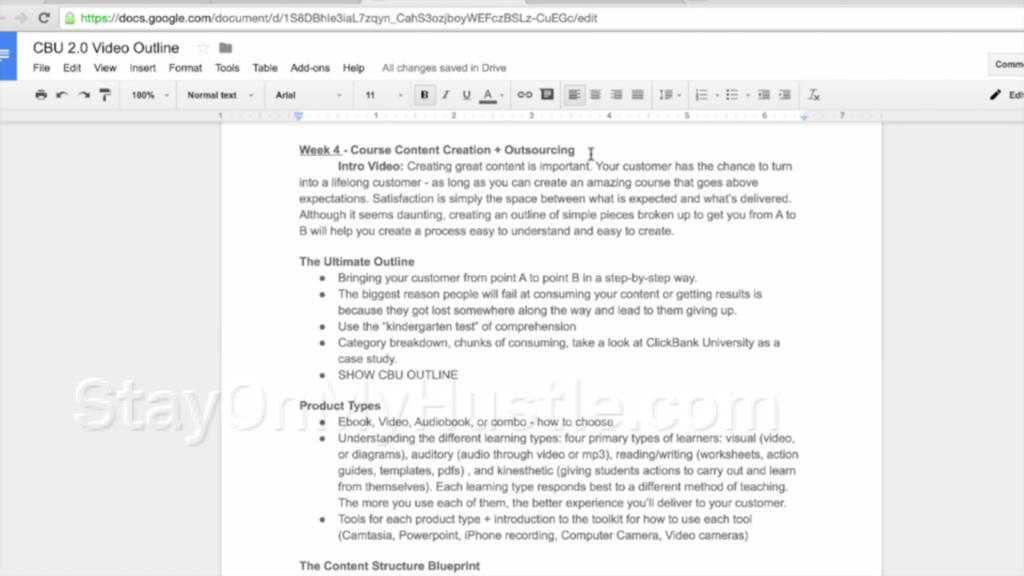 This is the module in which you will learn how to create your product.
Topics covered in this Week 4:
The Ultimate Outline
Product Formats
The Content Structure Blueprint
Week 5- Your Perfect Upsell to Maximize Sales
In this module, you are learning about all the tips and tricks to create your own upsells.
Topics covered in Week 5:
Understanding the Numbers
Upsell types & faster, easier or better
Upsell Sales Copy & Pricing
Week 6- High Converting Sales Copy
One of the essential skills of a digital marketer is copywriting. In this module, you will learn how to create a sales letter and videos. 
Topics covered in Week 6:
Basics of Copy
The Big Idea
A Copy Template
Week 7- The "Easy" VSL
Week 7 focuses on the creation of a Video Sales Letter. In this module, you will learn how to do text VSL. In other words, you are creating a video sales letter without having to get in front of a camera. 
Topics covered in Week 7:
PowerPoint Process
Camtasia Tech Training
Outsourcing Slide Creation, Voiceover, Video
Week 8- Finalizing Your Product via Builder
Week 8's lessons teach you how to finalize your product with Clickbank Builder. You will learn the tricks to get visitors to your page and convert them into customers.
Topics covered in Week 8:
Customer Experience Flow
Sales Page Creation
Product Page Creation
Week 9- Getting Up On Clickbank
Upon completion of your product, it is time to list them in the marketplace like Clickbank. In this module, you will learn how to set up a Clickbank account and create a marketplace listing.
Topics covered in Week 9:
Setting Up Your Website and Items
Making a Test Purchase
Creating Your Marketplace Listing
Week 10- JV Managing
Week 10 is about learning how to recruit Affiliates and JVs to promote your products.
Topics covered in Week 10:
Affiliate Mentality and Approach
Creating Affiliate Tools
Getting Into the Affiliate Circle
Week 11- Split Testing
During Week 11, you will learn how to do split testing. This process helps you to determine the best promotion method to use for your products.
Topics covered in Week 11:
The Testing Blueprint
How to Test Using Tools
The Clickbank University Case Study
Week 12- How to Scale
This module is related to the Traffic section of Clickbank University 2.0. It teaches different methods to expand your traffic.
Topics covered in Week 12:
Funnel Creation with Affiliate Offers
Creating a Product Line
Coaching, Consulting, Speaking
Clickbank University 2.0 Affiliate Marketing Training
---
Selling your own digital product is a proven way to make money online. However, it may not be for everybody, and it is not recommended for beginners. 
If creating a digital product is not for you, you can always start with Affiliate marketing. 
Affiliates section is an 8-week training program. It focuses on promoting products listed in the Clickbank marketplace. 
As an Affiliate, you are promoting other people's products. In return, you earn a commission when a sale is made.
Affiliate marketing is a proven business model. It is suitable for a beginner who wants to start an online business. 
Don't get me wrong. It is not easy. It takes time and a lot of hard work. 
Now let's look at the course outline of the Affiliates section.
Week 1 Affiliate Marketing on Clickbank
This is the general introduction to the course. 
Topics covered this week are:
Affiliate Profit Plan
Setting Up for Success
Goal Setting
Week 2- Understanding Affiliate Marketing
In week 2, you will learn about the basics of Affiliate marketing. For those who are experienced in Affiliate marketing and have a general understanding of Clickbank, you can skip this week's lesson.
Affiliate Basic
Navigating Through the Clickbank Marketplace
Secrets of the Top Clickbank Products
Week 3- Finding Your Passion
In Week 3, you will learn about niche selection and product research. You might find this module to be general. Remember, you will be spending a lot of time and effort to produce content for your website. Choosing a niche and product that you are passionate about will make your work more fun and keep you motivated.
Here are the topics covered in Week 3:
Discovering Your Passion
Researching Products in Your Niche
Picking the Perfect Product
Week 4- the Ultimate Affiliate Funnel
In this module, Adam teaches you to send traffic to a landing page where you are collect emails. Secondly, he explains why you should offer something for free in exchange for an email. In the last part of the module, Adam shows you how to use Clickbank Builder to build a Squeeze Page. Clickbank Builder is an upsell of this training. It is expensive. There are cheaper alternatives such as Thrive Architect. Do not rush to buy Clickbank Builder just yet.
Here are the topics covered in Week 4:
The Truth About Traffic
Affiliate Funnel 101
Building Squeeze Pages
Week 5- Free, Free, Free: Always Over Deliver
Key concepts taught in this module are:
Building a Relationship with Your List
Different Ways to Deliver Free Content
Outsourcing Your Content
Week 6- Writing The Perfect Swipe
Getting Them to Open the Email
Making Sure They Click
Offering Bonuses
Week 7- The Email Blueprint
This module teaches the very basics of email marketing using Aweber. 
Using Broadcasts
Automating Your Emails
Creating Quality Content
Week 8- Scaling and Expanding
This module is an introduction to the Traffic section and Product vendor section. There is not much new material in this module. 
Toolkit Traffic Area
Opening the Flood Gates
Creating a Product
Bonus – Running Affiliate Promotions
Intro to Affiliate Promotions
The Soft Sell
The Hard Sell
Traffic Section
---
The Traffic section covers the traffic generation methods that work best for the CBU team. This section only focuses on paid traffic. While the modules in this section are of good quality, organic free traffic training is completely missing here. 
There are 2 main modules in this section:
Facebook Advertising
Instagram shoutouts
CBU team claims that these two strategies are tested, and were successful. If you have money to spare, you will find this section valuable. 
I would expect a complete internet marketing covers all types of traffic generation methods. Clickbank University 2.0 falls short in this department. 
ToolKit Section
---
This section focuses on the technical side of the business. You will find a series of short how-to videos for different tools.  
I want to clarify that the tools mentioned in this section are not necessarily the best in the market. Instead, you should take it as "Recommended tools" by the CBU team. Besides, some of the tools are expensive. Always try to shop around before committing to a purchase. You might want to check out my resource page for some ideas.
Here are the topics covered in this module:
Setting Up a Custom Domain with GoDaddy
Creating a Sales Presentation with PowerPoint
Video Editing with Camtasia
Recording Your Sales Video with Camtasia
Camtasia Alternative APowersoft for Screen Recording
Design Banners, Posts, & Giveaways with Canva
Setting Up Your Funnel with CB Builder
Split Testing with Visual Website Optimizer
Increasing Conversions with Optinmonk
Enhance Your Social Media Activity with Hootsuite
Outsourcing with UpWork
Sending Broadcasts and Automating with AWeber
Demographic Research with Google & Twitter
How much does Clickbank University 2.0 cost?
---
Is Clickbank University free? No.
Clickbank University 2.0 charges $47 per month for a membership.
There are two upsells mentioned in the course:
Clickbank Builder costs $594. Other payment options are 2 x payments of $297 or 7 x payments of $97
Advanced Training costs $97 or 2 x payments of $49
Besides, Clickbank University 2.0 offers a 30-day money-back guarantee. You can request a refund within 30 days of purchase if you are not happy with the course.
Pros & Cons of Clickbank University 2.0
---
Pros
An excellent guide for Product Vendors
Clickbank training created by the Clickbank team.  
30-day Money-back Guarantee
Cons
Clickbank Builder is an expensive upsell.
Advanced Training is another upsell. You need to pay more to get advanced materials.
Affiliate marketing training contents are average. There are better affiliate marketing training in the market.
Limited training in the Traffic section. It limits to paid traffic.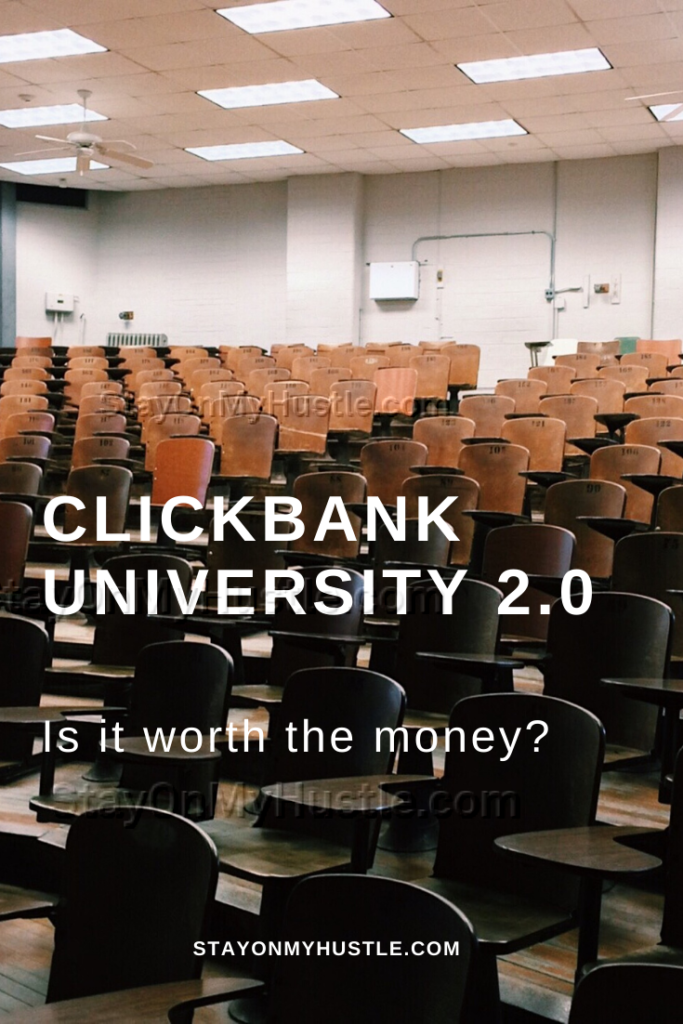 Final Thoughts – Is Clickbank University 2.0 legit?
---
Clickbank University 2.0 is legit. It is definitely NOT a scam.
The highlight of the training is the vendor section. It provides details from creating digital products to marketing them.
However, it falls short at the Affiliate marketing section. For better Affiliate marketing training at a similar price range, I would recommend Wealthy Affiliate.
Wealthy Affiliate vs Clickbank University 2.0
I know I am running the risk of being called biased. But let's have a look at the table below, I have listed out the differences between Clickbank University 2.0 and Wealthy Affiliate.
In conclusion, I recommend Clickbank University 2.0 for those who are looking at creating own products. If you are only interested in promoting other people's products, Clickbank University 2.0 might not be the best choice for you.
That's it.
This is my review of Clickbank University 2.0.
Do you have any experience with Clickbank University 2.0? or do you have any questions? Leave me a comment. I am happy to help.