This post may contain affiliate links. Read the disclosure for more info!
There are a lot of similarities between wealthy Affiliate and Solo Build It. This is not yet another article that criticizes one service to promote the other.
Before we proceed further with the comparison, just to clarify, neither of them should be categorized as a scam. Both services provide quality education, hosting and community to members.
There are debates, and attacks among members (even owners) of these two services. I am not interested in joining the fight. This article is to show you the key features of them, hopefully, help you to decide if to join them.
So, let the battle of Wealthy Affiliate vs Solo Build It begins.
What is Wealthy Affiliate?
Wealthy Affiliate was founded in 2005 by Kyle and Carson. The service was created as an initiative to help others to achieve success in the Affiliate Marketing business.
Fast forward 14 years later, Wealthy Affiliate now is a solid All-In-One platform which offers Education, Hosting, and Community.
What do you get from Wealthy Affiliate Education?
The core process thought in Wealthy Affiliate training is :


Step 1: Choose an Interest that decides the niche markets that you want to go into
Step 2: Build a website on the niche market
Step 3: Create content to attract visitors
Step 4: Monetize your website to earn revenue.
Each of these steps is explained in detailed throughout the training.
There are 3 types of training materials:
Core Wealthy Affiliate training which consists of Online Entrepreneur Certification and Affiliate Bootcamp
Weekly Webinars
Member contributed training
Online Entrepreneur Certification
This is a 5-phase (50 lessons) series of courses. It walks you through the process of creating and growing an online business within the niche of your choice.
Modules covered in Online Entrepreneur Certifications are:
Getting Started
Building Your Own Traffic Producing Website
Making Money
Mastering Social Engagement
Achieving Maximum Success Through Content Creation
Affiliate Bootcamp
This training is designed specifically for those who are interested in promoting Wealthy Affiliate products or Make Money Online related niche. The training consists of 7 phases (70 lessons).
Modules covered in Affiliate Bootcamp are:
Getting Your Business Rolling
Content, Keywords, and Conversions
Giving Your Site Social Value
Get Visual. Get Aesthetic, Get a Brand Through Media
Knowing Your Audiences & Catapulting Your Referrals
Bing, Yahoo, & The Power of PPC
How to Scale Successful PPC Campaigns
The weekly webinar covers a variety of topics such as WordPress theme design, how to write about page, SEO, etc.
What are the tools offered by Wealthy Affiliate
In addition to the affiliate marketing training, Wealthy Affiliate offers a set of tools to help you set up and optimize your online business.
Web Hosting: As a premium member, you can host up to 50 (25 of your domains, 25 with Siterubix) websites without additional cost.
SiteSSL: Free SSL certificates
SiteDomains: For every domain registered via Wealthy Affiliate, you are entitled to services like WHOIS Privacy Protection, 24/7 Support, Next Year Guarantee Pricing, Domain Security, Unlimited Email Accounts, Advanced DNS Management, and Instant Set-up without additional charge.
SiteHealth
SiteComments
SiteFeedback
How much does Wealthy Affiliate cost?
Wealthy Affiliate offers a 7-day FREE trial and $49 monthly or $495 yearly for a premium membership. There is no refund for any purchased subscription.
If you are keen to know more, check out my detailed review.
---
What is Solo Build It?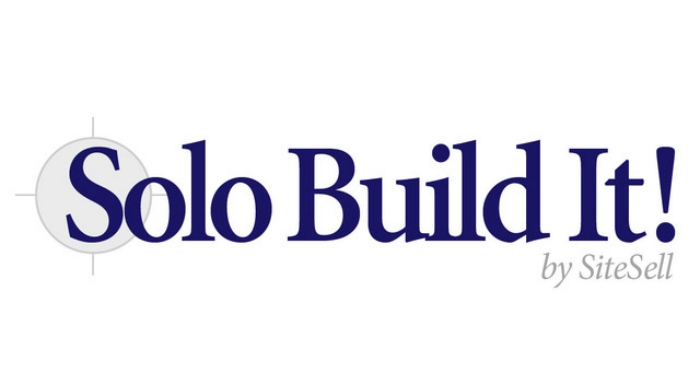 Solo Build It (SBI!) was founded by Ken Evoy in 1997. It was formerly known as Site Build It. Since 2017, the company was rebranded, and it is now called Solo Build It.
Similar to Wealthy Affiliate, Solo Build It offers Education, Hosting and Community. It does not just teach you how to build a website, SBI! teaches you how to build a profitable online business.
The core training of SBI! focuses on the process called C-T-P-M
C stands for Content, includes your blog posts, media pages
T stands for Traffic, ways to attract visitors to your website
P stands for Presell, building a relationship between you and your potential customers
M stands for Monetize, ways to convert your visitors into customers
What do you get from Solo Build It training?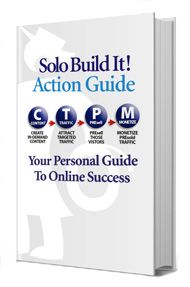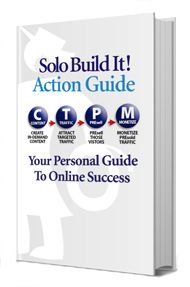 SBI!'s core training is called "Action Guide" it is a step-by-step 10-day action plan. No, you are not going to make money in 10-day time, just so we are clear. It might take 10 days for you to complete the course, but it takes a lot longer to build a profitable online business.
Here are the topics covered in the Action Guide:
Day 1: Master The ALL-Important Basics
Day 2: Learn & Develop the Best Site Concept
Day 3: Brainstorm More Profitable Page Topics
Day 4: Investigate and Plan Monetization Options
Day 5: Register Your Domain Name
Day 6: Building Your Website
Day 7: Drive Free Traffic From Different Sources
Day 8: Develop Relationships With Your Visitors
Day 9: Know Your Visitors
Day 10: Monetization
I will not explain the details of each of them, you can find out from SBI!'s sales page.
What are the tools offered by Solo Build It
Solo Build It is an All-In-One platform, in addition to training, it also offers a series of tools to its members.
Let's have a look at the tools:
Hosting: Each member is entitled to 1 website (non-WordPress site) hosted by SBI!
Brainstorm It! : This is an SBI! in-house Keyword/Niche research tool
SiteDesigner: Website templates
BlockBuilder: Drag-n-Drop Website Builder
Traffic-Building Systems
Trust-Building Tools: For Email Newsletter Publishing, Autoresponders, and Social Media Integration
The list is not exhaustive. There are a lot more tools offered by SBI!.
Mainly, SBI! focuses on its platform for website building. In other words, members will be using SBI!'s proprietary tools such as BlockBuilder to builder their websites.
For WordPress users, the workaround is to use SBI! for WP!.
It is a set of plugins to help SBI! members who prefer to use WordPress for their websites.
The main differences between the original SBI! and SBI! for WP! are
Use WordPress site builder instead of BlockBuilder.
Use SBI!'s recommended set of WordPress plugins rather than SBI!'s built-in tools.
Use own hosting. SBI! does not host WordPress sites.
Purchase a Domain Name
How much does Solo Build It! cost?
It costs $29.99 monthly or $299 yearly to join Solo Build It!. There's no free trial, however, SBI! does offer 90-day Money Back Guarantee.
---
The rivalry
When I first visited Solo Build It website, I was surprised to read extensive writing from the owner attacking Wealthy Affiliate.
There are a couple of articles written by SBI! owner just to show how SBI! is more effective than Wealthy Affiliate, and there are notices throughout SBI!'s site to remind readers about fake reviews of SBI! on the internet.
That's a lot of effort.
To be fair to Solo Build It, some affiliates write fake or lack-of-research reviews of other services to promote Wealthy Affiliate. And SBI! is one of the targets.
There are too many similarities between Solo Build It and Wealthy Affiliate. It is just natural to compare them.
Now comes the question. Is Solo Build It a SCAM? Definitely NO. It is legit and in fact, provides good quality training and services.
The Issues
So, which one do I prefer? It depends.
Here are the 2 main things about Solo Build It that don't tick the box for me. Again, this is purely personal opinion.
WordPress support is minimal
I am a long-time WordPress user and love it. It is a solid platform.
It looks like WordPress is not the cup of tea of SBI!. All it can offer is plugins recommendation if you want to implement anything SBI! teaches. WordPress sites are not hosted by SBI!. So, for WordPress users, you are pretty much on your own.
Web asset portability issue
Websites hosted by Solo Build It are built and run by SBI!'s software such as SiteDesigner and BlockBuilder. It is all good while your website is hosted with SBI!.
The reliance on SBI! tools and platform make it difficult when you need to move your website to another hosting company. You will most likely need to rebuild the whole site, which is going to be a nightmare.
These two issues do not exist with Wealthy Affiliate. Wealthy Affiliate offers web hosting service, to be exact, it is managed WordPress hosting service. It is relatively easy to migrate a WordPress site from one host to another. You are free to move your website in and out Wealthy Affiliate hosting service.
Let's have a quick comparison of Wealthy Affiliate and Solo Build It
---
Wealthy Affiliate vs Solo Build It -The Verdict
Both Wealthy Affiliate and Solo Build It are legit. In terms of affiliate marketing training, I have no problem recommending both of them to my readers.
Overall, my preference goes to Wealthy Affiliate is mostly due to the WordPress platform and prompt hosting support.
SBI! platform and tools are with good quality, but I do not like the idea of having all my work tied to one platform which makes it difficult when I need to move to another web host company, and the reliance of SBI!'s tools is another concern to me.
So, with all factors considered, Wealthy Affiliate is my current choice.
Do you have experience with either or both of these platforms? Any thoughts or question? Please leave a comment below.
To your online business success.