This post may contain affiliate links. Read the disclosure for more info!
Welcome to my Jaaxy keyword tool review.
If you asked me what is the tool I can't live without (OK, I exaggerate a bit too much, I meant 'I can't blog without'), it would be Jaaxy. So what is Jaaxy keyword tool? It is one of the best keyword tools for SEO and research platform built by affiliate marketers for affiliate marketers.
Just how important is keyword research for internet marketers? If you can target keywords effectively, you can boost your online business exponentially. How so? Better keyword usage leads to better search engine ranking. Better search engine ranking leads to more traffic. Traffic brings sales. Sales are money.
There are millions of search term being searched every day, Jaaxy is the tool that can offer traffic, competition and domain insights into these keywords.
What is Jaaxy keyword tool – An Overview
---
Jaaxy, an easy-to-use yet powerful keyword research tool. It offers you all the essential information in order to improve the Google ranking of your website. In other words, more traffic to your website.
The Good & the Bad
---
The Good:
User-friendly interface and beginners friendly. Only shows the metrics that matter. It does not haunt you with the SEO jargon.
A web-based tool, no software installation is required. Just log in and do your research anywhere you want.
Low running cost. It is relatively cheaper compares to its competitors.
The Bad:
It is an online tool, so an internet connection is a must.
English only.
Not FREE.
Inside Jaaxy Keyword Tool
---
Now, let's look inside Jaaxy. I will use a simple example to show you how I use Jaaxy. Let's say, we are interested in writing something about "Dog food". However, we have no idea what kind of keywords should we target.
How does Jaaxy help us?
Keyword Research
We enter 'Dog food' into Jaaxy, and it will analyze and provide us with data.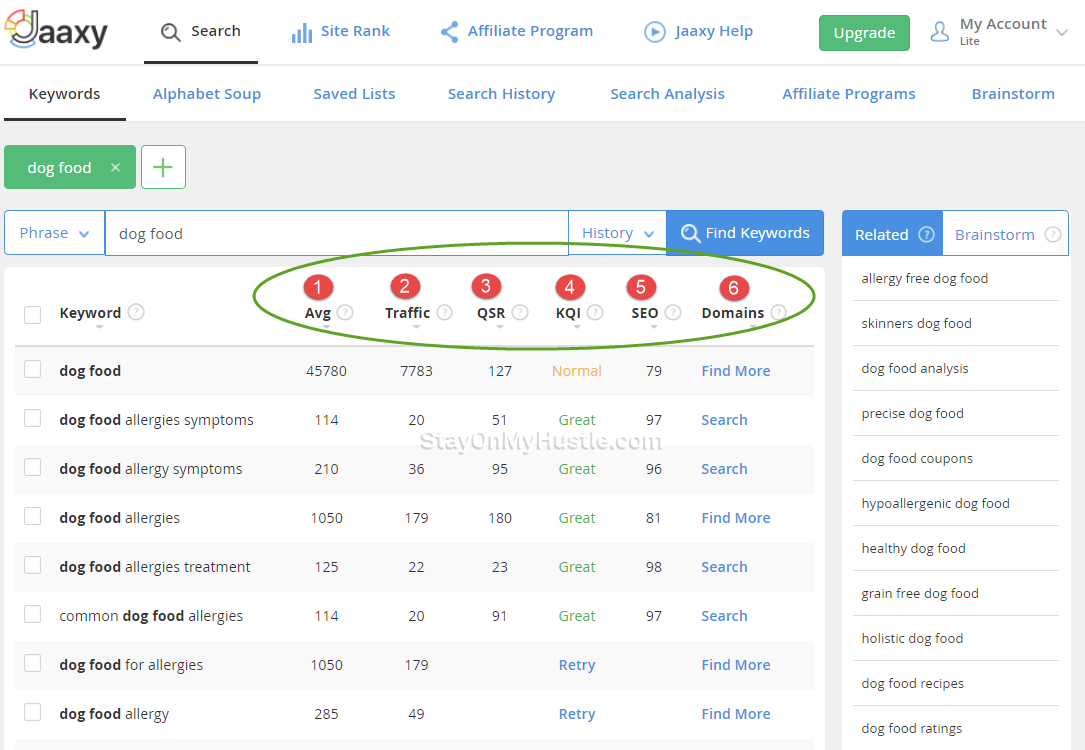 Let's go through each column of the metrics.
Avg – It is a short form of 'Average'. This is the average number of searches that the keyword received per month.
Traffic – This is the number of visits to your website if you achieve first page rankings in the search engines.
QSR – It stands for Quoted Search Results. This is the number of competing websites ranked in Google for this exact keyword.
KQI- Keyword Quality Indicator. Green is great, Yellow is OK and Red is poor.
SEO- This is a score based on traffic and competition, the higher the score, the more likely you will be ranked for this keyword on the first of search engine.
Domains- This is a list of available domains that are related to the keyword.
As you can see, it is very straightforward and easy to understand.
How do we use this data? First, we need to understand what makes a good keyword?
In general, there are 3 criteria your keyword must meet:
Avg greater than 50 – The keyword must attract SOME traffic.
QSR <100- Less competition is desired.
The keyword (phrase) must make sense. It should be able to be used in a proper sentence.
That's it. One simple search in Jaaxy, we can have many keywords that fit these criteria. Once we have identified good keywords, we can start creating content targeting them. Over time, this will lead to an increase in traffic and revenue.
Alphabet Soup
Another powerful feature of Jaaxy is Alphabet Soup.
By entering a word or phrase, drag the slider, Alphabet Soup will generate a lot more keyword suggestions.
For example, I entered 'how to make money' in the search box, Alphabet Soup generates some interesting ideas such as 'how to build a how to make money blog' or 'how to write a how to make money ebook' etc.
Would I complain about running out of an idea to write? I don't think so. There are just so many potential being uncovered by Alphabet Soup.
Keyword List Management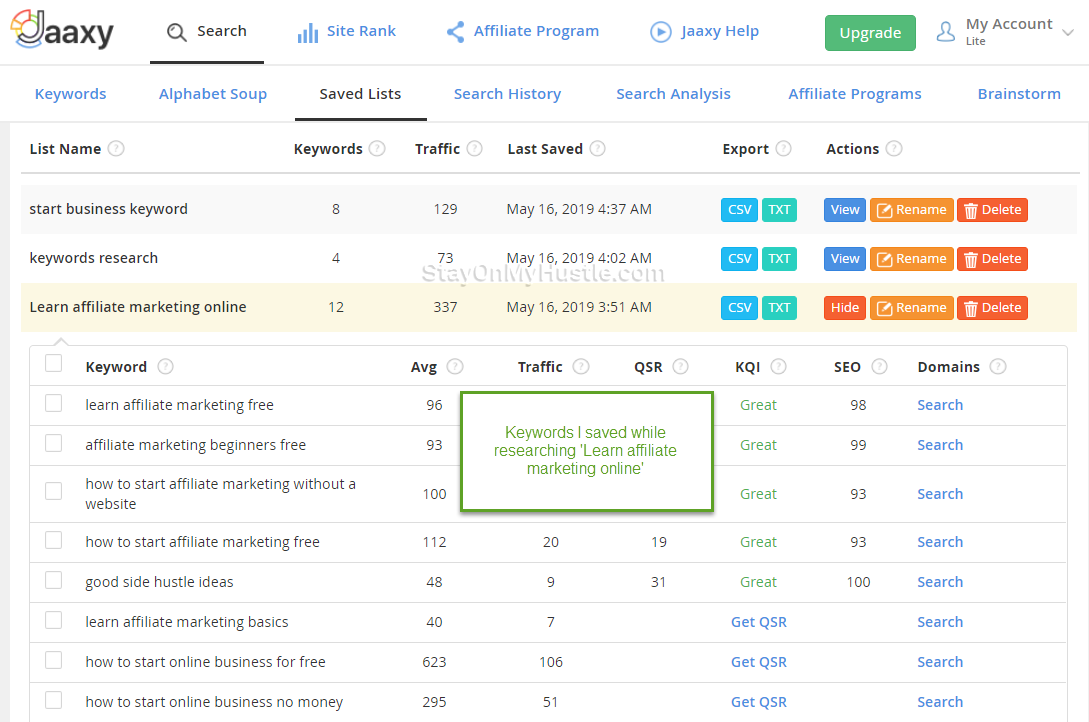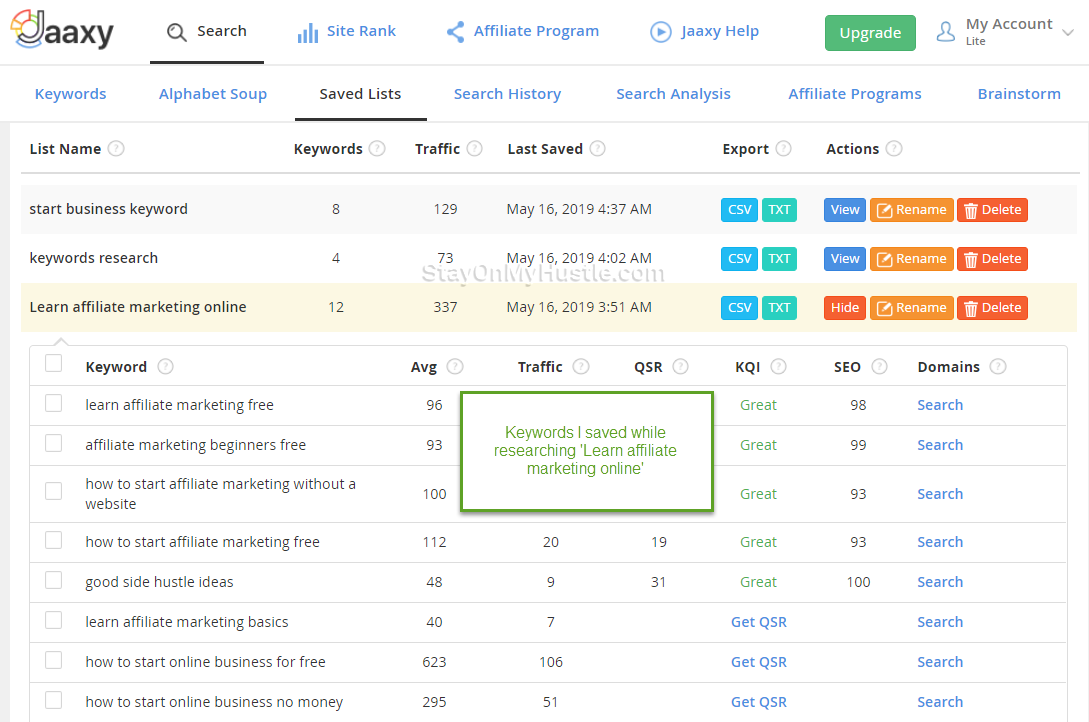 Jaaxy allows you to save keyword search results into lists. This is very useful. You can save the list for future use, or just to organize them by niches, etc. In case you prefer to work with a spreadsheet, you can also export the saved list to your computer.
Search Analysis
It is important to know your competition, you want to outrank them, or at least, learn from them. With Jaaxy Search Analysis you are able to view the Google page 1 search result of a keyword.
In addition to the search result, Jaaxy Search Analysis also shows you more detailed information such as :
Meta Description
Meta Keywords
Word Count
Links on site
Back links
Alexa Rank
Adsense
From this information, you can literally spy your competition. You will realize whether it is a mission impossible to outrank them, or it is just a walk in the park.
Affiliate programs search
This is a simple and useful feature, particularly for affiliate marketers. With Jaaxy Affiliate programs search, you can search for affiliate programs that are related to the keyword of your choice.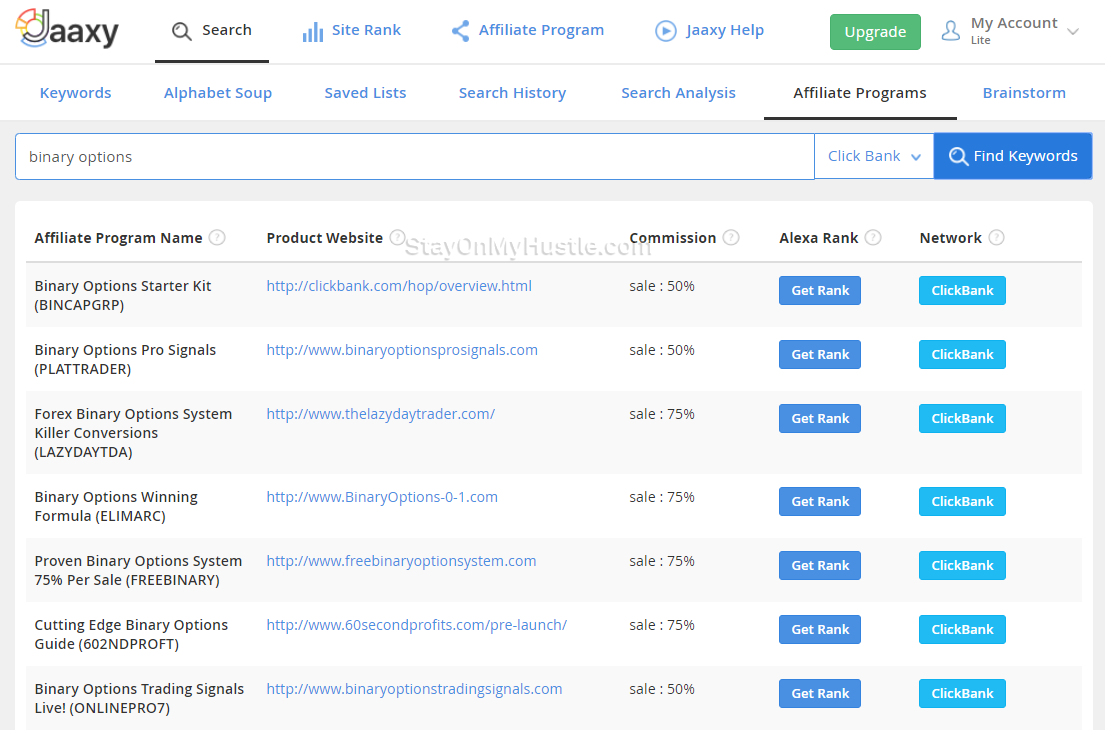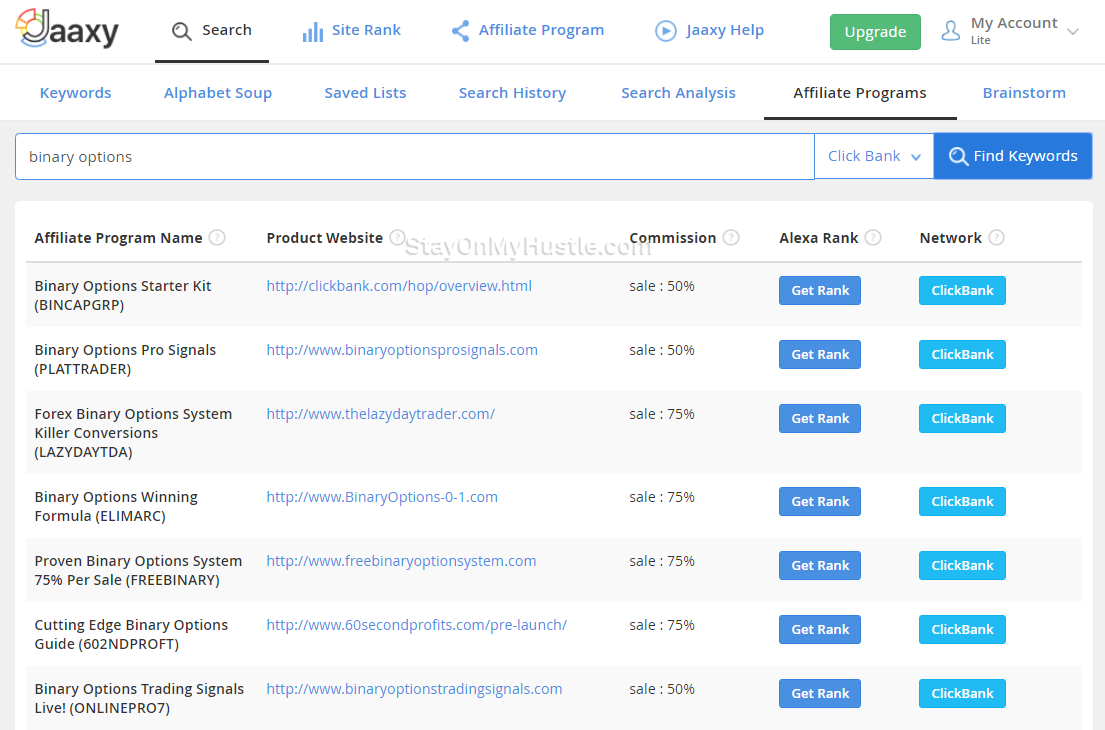 Jaaxy works with 4 major affiliate networks:
Commission Junction
Link share
Digital River
Click Bank
Site Rank
It is very easy to check and track how well your site or post is doing on search engine by using Site Rank. Not only your own website, but you can also use it to check how your competition is doing as well.
You simply enter the targeted keyword and the domain you want to check, Site Rank will pull ranking information from Google, Bing, and Yahoo for you.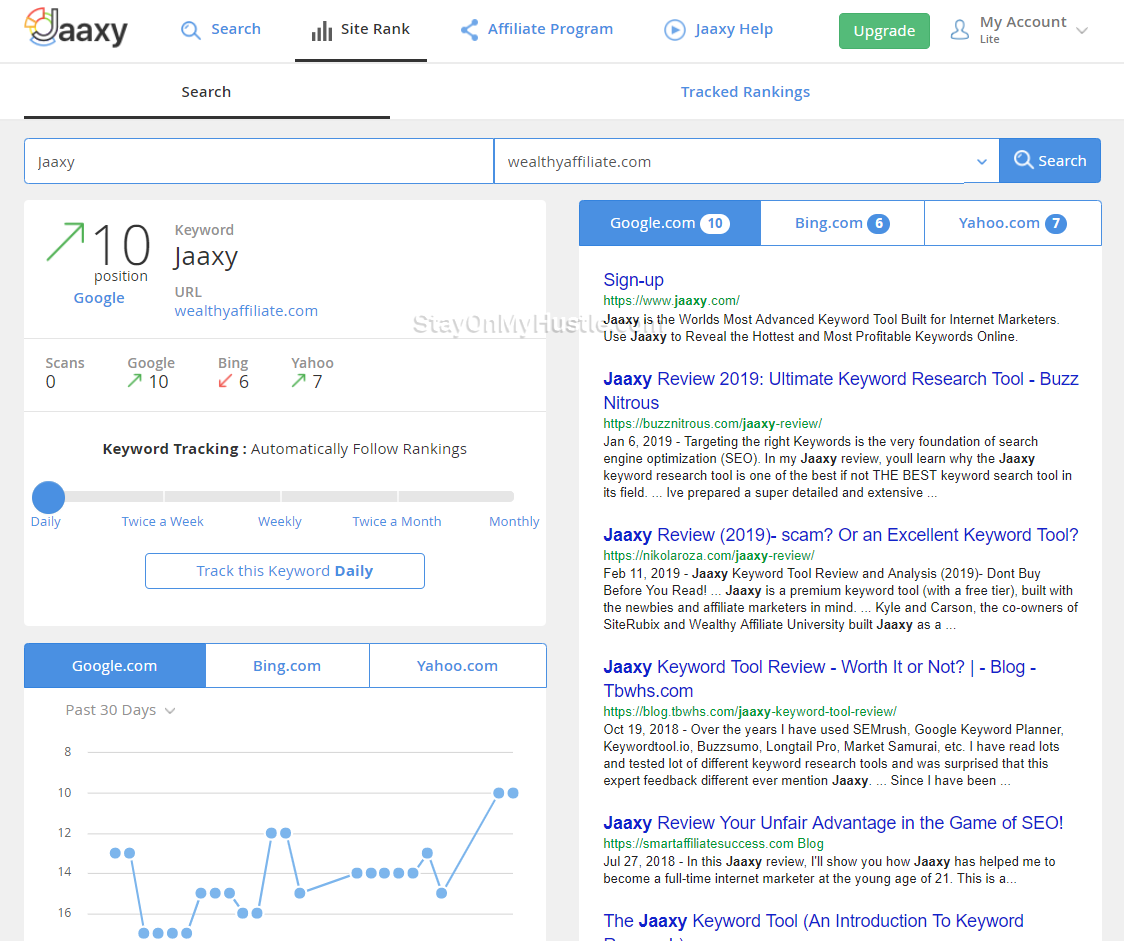 Jaaxy pricing information – It is FREE to try!
---
There are 3 membership options
Starter – FREE to sign up, it comes with 30 Keyword Searches. This is the best option to try Jaaxy service.
Pro – $49/month. Pro membership comes with UNLIMITED keyword searches
Enterprise – $99/month. Enterprise membership is designed for more advanced internet marketers, especially those who manage few websites at the same time.
Below is the quick glance of the pricing information.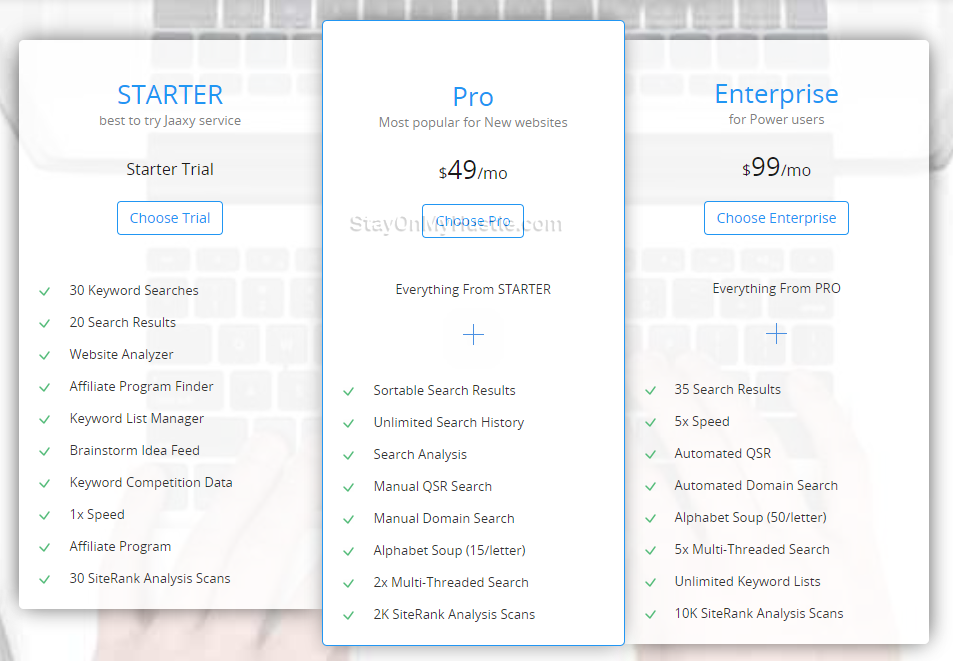 My Final thought about Jaaxy
---
Is Jaaxy Keyword tool a real deal? My answer is: YES.
It is a great tool with affordable price. It saves you a lot of time by offering a fast and easy keyword search function, and also keyword list management tools. On top of that, you can research your competition, and also search for affiliate programs related to the keyword of your choice.
A lot of tasks can be achieved by just a few mouse clicks. Personally, I am using Jaaxy for all my keyword research work. I love it, and happy to recommend to anyone who is looking for a similar tool.
Jaaxy at a Glance…
---
Name: Jaaxy Keyword Research Tool
Website: www.jaaxy.com
Owners: Kyle & Carlson
Price: FREE starter, Pro member $49/month, Enterprise member $99/month
Overall Rank: 90 out of 100
Recommendation: Love it, Highly Recommended!