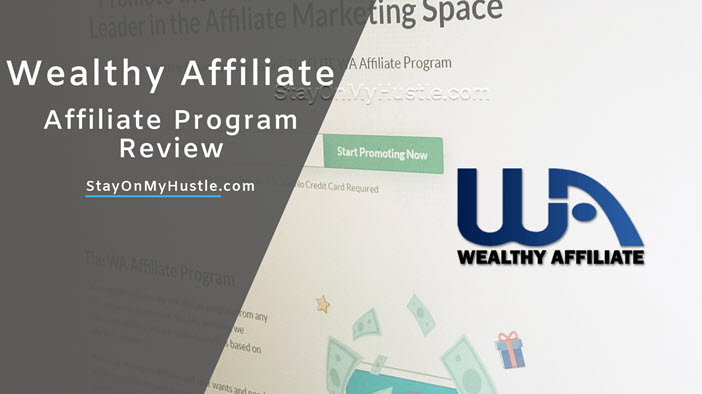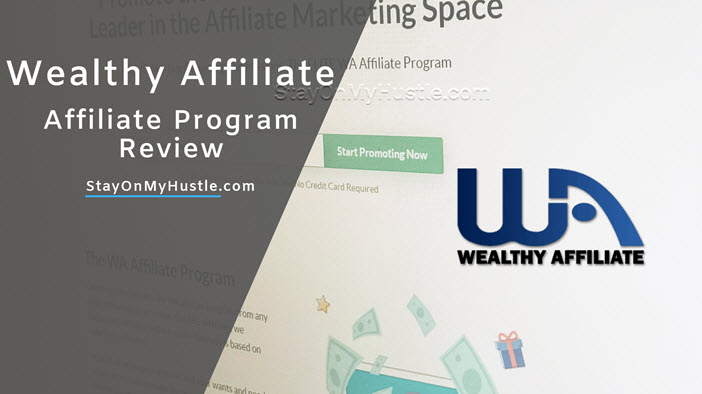 This post may contain affiliate links. Read the disclosure for more info!
You have probably heard about Wealthy Affiliate (or we call it WA) as a marketing training and web hosting platform. Can you make money by promoting Wealthy Affiliate? You bet.
I have been thinking about how to help readers of this site to start an online side hustle, and make money. It appears to me that we (myself included) often wasted time on affiliate programs that simply are not worth the effort.
I am on a task to find out some worthy affiliate programs you can start promoting.
Affiliate program of Wealthy Affiliate pays a generous commission of up to 47% sales value. So what's inside the program and how to get started with?
Here is my Wealthy Affiliate affiliate program review.
In this post, I want to go into details of the Wealthy Affiliate's Affiliate program.
I will walk you through the following:
Overview of the Affiliate Program
How to join
The commission payout
The Training
The tools
Upsides of WA Affiliate Program
#1 Generous Recurring Commission
Wealthy Affiliate offers up to 47% of sales value as commission. And it is recurring.
You will receive a commission monthly or yearly as long as your referral stays as a member.
#2 Affiliate Bootcamp
Specific training is designed to help new affiliates to get started.
#3 On-time payments
Commissions payouts are paid at the beginning of each month. From my experience, all payouts are on time.
#4 Promotional Toolbox
There are several tools for affiliates. This includes Affiliate tracking, Comparison tables, and Custome widgets, etc. We will look at the toolbox in details later of this post.
#5 Bonus for successful affiliates
Affiliates who manage to acquire 300 premium members in a calendar year are invited to a private conference in Vegas. All expenses are paid by Wealthy Affiliate.
Downsides of WA Affiliate Program
#1 It is a highly competitive market
Affiliate Marketing education is in a crowded market. There are thousands, if not more, "make-money-online" websites around.
It is still possible to make money promoting Wealthy Affiliate. However, it takes a lot of work to stand out in the competitive market.
#2 Bad promotion practice of members damages the brand
Some members prefer to deliberately downrate other services in order to promote Wealthy Affiliate. This practice has left a bad impression and damage the reputation of the Wealthy Affiliate Brand.
#3 Lack of in-depth training for Youtube and social media strategies
The Affiliate Bootcamp covers instructions for video creation and social media sharing. There is no in-depth strategy taught in the Bootcamp.
Still not sure? Read on.
Now let's look into the details of Wealthy Affiliate's Affiliate program
What is Wealthy Affiliate?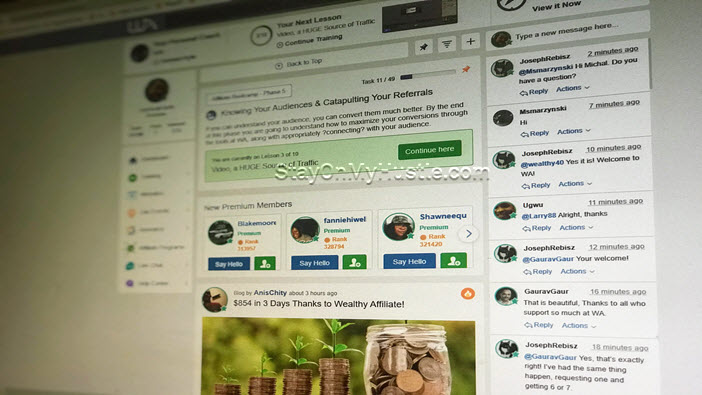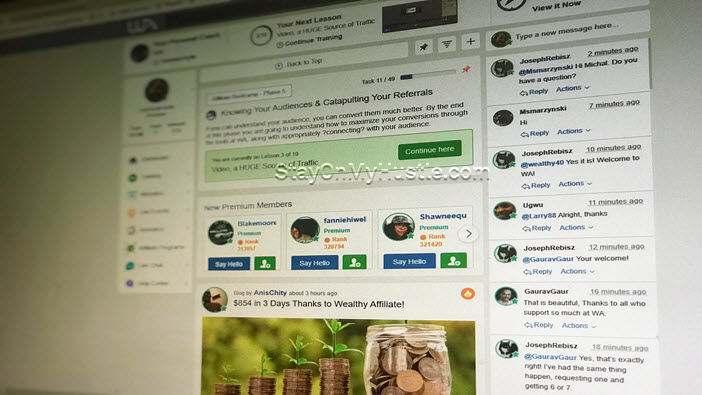 Wealthy Affiliate was founded in 2005. It is one of the most popular marketing training platforms.
Wealthy Affiliate offers marketing training, Managed WordPress hosting, Keyword research tool, and community. All these services are included in a flat monthly fee of $49, or a yearly fee of $495.
You can find the full review of Wealthy Affiliate service here.
Wealthy Affiliate offers two types of membership:
Starter member
This is a free membership.
With a free membership, you receive:
Access to the Wealthy Affiliate community
1 free website under SiteRubix domain
Phase 1 of Affiliate Bootcamp training
Premium member
This is a paid membership.
Here are some of the benefits you will receive as a premium member:
How to join the Affiliate Program of Wealthy Affiliate?
The Affiliate Program is part of Wealthy Affiliate membership. You need to become a Wealthy Affiliate member in order to be an affiliate.
Both Free starter and the premium member can be an affiliate of Wealthy Affiliate.
However, there is a difference in terms of commission payout. I will discuss more commission rates later.
How much can you earn as an affiliate?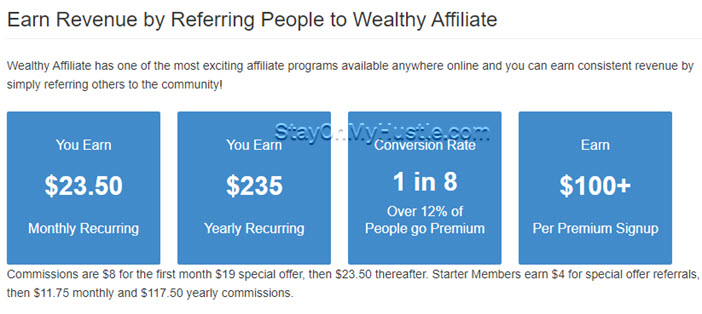 According to Wealthy Affiliate's figure, the current conversion rate is over 12%.
That means 1 in 8 starter members join Premium membership.
What is the commission rate of Wealthy Affiliate?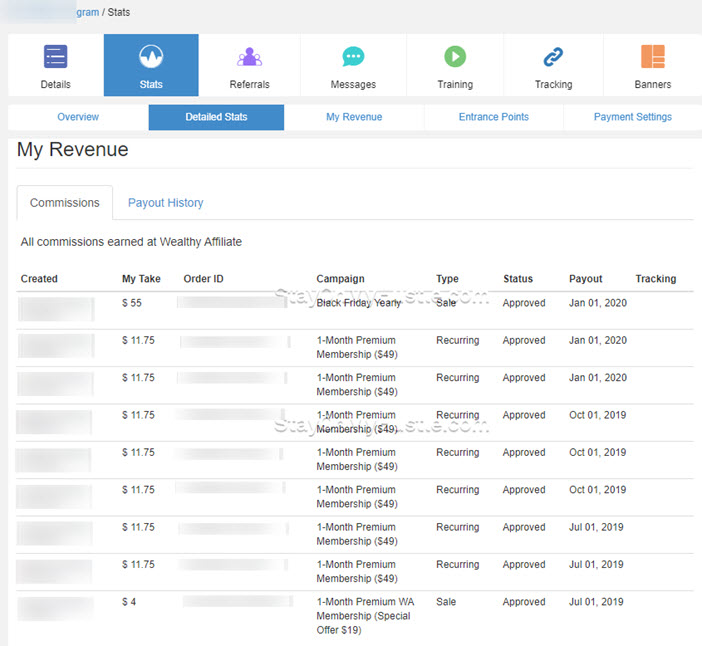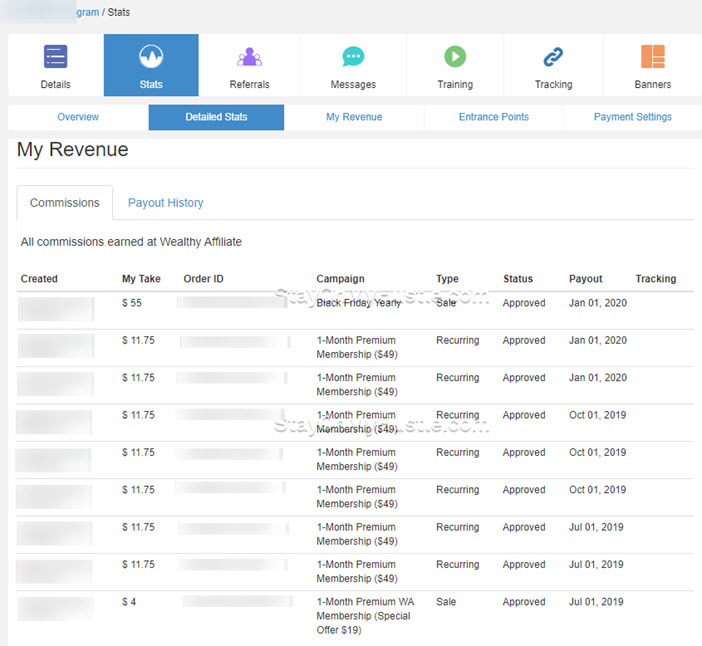 One of the benefits of being an affiliate is residual commissions. As long as your referral stays with Wealthy Affiliate, you will receive a commission for every payment the referral makes.
Commission rates of the WA Affiliate Program vary depending on membership type.
Premium members enjoy the full benefits of the WA Affiliate Program. Here is the commission rate for Premium members:
Referral on Monthly Payment
Commission earned: $23.50/Month
Referral on Yearly Payment
Commission earned: $235/year
New Member discount:
Commission earned: $8
During the first month, referral receives a discounted monthly fee of $19.
Starter members earned 50% less commission than premium members. Here are the commission rates for starter members:
Referral on Monthly Payment
Commission earned: $11.75/Month
Referral on Yearly Payment
Commission earned: $117.50/year
New member discount
Commission earned: $4
How and When do I get paid?
Payments of commissions earned by referring others to Wealthy Affiliate are paid out on the 1st of every month via Paypal.
Payment will only be sent if the minimum payment amount has been met.
For a premium member, the minimum payout threshold is $10.
For a Starter member, the minimum payout threshold is $25.
Where can I find training?
Wealthy Affiliate offers step-by-step video-based training to members who are interested in promoting Wealthy Affiliate.
The training also suits those who are interested in the make-money-online niche.
Here is the outline of Affiliate Bootcamp:
Affiliate Bootcamp is a 7-phase (70 lessons) series of courses. The training is designed to walk you through the process of creating and establishing an online business.
Specifically, it helps you to create a business in the niche that is related to the promotion of Wealthy Affiliate.
Getting Your Business
Content, Keywords, and Conversions
Giving Your Site Social Value
Get Visual. Get Aesthetic. Get a Brand Through Media
Knowing Your Audience & Catapulting Your Referrals
Bing, Yahoo, and The Power of PPC
How Scale Successful PPC Campaigns
Premium members have access to the full training, while Starter members can access to the first 10 lessons of training.
What are the tools I can use to promote Wealthy Affiliate?
Wealthy Affiliate equips affiliates with technology and tools that you will need to be successful.
Wealthy Affiliate offers a managed WordPress hosting service. Both Starter and Premium members are allowed to create a free website(s) hosted by WA.
Majority of affiliate promotes Wealthy Affiliate service by blogging. However, there are a few successful affiliates working mainly on Youtube.
The Promotional toolbox includes:
Affiliate Tracking
Custom WordPress Widgets
Comparison Charts
Comprehensive Stats
Promo Banners
Custom Links and landers
Jaaxy Keyword Research Tool
1 free website for Starter members and up to 10 for Premium members
Wealthy Affiliate affiliate program review verdict: Is it worth promoting?
The short answer is Yes.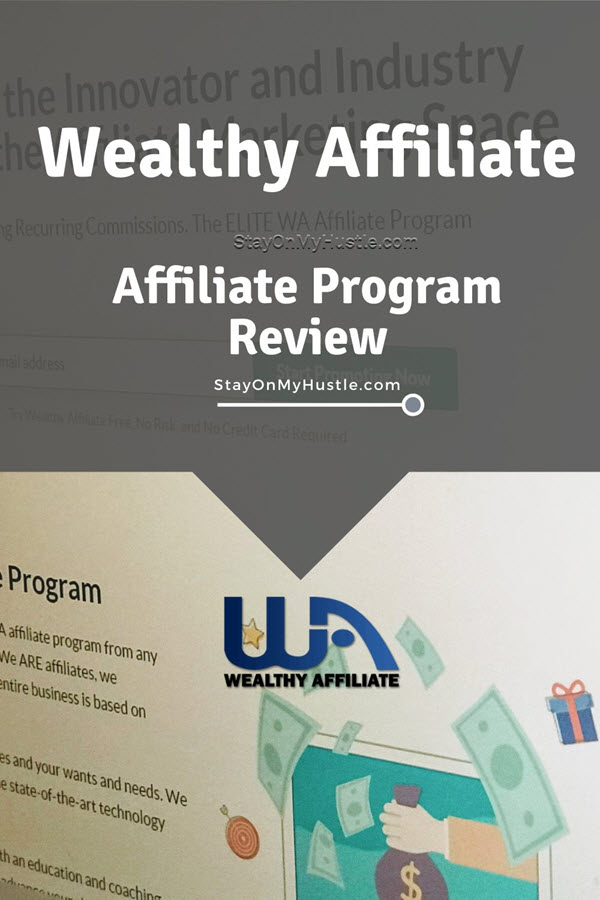 Wealthy Affiliate is a legit training platform that offers real value to members. It best suits beginners who are new to internet marketing.
According to the owners, Kyle and Carson, there is a significant enhancement coming this year. The platform continues to grow and improve.
From an affiliate's point of view, it is worth promoting a product or service that offers value to its customers.
Here is the summary of why I recommend the program:
Free to join
It offers residual commissions
Legit and quality service
On-time commissions payout
Do you have any questions or comments? Please feel free to drop me a line in the comment section. I am happy to help.
Ready to Promote Wealthy Affiliate?
Join the affiliate program that could provide you residual commission