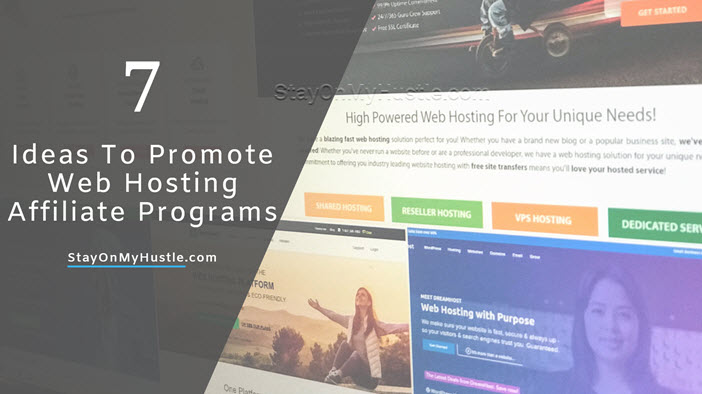 This post may contain affiliate links. Read the disclosure for more info!
There are over 1.7 billion websites on the internet today. It is a huge population. It is fair to say there is a website being created every second. It is a fascinating statistic.
Is it possible to take advantage of this market and make money out of it? Yes, it is possible.
One of the essential services to create a website is web hosting. Web hosting is a big and competitive market. Most, if not all, web hosting companies offer an affiliate program.
If you are looking for ideas to promote web hosting affiliate program, you have come to the right place.
In this post, I want to show you 7 ideas to promote a web hosting affiliate program.
Where to find Web Hosting affiliate program?
Most web hosting companies leverage the power of affiliate marketing. They often offer generous commissions ranging from $50 to $120 per signup.
Depending on the traffic and the sales you can potentially bring in, you can negotiate further for a better deal with them.
So now, where can you sign up for an affiliate program?
Visit the website of a web hosting company, look for the link "Affiliate", and follow the signup process.
Take Bluehost for example, the signup process is easy.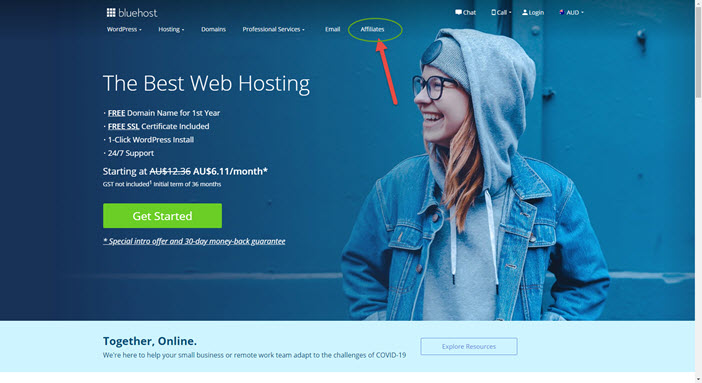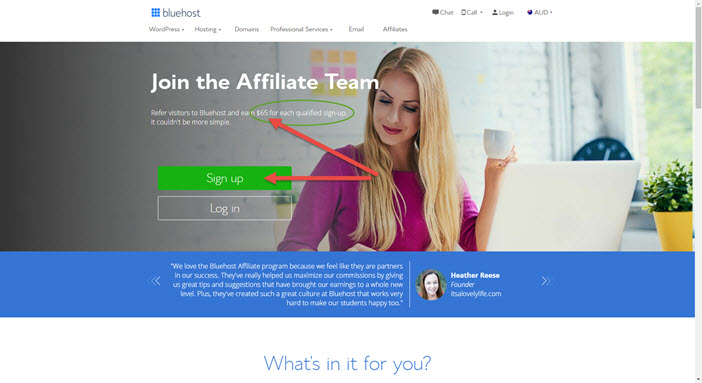 The application process is straightforward, and most web hosting companies approve applications pretty quickly.
Which Affiliate program should I choose?
There are so many affiliate programs, which ones should you choose?
While the commission rate is one of the key factors, as a general guide, here is what I follow when choosing affiliate programs:
The company that has a good reputation
The product or service that I have used
Is the product always in demand?
You could come out with more rules, but these 3 are the ones that I follow.
Without further ado, let's look into some promotion ideas.
7 Ideas To Promote Web Hosting Affiliate Program
To promote web hosting as an affiliate, we are looking at two main strategies:
Promote through a Youtube channel
Promote through a website
Spamming your affiliate links on social media or forums does not help. In fact, you are likely to be banned.
Instead, crafting content that is useful to your audience first, and they will follow your recommendations.
#1 Youtube video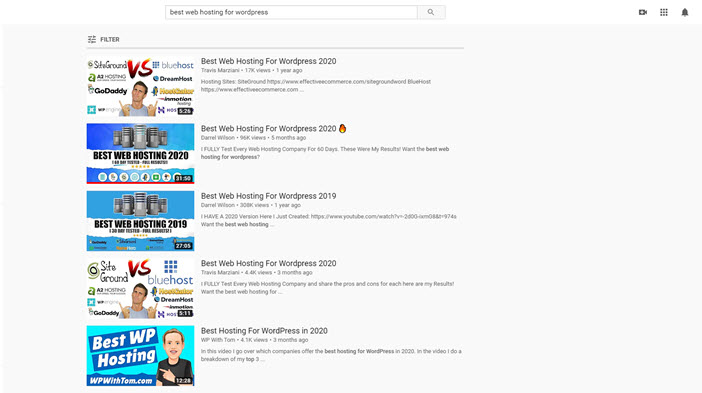 Youtube is one of the most popular media channels now. Beyond entertainment purposes, Youtube is also widely used as a search engine.
You can create videos to compare a few web hosting services. Introducing the key features of each service to your viewers. You could list your affiliate links in the description.
#2 Writing a blog post
Blogging is one of the most effective ways to promote a product. People constantly searching for solutions, reviews, or suggestions on the internet before making a purchase.
There are many ways to promote web hosting through blog posts. For beginners, the easiest way is to start with comparison or 'Best X for y' blog posts.
Some topics you can start with:
Top 5 web hosting services for photographers
5 best web hosting services for real estate agents
Best web hosting services for dog breeders
Walkthrough the features of each web hosting service, give your readers a good overview of the services. You can embed the affiliate in your articles.
#3 Starting a website
To promote web hosting services effectively, you need to start a website.
Starting a blog focusing on web hosting, or website building. Putting together articles related to web hosting or website building. The goal is to create an authority site.
For a new website, focusing on longtail keywords with less competition gives you a better opportunity to rank higher in search results.
Some ideas to write about:
Complaints about web hosting service
Introduction to web hosting company
Comparison of two web hosting services
Pros & Cons of using certain web hosting services
Once you gain authority, you can start with more competitive keywords.
Web hosting is a competitive niche. For beginners, you can focus on topics like 'Best web hosting for beginners' or ' Top 5 web hosting for bloggers', etc.
#4 Tutorials
Tutorials or guides never run out of demand. People search for 'how-to', or guides every day. You can create a written tutorial or video tutorial.
On the blog, a tutorial could be a comprehensive blog post or a series of blog posts.
Consider creating tutorials that are related to blogging, website building, or online business building, etc. You could recommend a hosting plan when talking about website set up or in the resource page.
Here are some ideas:
Tutorial on how to set up a WordPress website.
Tutorial on how to start an online business
Similarly, you can create a video tutorial and recommend web hosting service to your viewers.
#5 Hosting reviews
I consider this is for more advanced bloggers. Writing a review of a particular web hosting company requires more research and work.
Writing a review that offers more than just sales pitches. There is no point to copy what has already been said on the company's sales page.
Here are a few suggestions for your review posts:
Offer your personal experience of the service.
What was your experience with customer service?
Get your statistic such as uptime, load time speed, downtime frequency, etc.
Go details about the technology used by the company
You could recommend the service or suggest an alternative service at the end of the review.
#6 Create an ebook
Writing an ebook is an effective way to offer value to your audience. It is also a useful channel to promote your affiliate products.
You may be writing an ebook about Blueprint to create an online business, or How to create a WordPress website. You could recommend a WordPress hosting plan while discussing website setup or hosting plan selection.
Besides, ebooks can be used as a lead magnet to gain email subscribers. It is worth working on your ebook.
#7 Create email mini-course
Email marketing is a proven marketing strategy. You could offer a mini-course to your email subscribers.
Similar to ebook, you can create a mini-course on how to start blogging for beginners, how to improve your website, or Search Engine Optimizations, etc. Recommending a hosting plan when discussing domain registration or WordPress installation, etc.
Bonus traffic opportunity: Pinterest
Pinterest is used as a search engine. People use it as they do on Google. And on Pinterest, there is a group of audience that is particularly interested in starting a blog or online business.
Research shows that there is a big number of housewives or stay-at-home-mums on Pinterest. And they are keen on starting a blog or home-based business.
In case you haven't noticed, Pinterest could be a good source of traffic for your blog. Create pins related to your niche and bring traffics to your blog posts.
Final Thoughts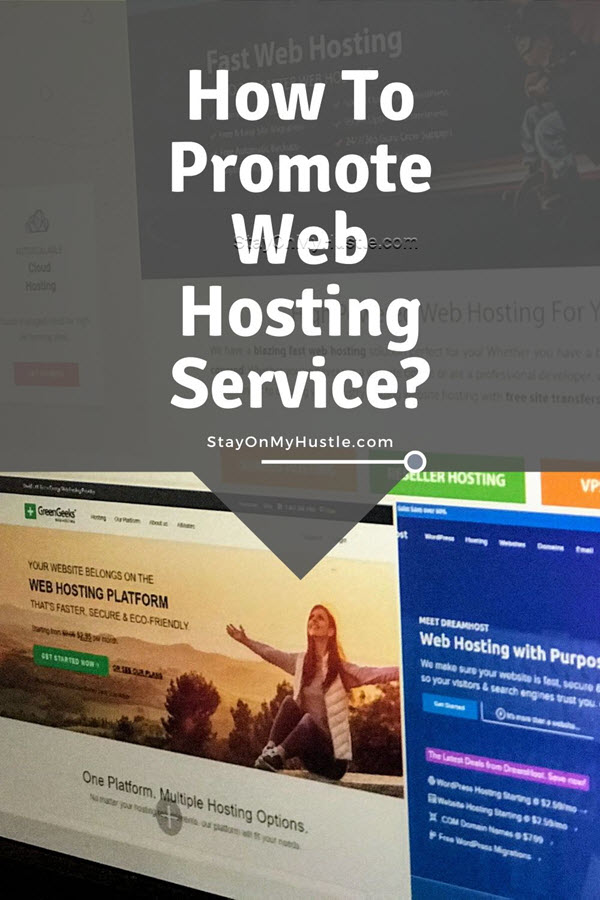 Here you have it. My 7 ideas to promote web hosting affiliate programs. There are many ways to do that, these are just some strategies that I found to be effective.
Like I mentioned at the beginning of this blog post, Web hosting service is a service that in demand. Yes, it is a competitive niche, but it is still worth trying out.
Where can I find affiliate marketing training?
Affiliate marketing is more than just posting affiliate links on your article. There are works behind the scene. If you are interested in learning more about affiliate marketing, I would like to recommend you check out Wealthy Affiliate.
Wealthy Affiliate is a great place for beginners to get started. It offers affiliate marketing training, web hosting (up to 10 websites!), keyword research tools, and support community. All these are included in a flat and affordable monthly fee.
It is easy to start. You can join Wealthy Affiliate for free. With the free membership, you can create 2 free websites and access to Online Entrepreneur Certification training.
Besides, Wealthy Affiliate offers a 7-day free trial of the premium service.
It is a great step stone for new marketers. I am happy to recommend it.
Which affiliate program is your favorite?
Do you have any questions or comments? Feel free to drop me a line in the comment section. Happy to hear from you.