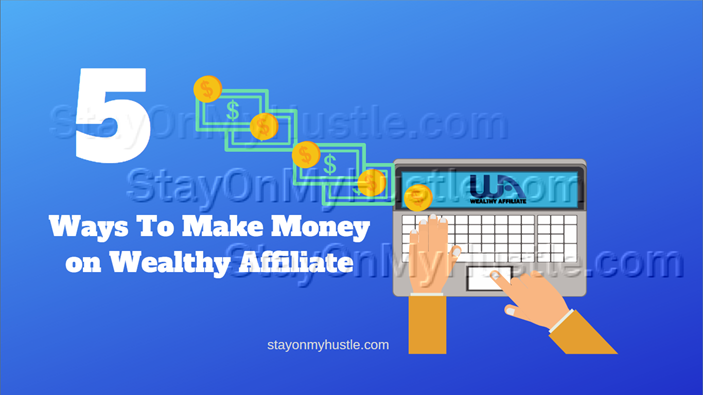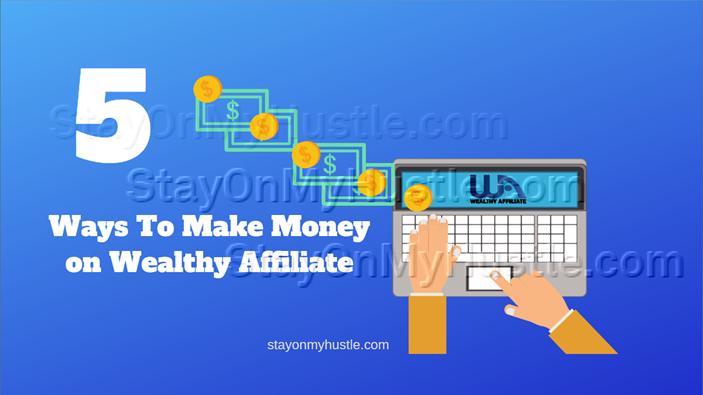 This post may contain affiliate links. Read the disclosure for more info!
Training and community at Wealthy Affiliate can help you build a profitable online business. But do you know you can also make money by involving in some activities on the Wealthy Affiliate platform?
There are a lot of reviews of Wealthy Affiliate available on the Internet. This is not a review. Instead, I want to show you 5 Ways To Make Money On Wealthy Affiliate platform.
A brief introduction of Wealthy Affiliate
Wealthy Affiliate is an all-in-one platform. It offers affiliate marketing training, web hosting, and a community platform.
It is one of the recommended platforms for those who are new to affiliate marketing. You can check out my review of Wealthy Affiliate HERE.
Can You Make Money On Wealthy Affiliate?
The answer is YES. I am going to show you 5 ways to make money on the Wealthy Affiliate platform.
---
#1 Join Affiliate Program and promote Wealthy Affiliate
You can make money by promoting Wealthy Affiliate. The Affiliate Program is available to both free (starter) and paying (premium) members.
The great thing about the affiliate program is the recurring commission. You will get paid as long as your referral remains as a paying member.
In case your referral stops being a premium member and come back later, you will get paid again.
What's the catch? There is no catch.
Technically, you can start making money by promoting Wealthy Affiliate after signing as a free member.
How does the affiliate program work?
Once you have signed up as a member, you can find your affiliate link within the affiliate dashboard. Besides, you can obtain a unique affiliate link on any page within the Wealthy Affiliate community.
If you find an interest blog post or training on the Wealthy Affiliate platform, you can easily find the affiliate link of that page, and use it for promotion.
How much can you make?
$0 for a Starter referral
$4 for the 1st-month premium membership
$11.75 monthly recurring from 2nd-month onwards
$117.50 yearly recurring for a yearly subscription
$0 for a Starter referral
$8 for the 1st-month premium membership
$23.5 monthly recurring from 2nd-month onwards
$235 yearly recurring for a yearly subscription
The current conversion rate is about 12%. Which means, 1 in 8 free starter members upgrade to premium membership.
That's not all, there is a BONUS.
If you manage to achieve 300 premium referrals within a calendar year, you earn an invitation to the all-paid private conference held in Las Vegas.
To help affiliates achieving their earning potential, premium members have access to Affiliate Bootcamp which is specific to learning how to promote Wealthy Affiliate.
#2 Create Training resources on Wealthy Affiliate platform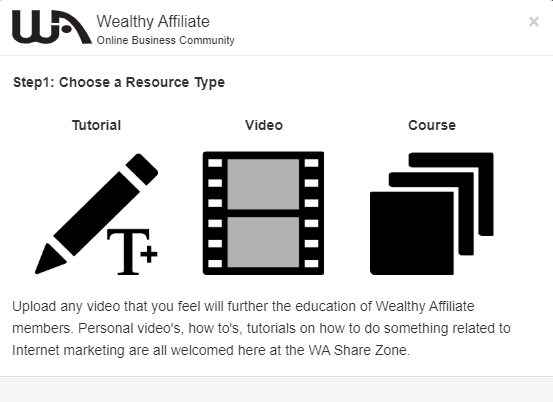 After being a Premium member for over 3 months, you can create training and share it on the Wealthy Affiliate platform.
Training can be in the form of a step-by-step tutorial, videos, or a complete course. Training topics can be anything related to building or running an online business.
You can create a training about keyword research, WordPress tips, or time management tips, etc. It does not need to be complicated. A simple tutorial works as well.
How do you make money by creating training resources?
Earning from the training is based on the success of it. The rank of your training improves when people like it, view it and comment on it.
As the rank of your training improves, it moves up to different levels.
Here is how it works:
Level 1= 10 credits = $5
Level 2= 20 credits = $10
Level 3= 30 credits = $15
Tips on what to teach
To get the idea for your training, browse around the community posts and questions. You can find out what topics are in demand.
#3 Make money with SiteComments and SiteFeedback
To help members grow their websites, Wealthy Affiliate offers 2 special features SiteComments and SiteFeedback. You can utilize these two functions to obtain feedback for your site or to improve engagements which will benefit your website's Google ranking.
You can earn community credits by offering feedbacks or comments. You can then use community credits to request for comments for your website.
You could become a Certified Commenter and start earning cash credits. You can choose to use cash credits to pay the membership fee or cash out.
#4 Make money by writing blog posts or posting questions in the Wealthy Affiliate community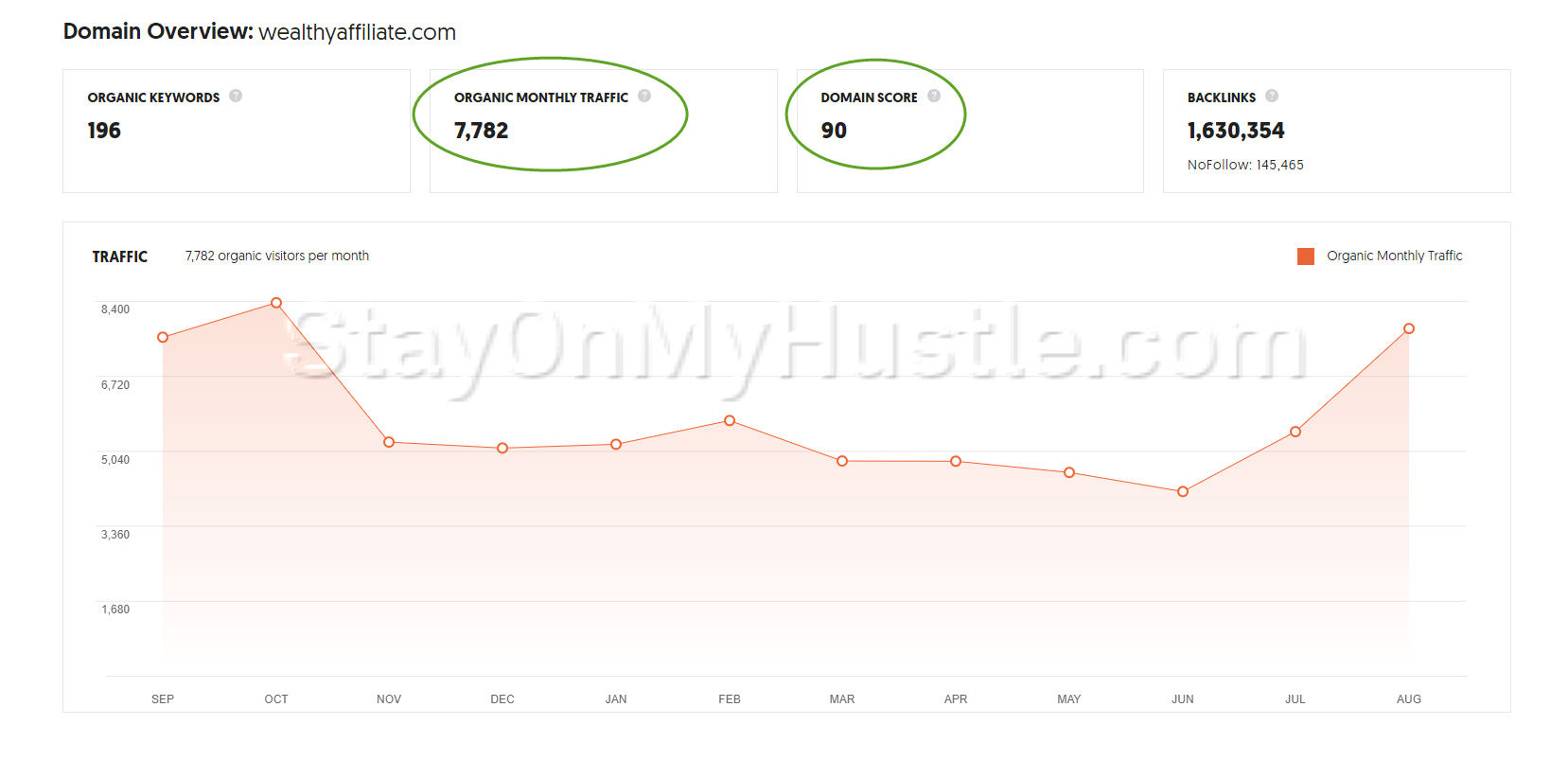 Wealthy Affiliate was founded in 2005. It now has a domain score of 90. It ranks high in major search engines such as Google.
As a member of Wealthy Affiliate, you can publish blog posts and create training within the platform. Since pages on Wealthy Affiliate tends to rank high on Google, so do your blog posts.
When someone reads your blog post and decided to join Wealthy Affiliate, you earn a referral commission. It is that simple.
Besides, writing helpful blog posts within the community helps you to build a reputation and followings.
#5 Build your online business
This option is about making money outside the Wealthy Affiliate.
Wealthy Affiliate offers all essential tools and education for you to build an online business.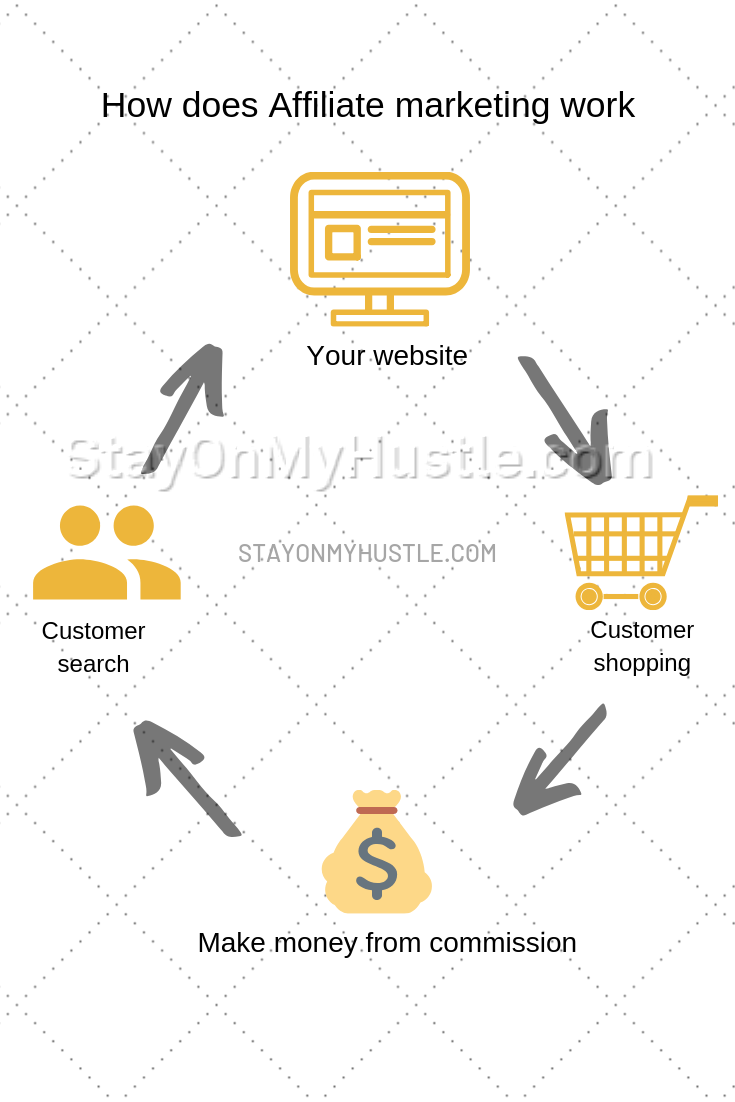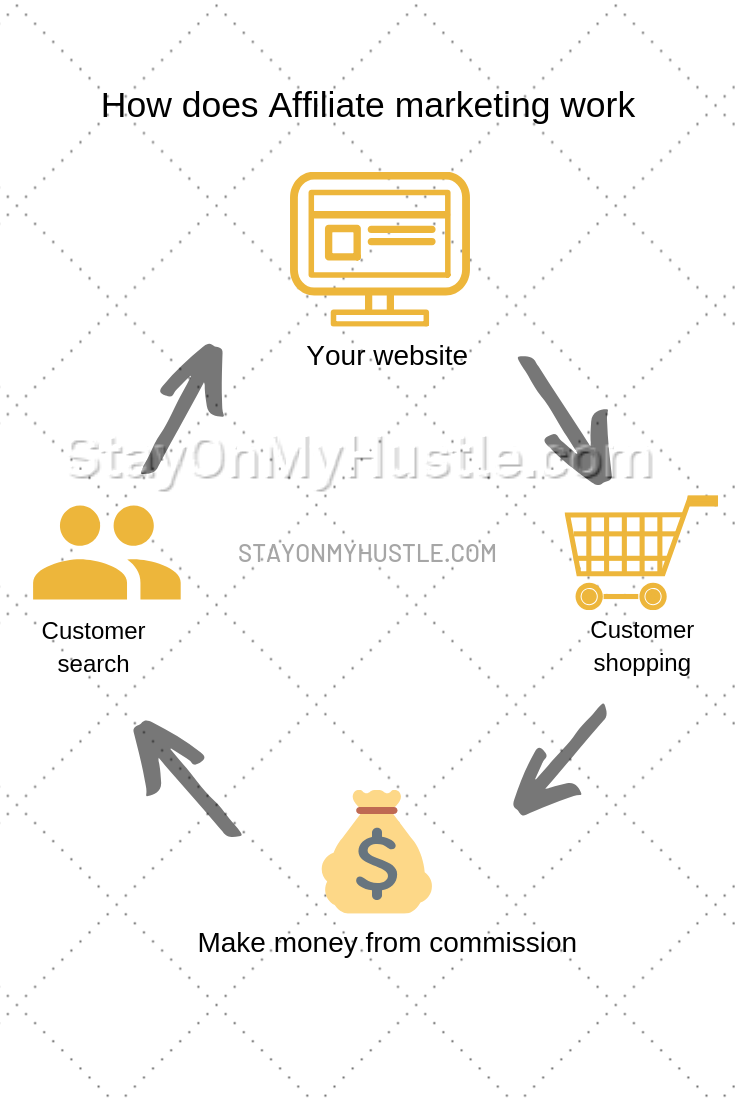 For beginners, I suggest you start by taking the FREE Online Entrepreneur e-Course. This course gives you the foundation for building your first website.
Online Entrepreneur e-Course covers the topics:
Understanding How to Make Money Online
Choose a Niche
Building Your Niche Website
Setting Up Your Website
Getting Your Site Ready For Search Engines
Creating Content
Understanding Keywords
Once you have set up your first website, you can start promoting affiliate products. You can use Affiliate Program Search function in Wealthy Affiliate to find suitable products for your niche.
To learn more about starting an Affiliate Marketing business, you can check out my post HERE.
Affiliate Marketing is a legit and proven business model. The earning potential is unlimited.
---
Final Thoughts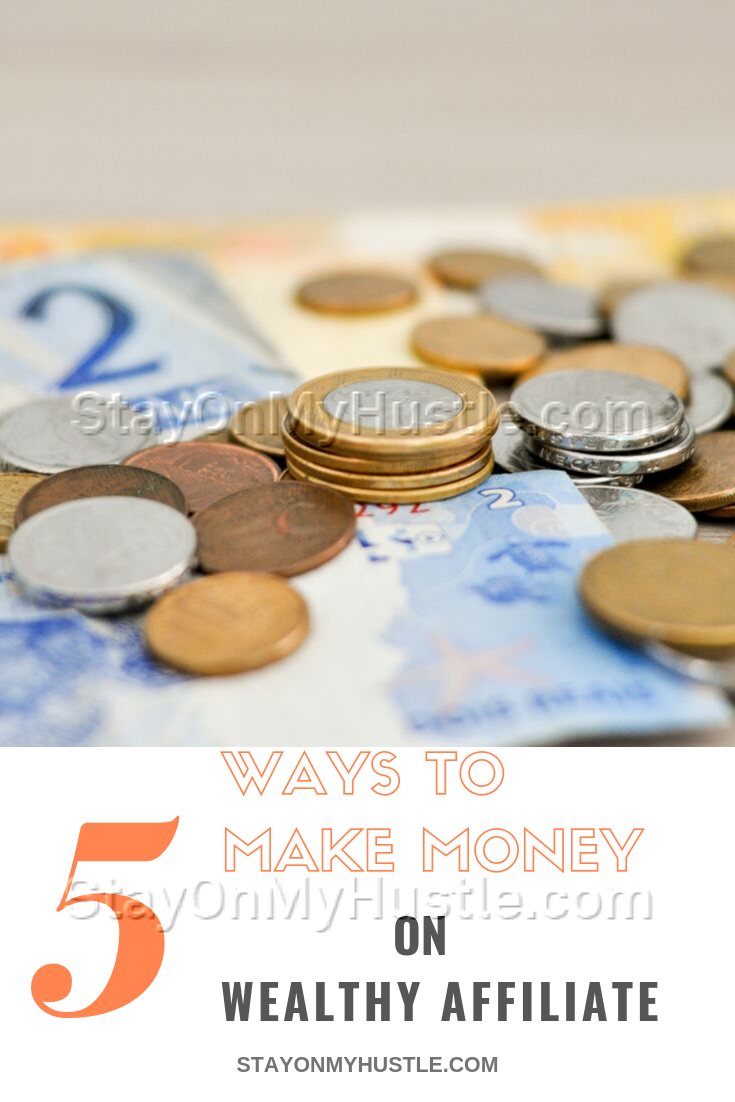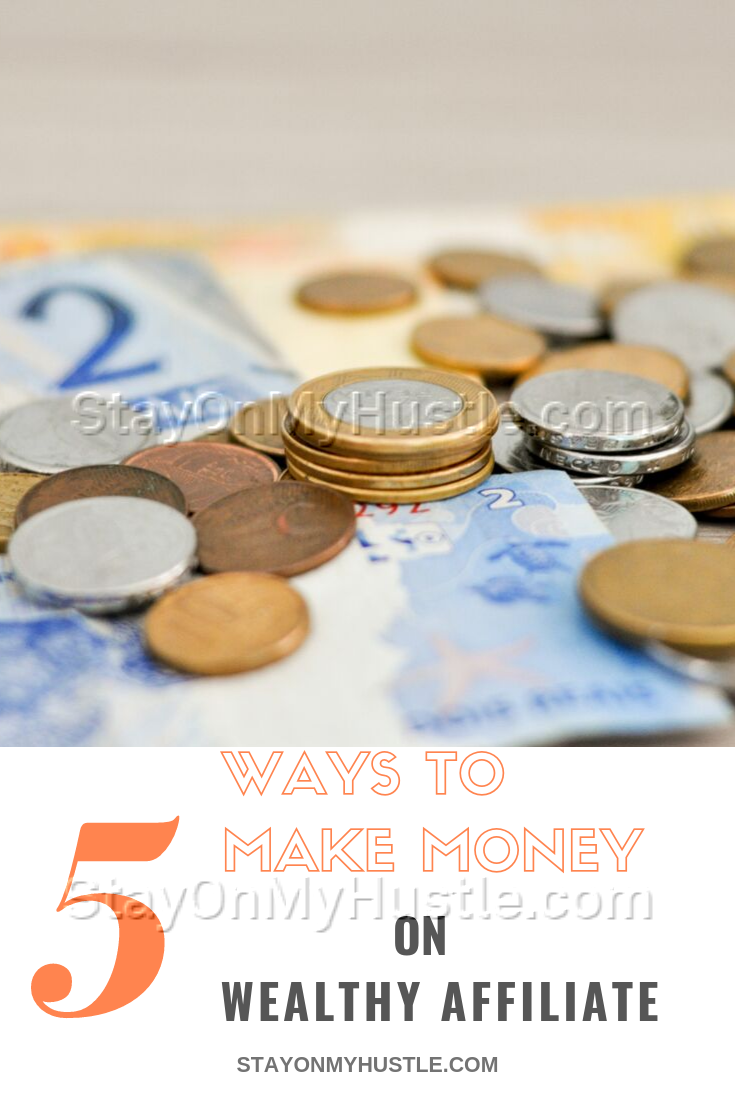 Here you have my 5 ways to make money on Wealthy Affiliate.
Wealthy Affiliate is more than just a training service. It is an All-In-One service that offers training, hosting and community. Besides, it provides members opportunities to earn extra cash within the platform.
Building an online business takes time and consistent effort. It is not going to be easy. Wealthy Affiliate offers all the tools and education you will need to make the journey less stressful.
The rest is up to you. If you are thinking about starting your own online business, why not take action now, sign up for a FREE account.
Do you have any experience with Wealthy Affiliate? or Do you have any question? Please feel free to leave me a comment below.