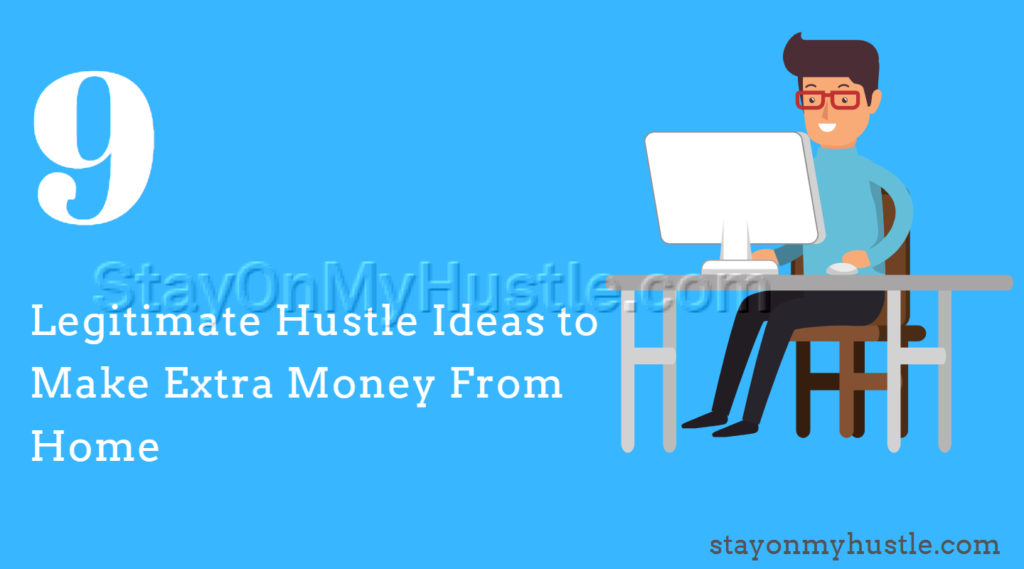 This post may contain affiliate links. Read the disclosure for more info!
Whether you are thinking of starting a business from home, saving up for a vacation or thinking about a career change, you can get started by hustling on the internet.
There are approximately 4 billion people actively using the internet today. They are looking for a solution to their problems online. You can make some money by helping them to solve their problems.
In this article, I want to discuss 9 legit hustle Ideas to make money from home. Some of these ideas have great potential to grow into a full-blown business.
---
9 Legit Hustle Ideas To Make Money From Home
#1 Online Teaching
If you have the passion to teach and have something to offer, creating online courses is a great way to make money online.
Platforms like Udemy and Teachable provides excellent marketplaces for course creators and students to sell and purchase online courses. 
The platforms take care of hosting, payment processing, and customer service. You can focus on producing courses, without having to deal with the technicality. 
How to get started:
To start selling your online course, sign up an instructor with Udemy or Teachable.  
#2 Sell your photography online
If photography is your thing, you can easily earn some cash by selling your work online. There is a growing demand for photographers of different skill levels. Professionals from corporations, small businesses, internet marketers, graphic designers, etc are willing to purchase photos for their work instead of stealing them on the internet. 
Here are a few legitimate marketplaces that allow you to sell stock photos.
Shutterstock
Getty Images
Adobe Stock
iStock
Alamy
500px
How to get started:
You can start selling your photography by signing up and listing your work with the marketplaces mentioned above.
#3 Fiverr
Fiverr is one of the go-to marketplaces for online freelance services. If you have a knack for being creative, you can earn money using Fiverr. 
What type of online services can you sell on Fiverr? Almost anything! You can offer services such as tutoring, be a life coach, giving relationship advice, or copywriting, etc. Have a look at the Lifestyle section, I bet you can always find something you can offer.
How to get started:
You can start selling your service at Fiverr by the following steps:
Creating your seller profile – Your profile represents yourself in the Fiverr community.
Creating your gig – This is the service that you want to sell on Fiverr.
Make sure your work samples accurately showing what you can offer to potential buyers.
#4 Virtual Assistant
Being a Virtual Assistant (VA) gives you the flexibility to work from home. A Virtual Assistant mainly focuses on administrative tasks for a business owner. The duties include managing email accounts, scheduling meetings, research, and data entry, etc. 
Virtual assistant service is in demand, especially among entrepreneurs. 
How to get started:
You can start by posting your profile in the marketplace like Upwork. Alternatively, you can create a website to advertise your service.
#5 Start a dropshipping business from home
Fancy about selling online but do not wish or do not have the capacity to stock up products? Dropshipping might be the answer for you. 
With Dropshipping model, your focus is on marketing and customer service, while your suppliers handle shipping and logistics. 
The main difference between dropshipping and other side hustle ideas is that it does not make you cash immediately. It takes some time, and a small investment to get started. However, the earning potential for this model is a lot bigger.
Dropshipping is one of the side hustle ideas with great potential to be developed into a full-blown online business.
How to get started:
Shopify is one of the most popular platforms for dropshippers. It provides all essential tools for you to start, run and grow your online business. You can try Shopify with this 14-day FREE trial.
Oberlo is a sub-service of Shopify. It is a facility for you to find products to sell on Shopify with just a few mouse clicks.
#6 Clickworker
If you enjoy writing, translating, researching and data processing, Clickworker offers digital tasks for you to make some extra cash.
Clickworker distributes digital tasks to freelancers based on qualification assessments, previous work assessments, education, language abilities, and interests. There are many tasks do not require special or formal qualifications. 
How to get started:
Sign up is easy. Just head to Clickworker.com and register as a Clickworker.
#7 Freelance Web experts
This category suits those with technical skills. There are millions of websites/blogs launched each day. Freelance web designers or CMS (content management system, such as WordPress or Drupal) expertise are in demand.
For many small businesses, and entrepreneurs hiring a freelance web designer is more cost-effective than hiring permanent technical staff.
Working as a freelancer gives you the freedom to choose the project that interests you, fits your schedule, and skill level.
How to get started:
You can list your profile in Fiverr and Upwork. These two are popular freelance work marketplace. 
#8 Freelance Writer
If writing is your thing, there are plenty of opportunities to make extra cash from home. There is a growing number of websites outsource their content creation to freelance writers. 
Your earning in this endeavor depends on your experience and writing skill. The good news is these can be trained over time. To get hired, you will likely need to have a portfolio of work to show your client or at least a good collection of samples.
How to get started:
You can start by listing your profile on websites like Upwork, Fiverr, Freelancer.com or Media Bistro. You can also try to apply as a writer at iWriter. These are the legitimate marketplace where you can find freelance writing gigs.
#9 Affiliate Marketing
Affiliate Marketing is another hustle idea that requires time and extra effort at the beginning. It does not produce an immediate result. However, its earning potential is the greatest. And of course, you can operate from the comfort of your home office.
As an Affiliate Marketer, you act as the middle man between customer and product owner. Your main task is to refer your website readers or social media followers to your partnered merchants. When your reader purchases via your link, you earn a commission.
How to get started:
You can start affiliate marketing by building a website, Youtube channel, or by creating followings on social media platforms.
For beginners, I suggest you check out Wealthy Affiliate. You can read my review of Wealthy Affiliate HERE. I recommend Wealthy Affiliate as it offers training, web hosting and community. It is a cost-effective way to get started with affiliate marketing.
---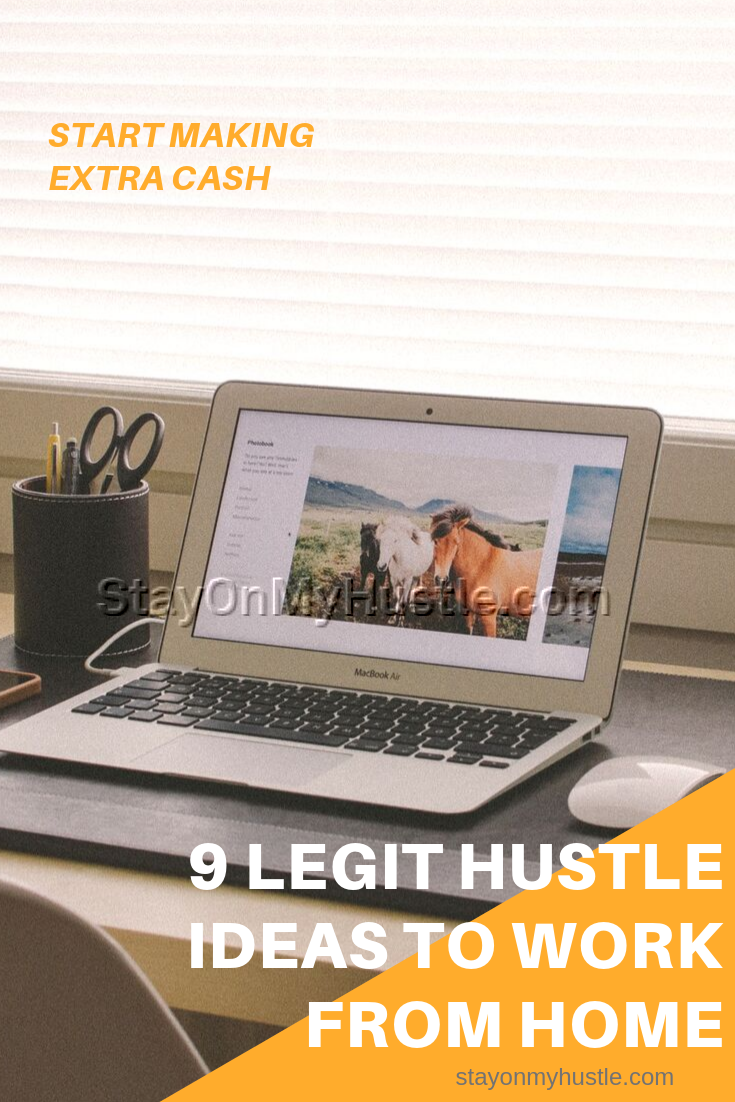 Final thoughts
These hustle ideas show that you can make extra money working from home. There are two points that I would like to mention before I finish this article.
Firstly, while it is possible to make money online, there are just too many scams around. Don't get too excited by high payout promises. Always do your due diligence, research the firms before spending your time and effort into a gig.
Secondly, while it is good to have extra cash by working on side gigs, I would encourage you to look into the ideas that have the potential of developing into long term passive income.
Do you have experience with the hustle ideas mentioned in this article? Or any question? Please feel free to drop me a comment below.