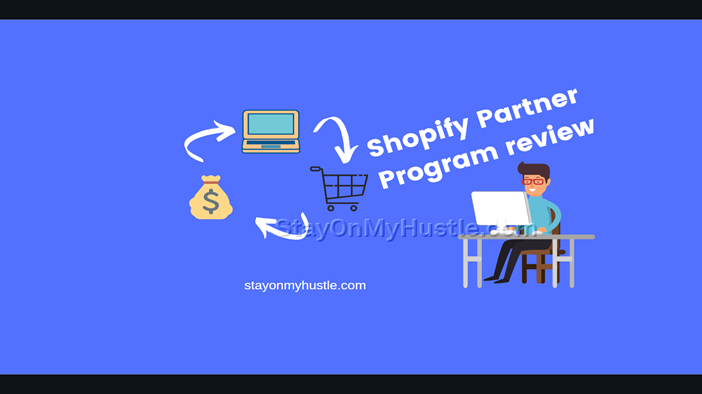 This post may contain affiliate links. Read the disclosure for more info!
Shopify is known as the go-to platform for online store owners. It offers all the tools you will need to start, run, and grow your online store. It is an excellent service, but can you make money with Shopify Partner Program?
The short answer is Yes. Shopify provides multiple channels for partners to earn a commission. If you are thinking about promoting Shopify, you are in the right place. In this article, I am going to show you how to make money with Shopify Partners Program.
A Brief Introduction of Shopify
Shopify is a complete commerce platform that offers solutions to entrepreneurs to sell their products online or in-person via point-of-sale. It is entirely cloud-based and hosted, which means you can run your business anywhere with an internet connection.
There are two channels you can make money off the Shopify platform:
Now, let's look into the details of these two channels.
Can You Make Money With Shopify Partner Program? What is Shopify Partner Program
Shopify Partner Program offers four great ways for partners to generate revenue:
By creating Development Store and handing it off to a client
By creating Shopify Apps and post them in the Shopify App Store
By creating Shopify themes and publish them in the Shopify Theme Store
By referring clients to Shopify (Part of the Shopify Affiliate Program)
Whether or not you are into design and development or want to focus on marketing solely, Shopify offers something for you to make money off its platform.
The principle of the Shopify Partners Program is simple: Partners get paid by helping merchants to succeed with Shopify products.
Development Store
As a Shopify Partner, you can create unlimited development stores. A development store is a free Shopify account that includes most of the features of the Advanced Shopify plan.
You can choose to hand over ownership of a completed development store to a client or archive it. Handing a development store off to a client gives you a 20% ongoing revenue share of the client's monthly subscription fee.
Shopify Apps
Shopify Partners who are interested in building apps have the opportunity to monetize their work by listing in the Shopify App Store or provide custom development for clients.
Partner-developers can earn up to 80% of the total revenue from the one-time sale price or recurring subscription fees.
Shopify Themes
If you are interested in design and build Shopify themes, Shopify Theme Store offers two revenue share schemes.
70% revenue share of each theme sale. With this option, the partner is responsible for all bug fixes and client support. The developer may sell the theme through a personal channel, but not on open marketplaces.
50% revenue share of each them sale. With this option, the partner is reliable for bug fixes, but Shopify will help answer any support questions about the theme. The developer may not sell his work through any other channels.
In the rest of the article, let's focus on the Shopify Affiliate Program.
What is Shopify Affiliate Program
Shopify offers partners an opportunity to earn a commission by referring merchants to the Shopify platform. As a Shopify Affiliate, you can make an average of $58 for each user who signs up for a paid plan with your unique referral link.
How does Shopify Affiliate Program work
The Shopify Affiliate program is free to join. Approved Affiliate received a unique referral link and some tools to help you get started.
Your affiliate link comes with a 30-day tracking cookie. After a visitor clicks on your affiliate link, as long as the visitor signs up to the 14-day free trial within 30 days, you will earn an affiliate credit.
After the 14-day free trial ends, if the visitor becomes a paying customer, you will earn a commission bounty.
How much can I earn as a Shopify Affiliate? The commission rate
As Shopify Affiliate, you receive a one-time bounty commission equal to 200% of your referral's monthly subscription fee. The commission is paid out over the first two months of your referral's subscription. Each month, your commission is equal to the value of the monthly subscription fee.
How does Shopify help its partners? Resources for Shopify Partners and Affiliates
Shopify Partner Academy
Shopify partners have access to Partner Academy. Shopify Partner Academy is an educational platform that offers courses and certification exams.
Here are some samples of courses offered in Partner Academy:
Project Management Challenges Video Series
Cross Border Selling with Shopify
Affiliate Marketing Fundamentals
Theme Development Certification study guide
App Development Certification
Creatives Resources
Shopify provides partners with creative resources such as templates, logos, banners, etc. You can use these well-designed resources to build up a business as a Shopify Partner.
Affiliate Manager & Live Chat Support
There is an Affiliate manager assigned to all approved affiliates. The manager is always ready to guide you or resolve any issue you might have. Alternatively, you may choose to seek help via Live Chat on the Shopify Partner portal.
Affiliate Marketing Training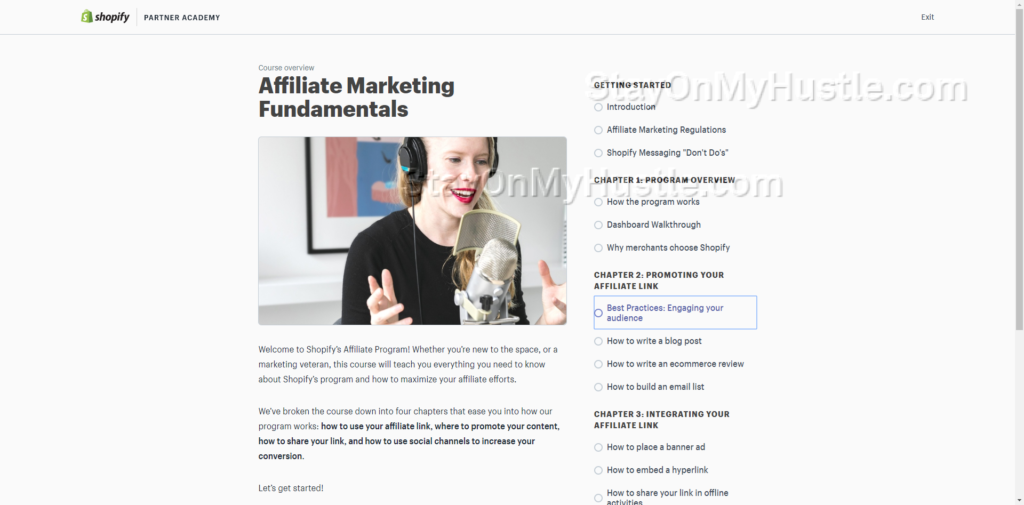 Shopify offers an Affiliate Marketing fundamental course. The course covers most of the basics you will need to get started with affiliate marketing. It is an excellent introductory course, but you need more than that to achieve success. For Affiliate Marketing training, I have an alternative recommendation at the end of this article.
Pros and Cons of Shopify Affiliate Program
Now, let's have a quick rundown of the goods and not-so-good of the Shopify Affiliate Program.
The Good
Generous one-time bounty commission
Excellent Affiliate Support from Affiliate Manager and Live Chat
Shopify is a product with good quality, and referrals are likely to continue after the free trial period.
Shopify Partner Academy offers a variety of training resources
Commission payments are on time.
The Not-So-Good
No recurring affiliate commission.
Affiliate Marketing training is only suitable for beginners.
Final Thoughts – Can you make money on Shopify?
Shopify is a market-leading eCommerce platform. As a partner, you can be confident when introducing Shopify to your clients. You are recommending a quality service.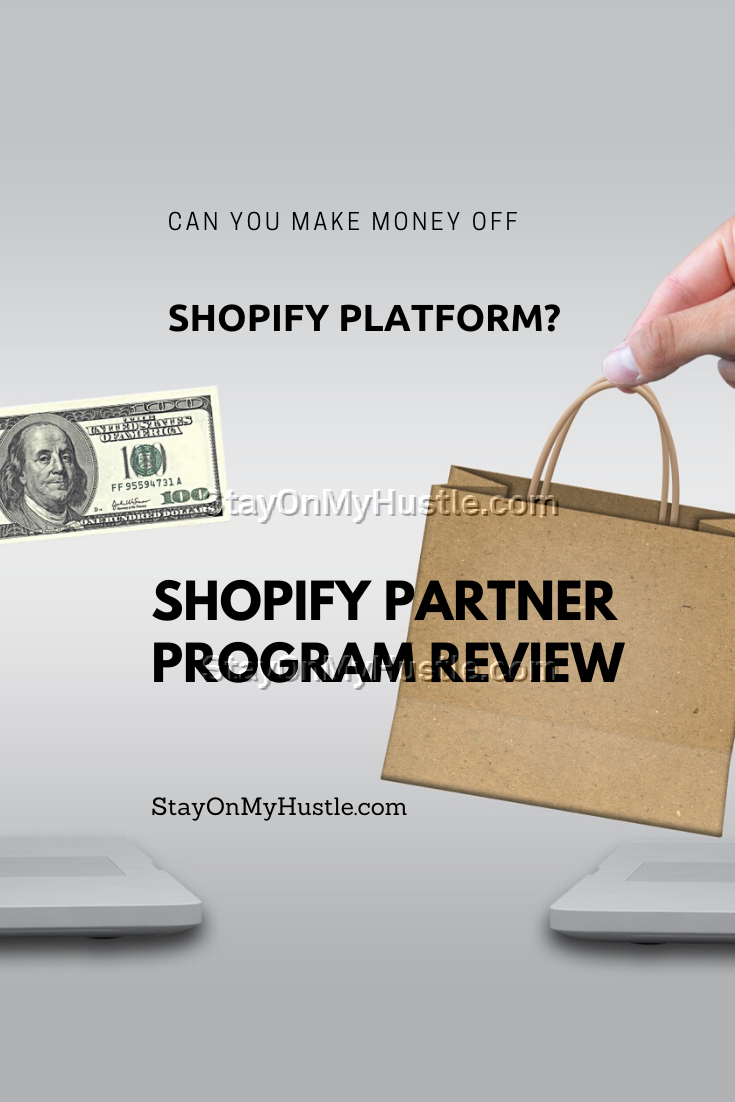 Can you make money on Shopify? The answer is YES. With the rising popularity of eCommerce or Dropshipping business, it is an excellent opportunity to promote Shopify to your audience now.
You could be a developer or an affiliate marketer.
On top of my head, here are a few methods you can use to promote Shopify:
Creating a Youtube tutorial about starting an online business
Writing blog posts
Holding webinars
Product reviews
Promoting via email marketing
From my experience as a Shopify Partner, I appreciate the help I received from Live chat support. Overall, it shows Shopify wants its partners to success.
Now you have read a lot of good things about being a Shopify Partner. But this is not a get-rich-quick scheme. To be successful as a Shopify Partner, you need to put in a lot of work.
Recommended Affiliate Marketing Training
I like the Shopify platform, and I have no hesitation in recommending it. But the Affiliate Marketing training offered by Shopify Partner Academy is only fundamental.
For beginners, I would recommend Wealthy Affiliate for a start. Wealthy Affiliate is an all-in-one package that comes with training, web hosting, tools, and community. It offers a step-by-step guide to start and grow your affiliate marketing business.
Besides, the Wealthy Affiliate community is lively and extremely helpful. You can expect a response to your question promptly. You can find my full review of Wealthy Affiliate HERE or try it out for FREE here.
How can I help?
Do you have experience with Shopify Partner or Affiliate Program? Feel to share your experience or ask any questions you might have in the comment section.