This post may contain affiliate links. Read the disclosure for more info!
You might have read on other blogs or websites suggesting online trading is a side hustle you can do to make money online.
Is online trading a good side hustle? My short answer is No. You should not treat trading as a side hustle.
Trading is a serious business. Even part-time trading requires a great amount of work to achieve consistent success.
Why did I say online trading is not a good side hustle?
Let's talk about what makes a good side hustle.
A good side hustle is something you can do on the side of your usual job. It is meant to increase your income level. You expect to spend time and effort to make a side income.
Ideally, you would be able to scale the hustle idea into a profitable business in the future.
Is online trading a good side hustle? The truths of trading revealed.
How often you heard about marketers boasting about making quick bucks day trading the stock market, Forex market, or even the cryptocurrencies market?
You can do it comfortably at home, on the beach with your apple watch (for the god sake!)! Sounds fantastic, no?
The truth is, they are marketers. They are either selling a trading course, trading room service, or even running a scam scheme.
It is easy to start trading. Be it Forex trading, cryptocurrencies trading, stocks trading, or Futures trading. The entry barrier is low. All you need to do is to open a trading account and make a deposit.
The real work starts now. You want to make money by buying and selling stocks or currencies, how hard could it be?
Here are 5 reasons I think online trading is not a good side hustle idea.
Losses are part of trading

Don't let anyone tell you otherwise.
For other non-trading jobs, you might need to purchase tools to complete your job, but that should be minimal. That's not the case for trading.
In addition to tools, your biggest business cost of trading is trading losses.
Losses are unavoidable in trading. You need to learn to manage losses. Make sure your winnings are big enough to cover losses.
Sounds easy to you?
Try putting on a real position. When the money is on the line, all the emotion kicks in. You will enter a different mental state.
You will find yourself start taking small profits, or the worst case, let the losses grow.
Of course, with years of experience, you will improve. My point is, it is not as simple as hustling all day and you will see a positive result.
You need money to make money
All businesses require capital to get started. For trading, the most important resource you will need is money.
Online trading is about using money to make more money, provided you have the required skill.
Whether you are day trading stocks, Forex, cryptocurrencies, or futures, you need initial capital to start trading.
From margin requirement to trading losses. Money is the lifeline in this business.
There is no guarantee of return
You can make money online by taking up a job on Fiverr, promoting a product as an affiliate, or selling a course on Udemy. These hustles guarantee a commission or payment once you have completed the sale or task.
That's not the case for online trading.
There are times you might finish the day with a loss or no profit. Of course, you will have good days, but it takes skills and years of experience to achieve consistency.
Drawdown is unavoidable and could be prolonged
Drawdown is a period of continuous losses. Almost all traders experience one or a few drawdowns.
Drawdown is part of the business. It is unavoidable but manageable. It is a crucial skill to learn how to manage drawdowns.
Trading is a professional skill
Trading requires you to pick up skills like technical analysis, risk management, order flow readings, and record keeping. In some instances, you might even need to pick up programming skills.
It takes a lot to be a consistent profitable trader.
Is online trading a good side hustle? – Final words
Trading is simple but hard. Let me remind you, 90% of day traders are making losses.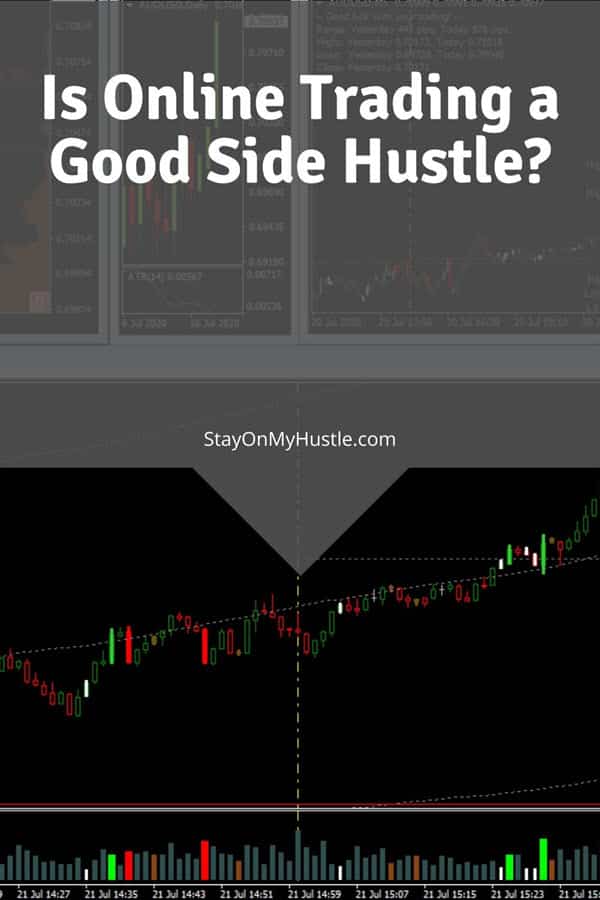 It takes years of learning and refining your trading skills to achieve consistent profitability. It is a real and tough business. And it should be treated as one.
The dream of making some quick bucks from trading is just a dream. Of course, you will have some winning trades. But I am talking about consistent profitable.
The fact is, if you treat trading as a side hustle, there is nothing different from gambling. It will hurt you sooner or later, both financially and emotionally.
I hope you have a clearer idea of online trading now. It should be treated as a serious business and a professional job. It requires tons of time and effort to achieve any success.
It is DEFINITELY NOT a side hustle.
Are you looking for a side hustle idea?
There many side hustle ideas you can use to make money. Check out my posts on 9 legitimate hustle ideas to make extra money from home and 9 recommended side hustle ideas.
Affiliate marketing is a perfect side hustle. It is how I make my side income.
As an affiliate marketer, you make money by promoting other people's products. You can start a blog and refer your blog visitors to the product vendor. Once a sale is completed, you will be paid a commission.
If you are new to affiliate marketing, check out my recommended training. It is where I started.
Did you have any experience trading? Or do you have any questions? Feel free to leave me a line in the comment section. I am happy to help.