This post may contain affiliate links. Read the disclosure for more info!
Affiliate marketing can be a highly profitable business. There are different ways to do it. One of the most efficient ways to do affiliate marketing is building a website, an affiliate marketing website.
How to start an affiliate marketing website?
Starting an affiliate marketing website does not have to be a scary process. Especially today, there are tons of available resources on the internet. With a simple guide to follow, you can have your website up and running in a couple of hours.
Bear in mind that, creating a website is just the starting point of your journey. Consistent effort to create quality content over time is the key to success.
How does Affiliate Marketing work
Before we continue, we need to understand how does online affiliate marketing work. I have prepared a simple chart for you. Have a look.
There are BILLIONS of people online today searching for information, solutions to problems, and shopping. The purpose of setting an affiliate marketing website is to offer your target audiences information, help them to solve their problems and earn revenue in the process.
When your audiences purchase a product or service through you, you make money from commission payment.
That's the basic concept of affiliate marketing. Now we have a basic understanding of affiliate marketing. Let's proceed to our guide.
This guide includes things that you need to know, as well as the things that you need to do.
The cost to start
First thing first. You need money to start a business. Fortunately enough, the cost to start an online affiliate marketing business is relatively low, if not the lowest. Here are the approximate starting cost (first year, in USD) associated with starting a website:
Domain name registration $13 – $15 per year
Web hosting package $3.95 per month for the first year
The price listed above is the lowest I can find at the time of writing. Most of hosting package comes with free domain name registration for the first year, so the cost could be reduced. All in all, the minimum starting cost is around $60 for the first year.
Alternatively, if you are also looking into learning affiliate marketing, folks at Wealthy Affiliate offers a unique package with a bundle of education and managed hosting service. This website is hosted with Wealthy Affiliate. You can read my review of Wealthy Affiliate HERE.
How to start an affiliate marketing website – The plan
There are a few essential steps I follow in order to build a strong foundation for our affiliate marketing website. Each of the steps could be an article by itself, I will summarize the key points here.
Choose a Niche for your website
So, you want to start an affiliate marketing website. But who are your target audiences? You need to have a good idea about whom do you want to help, and what you want to help. The first step is deciding a niche.
A niche could be anything. It could be something you are passionate about or something that you have the interest to learn (personally, I found this is more important). Niche is your target audience. It is the group of people that you want to help by providing them solutions.
There are few things to remember:
You will be writing contents within your niche
You will be promoting related products or services within your niche
You will be communicating with your readers, answering questions, helping them within your niche
You don't need to be an expert of your niche at the start. But you need to become one by learning and researching. A lot of effort, but hey, you are building an online business.
Take a small break, think about your niche now.
Keyword research
After deciding on the direction (the niche) of your website, the next step is to find out what do your target audience search. This is keyword research.
A keyword is a word or phrase that people search for in search engines. For example, the word or phrase you enter into Google search is a keyword.
In the example above, I was searching for something related to "Dog food". This is a keyword. Google uses the keyword and shows me relevant results.
The websites shown in the search result are "ranked" by Google. Users are more likely to click on the higher ranked search results. Our goal, with SEO and keyword research effort, is to get our content ranked as high as possible by major search engines such as Google.
There are 3 basic rules I follow when researching target keyword:
It must attract search volume.
There should not be too much competition.
The keyword must make grammatical sense.
This is a very important step, and also could be very time-consuming. Personally, I use Jaaxy keyword research tool. I highly recommend it. You can check out my review of Jaaxy HERE.
Once you have identified suitable keywords, it is time to start creating content targeting them.
The technical side – the really simple one
Domain Name registration
A domain name is your brand on the internet. It is also where your target audiences find you. When looking for a domain name, there are few rules I follow (and I suggest you do too):
Always use ".com" if possible. ".com" domain tends to rank better in SEO.
A domain name needs to be "brandable ". Bear in mind that, your domain is your brand. It represents your business. Think of a name you like, and represent you.
Avoid "dashes" in your domain.
Where to register a domain name?
There are lots of domain registrars on the internet. You can register a domain with any of them. Good news is, there are many companies offer web hosting and domain registration (some even offers free domain registration for the 1st year if you host your website with them) together, so it makes the process a lot easier.
During domain name registration, Domain Registrar will do a quick search to confirm your domain name is still available for registration. Sometimes, you need to get creative if the domain name of your choice is not available.
I would suggest do not register the domain name immediately after the search. Do it when signing up hosting account. As mentioned before, most of the web hosting company offers first-year free domain name registration if you choose to host your website with them.
Let's move on to the next step, setting up a web hosting account.
Setting up web hosting
A web hosting company is the party that provides you the technologies and service required to keep your website up and running on the internet.
Personally, I use Bluehost to host my other websites, and I am happy to recommend them. Bluehost is one of the well-known web hosting companies. They are very beginners friendly. They offer easy signup, free Site Builder, 1-click WordPress installation and 24/7 Live chat support.
Content Management System (CMS)
After setting up your Web hosting account, it is time to pick up books or courses and start learning HTML…NO! I was just kidding. That's so 1999!
To start a website, No programming skill is required.
All you need to do is to install WordPress in your web hosting account. If you are hosting with Bluehost, this step can be done by just 1 click.
So what is WordPress?
It is an open-source web content management system (CMS) that offers all the features you will need to create a beautiful website. It is FREE of charge. It is so popular that 33% of the web uses WordPress, from leisure blogs to commercial websites.
Once WordPress is successfully installed, your website is live (without content yet). Spend some time to familiarize yourself with WordPress. Don't worry, it is very user-friendly.
As WordPress is an open-source software, and highly popular, if needed, you can easily find support online, either free or paid support.
Choosing a theme – Make it beautiful
The look and feel of your WordPress site are defined by Theme. Theme is a collection of templates and style sheets. It can be changed, managed and added within the WordPress Admin area.
There are big numbers of free WordPress themes available. If you are looking for something more professionally made, there are paid themes available as well. My personal recommendation is Genesis theme by studiopress. You can check them out here for more details.
Up to this point, you should have your first website up and running. It is time to start populating content.
Content- Create your first post and first page
There are two types of publishing methods in WordPress: Page and Post.
Pages are a static entity and not listed by date. We usually use page for contents like Privacy, About me, contact page, and Disclaimer.
Posts are dynamic entries listed in reverse chronological order (newest content on top). We use for day to day blog post.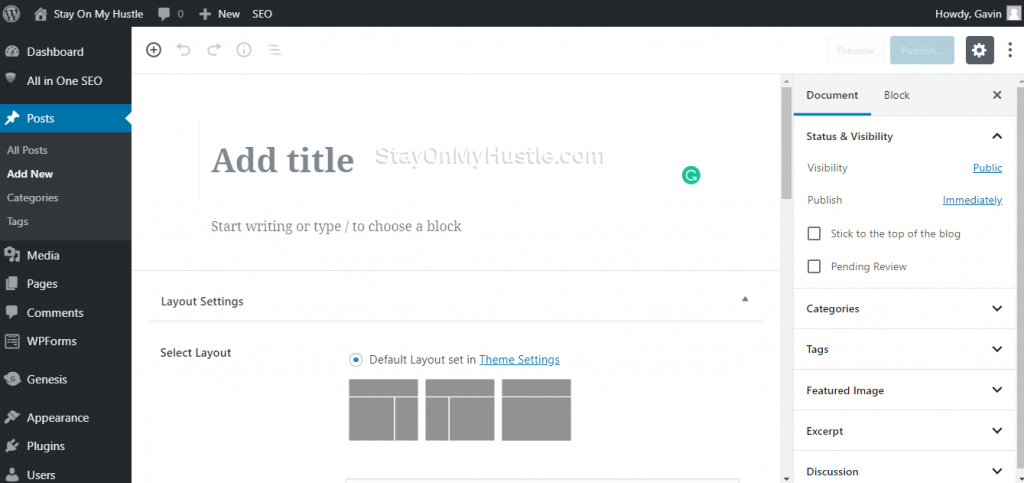 Sign up to Affiliate programs
The ultimate goal of creating an affiliate marketing website is to promote selected products and earning a commission.
There are 2 types of affiliate programs: Affiliate networks, and Independent Affiliate programs.
Affiliate network
Affiliate network serves as a database of products, which affiliate (such as yourself) can choose to promote. It also serves as an intermediary between the affiliate (YOU) and the merchant. While an affiliate promotes the products, Affiliate Network handles the payment and product delivery.
Some popular networks are:
Commission Junction
LinkShare
ShareASale
Awin
Independent Affiliate programs
We refer to affiliate programs that are NOT tied to any particular affiliate network as Independent Affiliate Programs.
Independent affiliate program merchants choose to manage everything such as tracking, stats, resources, and payments by themselves.
So how do you search for Independent affiliate programs related to your niche?
Answer is: Google it. It is really that easy.
For example, we are interested in finding an independent affiliate program related to our dog food niche. I will go to Google and search:
dog food + affiliate program
There you have it. Pages of affiliate programs related to our dog food niche that we can potentially promote.
However, bear in mind that, signing up affiliate programs should be at the lower part of your priority list at the early stage of your affiliate marketing business.
Content creation should be the main priority at the beginning stage. A consistent flow of content created with good quality will attract traffic. Money shall follow.
Another key point is, some affiliate networks require you to have an established website with content before approving an application. So, in short, keep your head down and produce some contents before jumping around applying for affiliate programs.
Final thought
Awesome! Your first affiliate marketing website should be up and running with a couple of posts by now.
So where do you go from here? Content, content and more content. Your daily tasks should be researching keywords and writing contents targeting the keywords. Rinse and repeat. Consistency is the key.
Good content will lead to better search engine ranking. Higher ranking brings traffic, and traffic brings sales.
Another point I would like to mention is the time frame. It is important to see affiliate marketing business as a long term business. It requires lots of work and patience. Be persistence, keep pushing yourself.
I hope this post gives you a better idea and guidance of building an affiliate marketing website.
If you are looking for more in-depth education and interact with fellow affiliate marketers, you might want to join me at Wealthy Affiliate. You can read my review Wealthy Affiliate HERE.
Here's to your success in affiliate marketing.