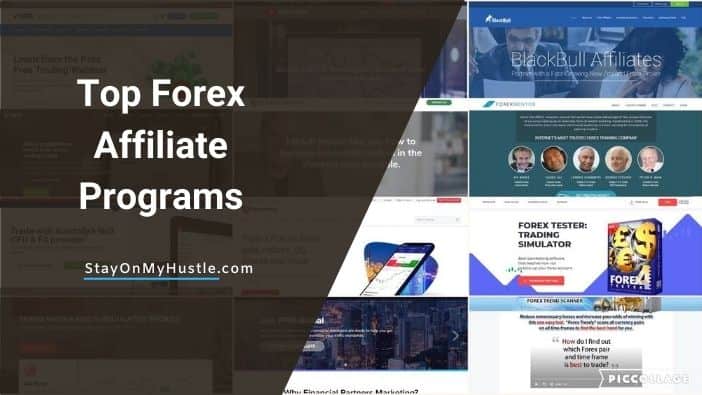 Do you have a trading blog? Are you looking to monetize your Forex trading blogs but not sure what to promote?
In this post, I want to show you a list of top Forex affiliate programs. You can promote them and start earning commission!
Want To Learn More About How I Make Money From Affiliate Marketing? I Reveal The EXACT Process I Am Using.
Why promote Forex Affiliate products?
Forex trading has experienced phenomenal growth in the last few years.
The entry barrier to online trading is low, you can start trading with just a few hundred dollars. (But it doesn't mean you should! Trading is one of the toughest businesses, the failure rate of retail traders is as high as 90%).
If you are interested in knowing more about online trading, check out my blog post Is Online Trading a Good Side Hustle – The Facts.
Let's have a look at Google Trends.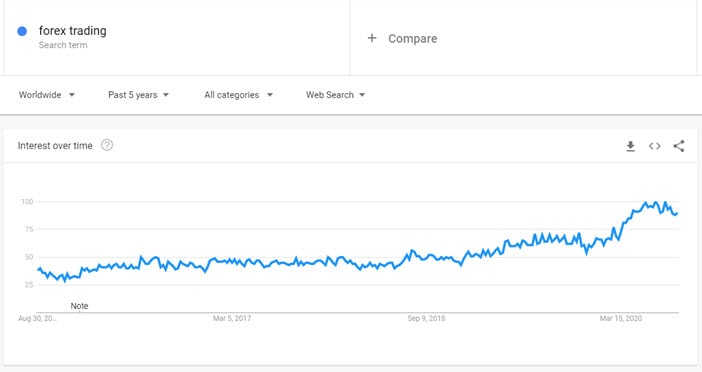 Looking at the 5-year trend, there is a steady increase in interest starting in 2018, and a big jump this year. The recent pandemic is one of the most important factors of this increase of interest.
Job loss, temporarily stood down from the regular job, or business closing due to the lockdown forced people to find ways to make money.
Online trading is one of the most popular options.
Affiliate Marketing is one of the best and easiest monetization method for bloggers. If you are also for more monetization strategies for your trading blog, make sure to check out my blog post How To Make Money With a Trading Blog.
So now, without further ado, let's look at the list of top Forex affiliate programs.
12 Top Forex Affiliate Programs for trading blogs
eToro Partners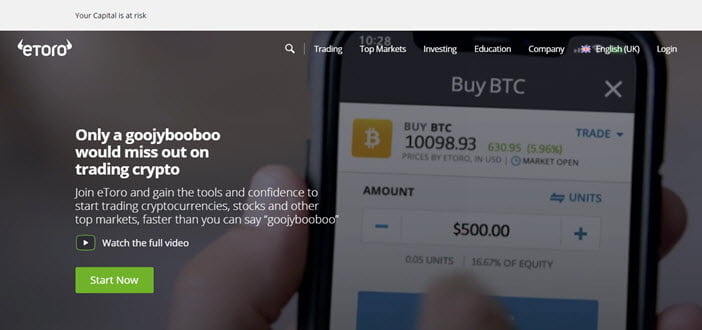 eToro is one of the leading social trading platforms. It offers stocks, ETFs, Forex, cryptocurrencies, and CFD trading. It is regulated by CySEC, FCA, ASIC, US.
The unique selling points of eToro are Social Trading and CopyTrader technology.
With eToro's social trading features, clients benefit from the collective knowledge of its network of traders.
CopyTrader allows you to view what real traders are doing in real-time and copy their trades automatically.
eToro offers CPA (Cost Per Acquisition) plans to partners. The CPA plan is tiered per country.
Tier 1 CPA: $250
Tier 2 CPA: $200
Tier 3 CPA: $100
Forex Tester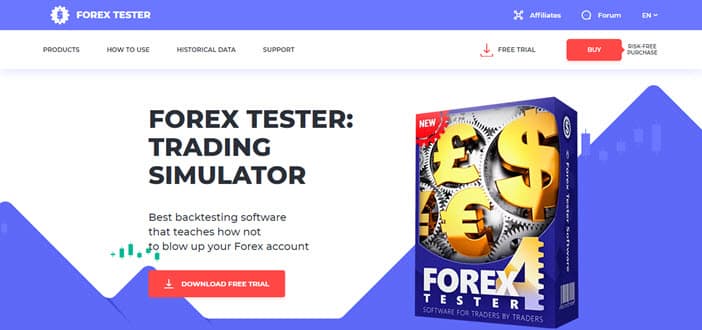 Forex Tester is one of the most popular backtesting tools in the retail market.
The application offers a good range of backtesting features. It allows users to backtest with historical news service, money management features, and Visual Strategy Builder settings.
It also comes with the ability to simulate any spread and commission your broker offers.
Forex Tester's affiliate program pays a 25% commission and a 180-day tracking cookie.
VantageFX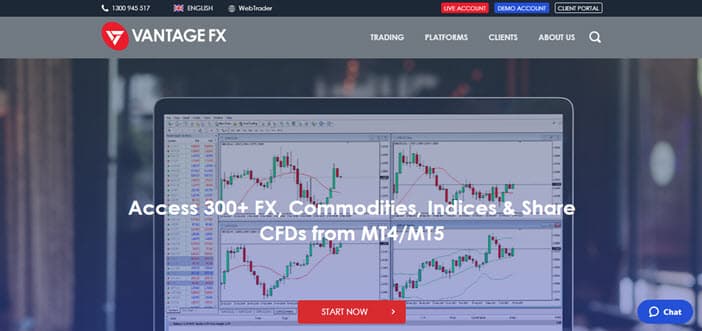 VantageFX is one of the leading brokers that offers Forex, Cryptocurrencies, Commodities, Indices, and Share CFDs trading. The selling point of VantageFX is the tight spread and fast execution.
VantageFX is regulated by CIMA, ASIC, and FCA.
The CPA Affiliates program offers generous commissions. The CPA reward structure is categorized into 4 tiers. Depending on your referral's country of residence, you are paid according to the country tier.
The CPA as below:
Tier 1 CPA: $600
Tier 2: CPA $400
Tier 3: CPA $300
Other countries CPA: $100
Pepperstone
Pepperstone is a leading broker that provides low spreads and excellent execution speed. It offers Forex, cryptocurrencies, indices, and equities CFDs.
Pepperstone is an ASIC and FCA regulated broker.
Pepperstone offers multi-tiered CPA payout structures. In addition to country tiers, you also earn along each client's trading journey.
Payout details as below:
IG Markets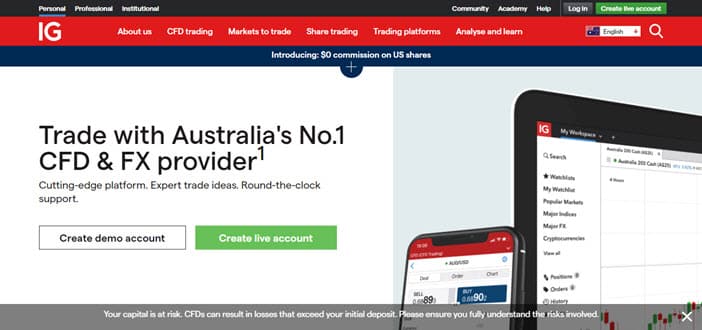 IG Markets is an award-winning CFD and Forex broker. It is authorized and regulated by ASIC.
IG Markets offers Forex, Cryptocurrencies, Indices, Shares, and Commodities CFDs.
IG Markets incentivizes affiliates to make high-quality referrals. It pays affiliates based on the size of the introduced clients' initial deposits.
Affiliate compensations also vary depending on the type of account and the new client's country of residence.
The commission structure of leveraged CFD and Forex accounts as below:
First Deposit of US$250 – US$300: US$300 per qualified client
First Deposit of US$400 – US$799: US$600 per qualified client
First Deposit of US$800 – US$999: US$800 per qualified client
US$1000 and above: US$1000
Admiral Markets
Admiral Markets is a leading online trading service provider. It offers Forex and CFDs on indices, metals, energies, stocks, bonds, and cryptocurrencies.
Admiral Markets is authorized and regulated by FCA (UK), EFSA (Estonia), CySEC (Cyprus), ASIC (Australia), and MiFID II (Europe).
Admiral Markets offers a single-tiered CPA reward plan. Commission payouts are depending on the new client's deposit amount and country of residence.
Want To Know How Do I Earn An Income Online? Here Is My 4-step Process To A Successful Online Business
Forex Trendy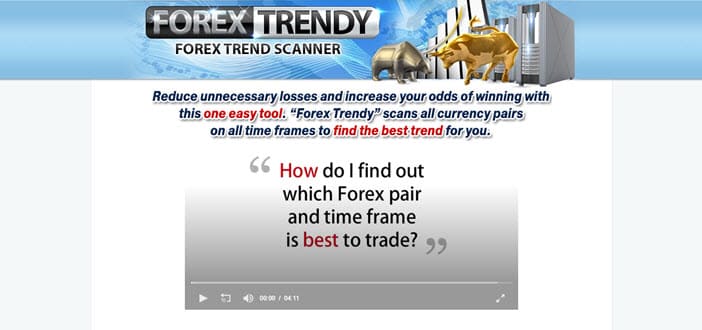 Forex Trendy is an online service that helps traders to make better trading decisions. It offers live charts of the best trending currency pairs and time frames. Besides it also provides audible alerts and email alerts.
It is a quarterly subscription service.
Forex Trendy is a Clickbank product. You need to sign up with ClickBank to promote this product.
It offers a generous 75% commission for the initial sale and then 75% for each rebill.
FPM.Global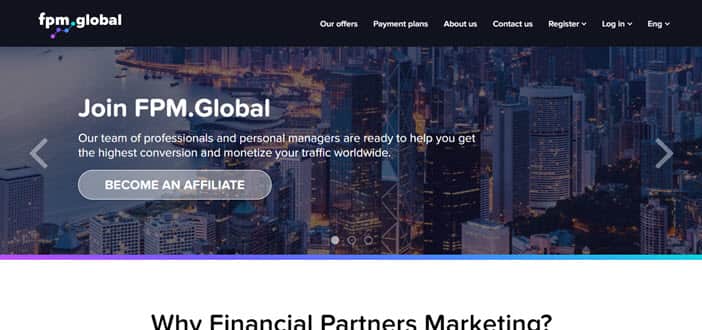 FPM stands for Financial Partners Marketing. FPM is a leading affiliate network that specializes in financial offers. It helps financial bloggers to monetize their work through affiliate marketing.
You can find a wide range of marketing materials and available in multiple languages.
FPM offers 3 commission structures:
CPA by Country: Affiliate receives a fixed commission for each qualified referral. It pays up to $1200.
Revenue Share: Receive up to 50% of Gross Revenue
Hybrid Strategy: A combination model of CPA and Revenue share.
Forex Mentor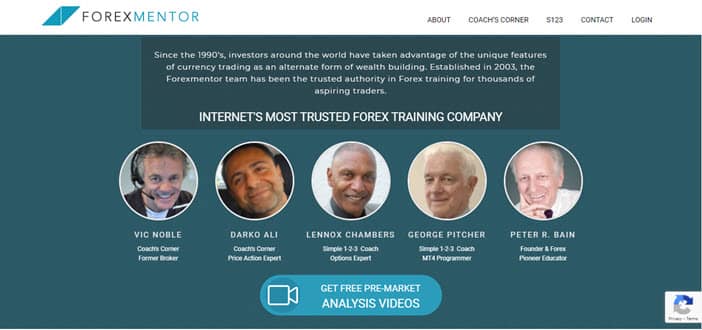 Forex Mentor is a platform that offers a range of trading educational products. It is the brainchild of Peter Bain. Peter is an author and professional trader. He has put together a team of expert mentors at Forex Mentor.
There are over 30 products offered by Forex Mentor. There are courses for beginning traders, developing traders, and expert traders alike.
Forex Mentor teams with ShareAsale to manage its affiliate program. The program offers a generous 30% commission and a 60-day tracking cookie.
BlackBull Affiliates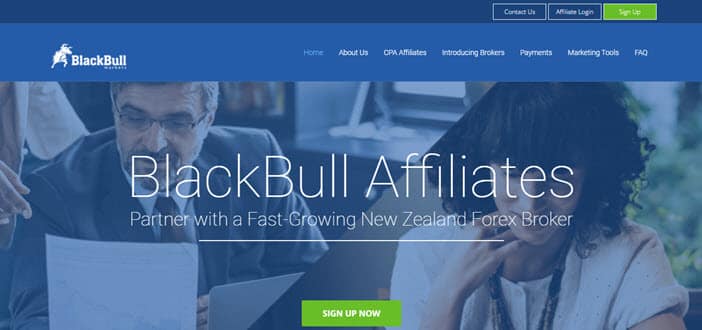 BlackBull Markets is a New Zealand based Forex broker. It offers true ECN, No Dealing Desk brokerage specializing in Forex, CFDs, and commodities, etc.
BlackBull Markets is registered with FSPR and it is a member of the FSCL dispute resolution scheme.
BlackBull Affiliates pays CPA up to $600 per client.
HYAffiliates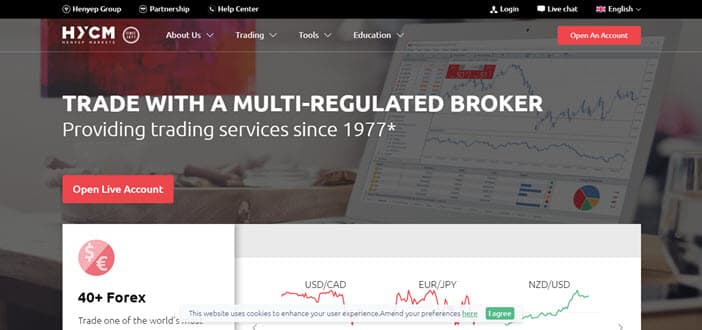 HYCM (Henyep Markets) is an online trading broker for over 40 years. It has a global presence with offices in Cyprus, Kuwait, Hong Kong, London, and Dubai.
It offers Forex, Stocks, Indices, Cryptocurrencies, Commodities, and ETFs trading.
HYCM is regulated by FCA (U.K), CySEC(Cyprus), and CIMA(Cayman Islands).
HYAffiliates offers 3 types of commission structures:
CPA: Country-based CPA up to $1000
Revenue Share: Up to 20% revenue share for the lifetime of your clients.
LOT Rebate: Up to $10 fixed rate for each lot a client trades
Top Dog Trading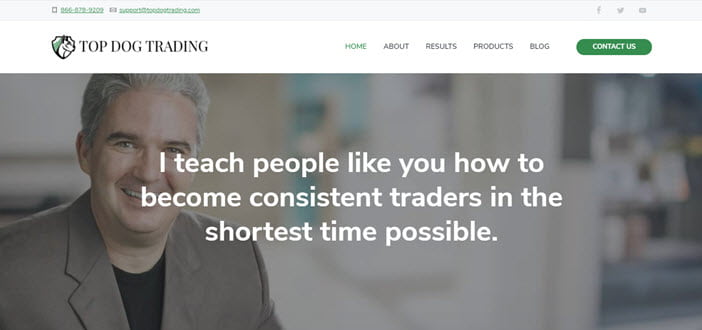 Top Dog Trading offers a variety of trading courses for both day traders and swing traders. It is the brainchild of Dr. Barry Burns. The service covers Forex, Futures, and stock markets.
Top Dog Trading's affiliate program is only available to its trading courses. Software products and mentoring programs are not qualified for affiliate commission.
Top Dog trading manages its affiliate program via ShareASale. It offers a 15% commission and a 60-day tracking cookie. It has an average order value of over $200.
Top Forex Affiliate Programs – Closing Words
That's it. That is my 12 Top Forex Affiliate Programs.
The Forex niche might be a crowded and competitive market. However, there is a strong growing demand. Many new traders want to jump into the online trading world looking for a quick profit.
Demands for trading courses and brokerage are particularly strong. Forex affiliate programs work well with trading blogs. New traders love to research and read blogs. If you offer real value to them and build your authority, they follow your recommendations.
New to blogging and not sure where to start?
Not a problem. Check out my FREE guide of How to get started blogging. I will walk you through the process of setting up a WordPress blog.
If you are interested in knowing more about how I make my side income online, check out my recommended training. It is where I learn about affiliate marketing.
Do you know any Forex affiliate program that is not on the list?
Do you have any questions or comments?
Feel free to drop me a line in the comment section. I am happy to help.