Do you have a trading blog but not sure how to make money with it? If you are looking for ways to monetize your trading blog, you are in the right place.
In this blog post, I want to show 6 strategies you can use to make money off your trading blog.
Why start a trading blog?
Whether you are a trader or internet marketer, there are many benefits from keeping a trading blog.
Traders
Keeping a trading blog is a good way to learn trading.
How so?
A blog is a great journaling tool. By journaling your trading, it keeps you accountable and gives you a chance to interact with other like-minded traders.
You will be surprised what you will learn when you revisit your old blog post.
Interactions with other traders through blog comments is another great learning resource.
A blog also gives you a chance to potentially make some side income outside trading. You can earn some affiliate commission by promoting the trading tools or services that you are using.
Internet Marketers
Is it worth starting a trading blog? The easiest way to find out is by researching Google Trends.
Google Trends shows you the relative popularity of a search query. It also eliminates repeated searches from the same person over a short period to give you a better picture.
So, now we understand what Google Trends is, let's look at a few search terms to see if it is worth starting a trading blog.
I searched the following online trading related keywords.
Cryptocurrency trading
Forex trading
Online trading
Of course, you can come out with other keywords such as day trading, swing trading, or stock trading. These 3 are the most straightforward choices for me. Also, I searched for the United States as well as worldwide.
Here are the screenshots from Google Trends.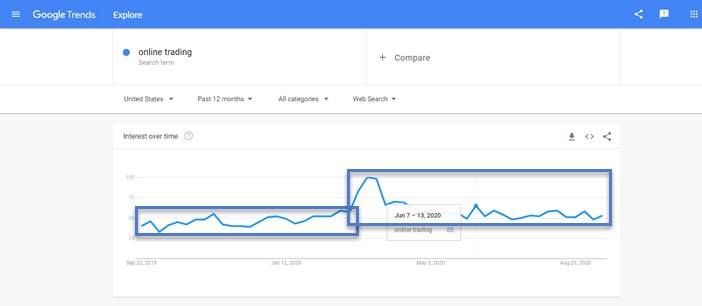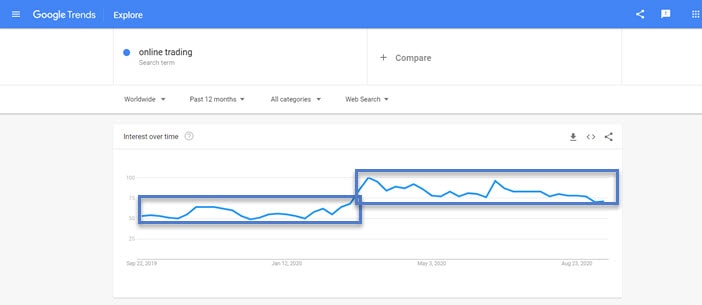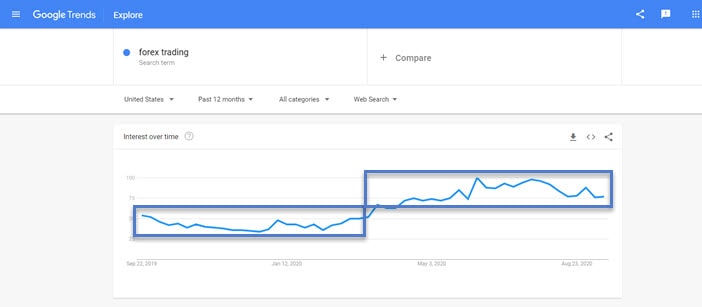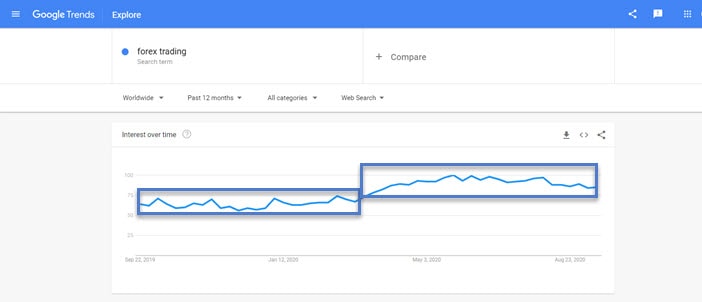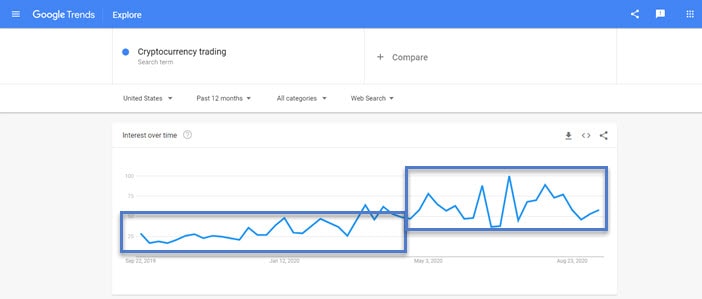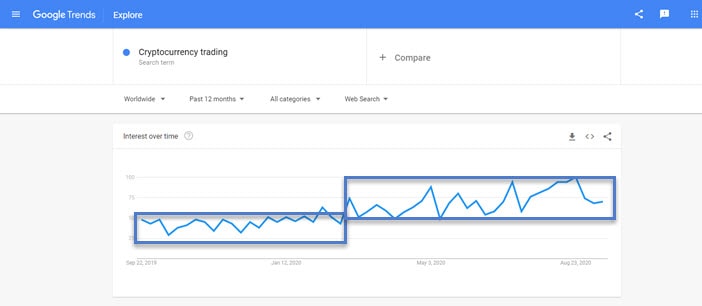 As you can see, the popularity of these search terms has risen since March this year. And the popularity stays at a new higher average.
It does not look like a short term spike. Instead, it is an increase in popularity that is going to stay.
Newbie traders are hungry for content.
They are searching for trading strategies, guidance, technical analysis lessons, and tools, or even signal services. And the most important is, they are willing to spend money to find (quick) success.
It is a niche that is worth looking into.
How to start a trading blog
Starting a blog is easy.
There are many free resources online to help you. Besides, reputable web hosting companies like SiteGround offer 1-Click WordPress install and expert support.
It has never been easier to start a blog.
Before you get started, there are a couple things you need to consider:
Who is your target audience?
What are the problems your audience is facing?
How do you plan to help your audience?
What types of content do you want to produce?
I have created an easy to follow blogging cheat sheet for new bloggers. In the cheat sheet, I present the most important areas a new blogger needs to be aware of.
You may download here:
Download Your FREE copy of Fast-Track Blogging Cheatsheet Now
In addition, I have written a detailed Guide to Start a blog. In the guide, I will walk you through the process of setting up a WordPress blog.
How to make money with a trading blog
After you have set up your trading blog, and produce a good number of useful content, it is time to monetize your blog.
A trading blog is a great venue for you to build authority and a relationship with your readers. With a successful trading blog, you can offer different types of products and services to your readers.
There are many monetization methods for trading blogs. Here are 6 monetization methods you can use to make money off your trading blog:
Display Advertisements
Ads placement is probably the most popular monetization method for bloggers. It is the most passive income source your website can generate.
The only requirement is: Traffic.
Most advertising networks require minimally 10,000 monthly page views.
Here are 4 major ad networks and their traffic requirements:
AdThrive (100,000 Pageviews)
Monumetric (10,000 pageviews)
Mediavine (50,000)
Google Adsense (Not specified)
Google Adsense is probably the easiest to sign up, and they have relatively lower requirements. However, they are one of the lowest-paid networks.
For new bloggers, I would suggest you focus on growing your site traffic to 10,000 pageviews before considering ad placement.
Promoting Brokerage service
Online Brokerage services like to work with trading blogs. The reason is simple, trading blogs offer a well-targeted audience.
They may offer private advertisement placement on your blog, CPA offers, or commission rebate.
A word of advice: Always do your due diligence to make sure a broker is regulated and reputable before recommending to your readers.
Paid Newsletter
This is old school, but still effective.
If you are an experienced, profitable trader, and you are keen to share your analysis and teaching, a paid newsletter might work for you.
A good example is Daryl Guppy from guppytraders.com. Daryl Guppy is an experienced trader from Australia. He has produced a monthly technical analysis newsletter which he offers insight into Guppy Trading methods and analysis.
He charges over $200 for a yearly subscription.
Live Trading Room
If you are confident about your live trading and want to share your trading entries and exits, a live trading room could be a good option for you.
You can choose to offer Trading Signal service or Training service through the live trading room for a subscription fee.
On average, a live trading room charges a subscription ranging from $100 to $300 a month.
Coaching service & Training Course
Trading courses never get old. The demand always exists.
Newbies are thirsty for trading knowledge, they are willing to pay hundreds or even thousands of dollars for trading courses.
Affiliate Marketing
This is my favorite monetization method. Affiliate marketing is the most beginner-friendly strategy for bloggers. You can start as soon as your blog is up.
With affiliate marketing, you do not own any product or service. You are selling other people's products or services. In return, the vendor pays you a commission for any successful sale.
For a trading blog, you can consider joining affiliate programs of trading tools, training courses, or brokerage.
You can find out more affiliate programs in my blog post – Best Affiliate Program for trading blogs.
How to make money with a trading blog – Closing words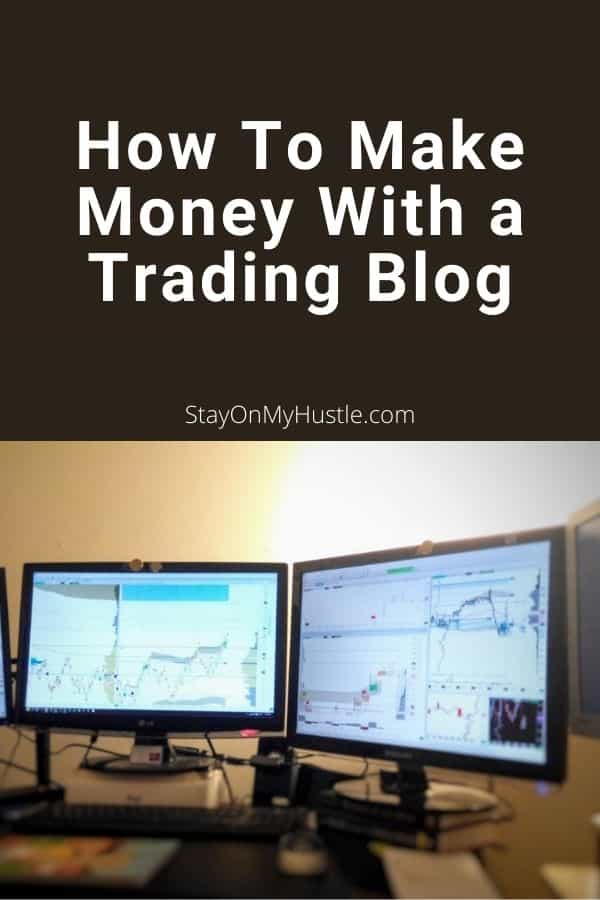 As you can see, with a well designed and developed trading blog, there is a lot you can offer to your readers. The key is to build your authority.
The trading niche is unique. A blogger who is also a consistently profitable trader is well trusted by readers. It makes it very easy to sell any product or service.
While the demand exists, the online trading niche is crowded. There are new trading blogs born every day. However, most of them are of poor quality.
Before you jump into this niche, it pays to have a detailed plan. Think about the content, products, and services you want to offer, and work on them.
Affiliate Marketing Training
Affiliate Marketing is one of the easiest monetization methods for new bloggers to get started with.
If you are looking for affiliate marketing training, make sure you check out my recommended training here.
Also, make sure you download my FREE Blogging Cheat Sheet.
Do you have a trading blog? How do you monetize your work?
Do you have any questions or comments? Feel free to drop me a line in the comment section. I am happy to help.