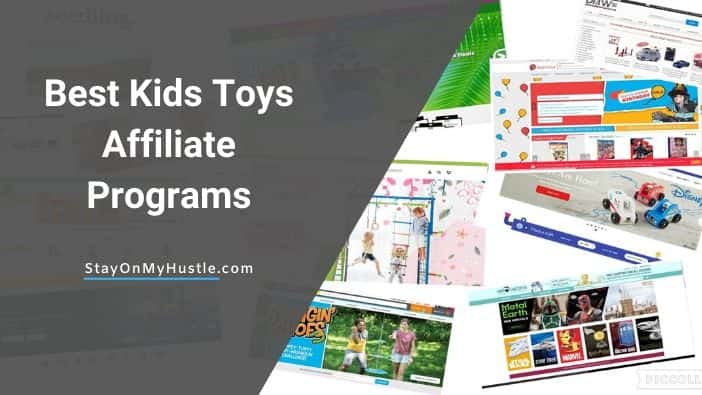 The toy market is huge and lucrative. According to a study from Statista, in North America, the average amount spent on toys per child was $306 in 2018.
Toys are not used only for fun. It is used in the classroom, in the clinics, and at home. Now try to think about how many toys you bought for yourself, your kids, or as a gift?
If you are looking for affiliate programs to promote kids toys, you are in the right place.
In this article, I want to show you 14 best kids toys affiliate programs you can join and make money.
Want To Learn More About How I Make Money From Affiliate Marketing? I Reveal The EXACT Process I Am Using.
14 Best Kids Toys Affiliate Programs
#1 Rose & Rex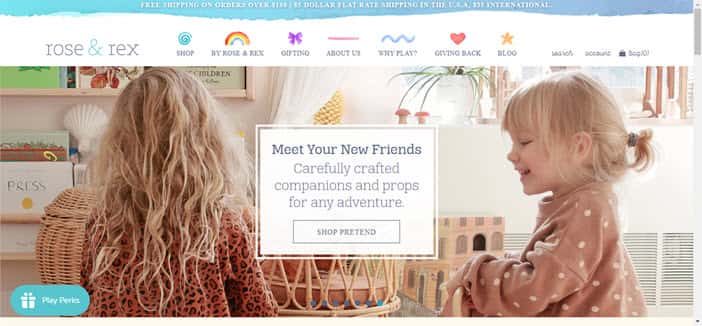 Website: Rose & Rex
Commission Rate: 12%
Cookie Duration: 30 Days
Rose & Rex is a teacher-curated toy boutique. It believes in supporting child development through imaginative play with design-focused, intentional toys.
The company sells products that help cognitive and social skills development as well as traditional toys like dolls.
Rose & Rex's affiliate program is run through the ShareASale Network. The program is suitable for those who run a parenting or baby niche blog.
#2 Diecast Models Wholesale (DMW)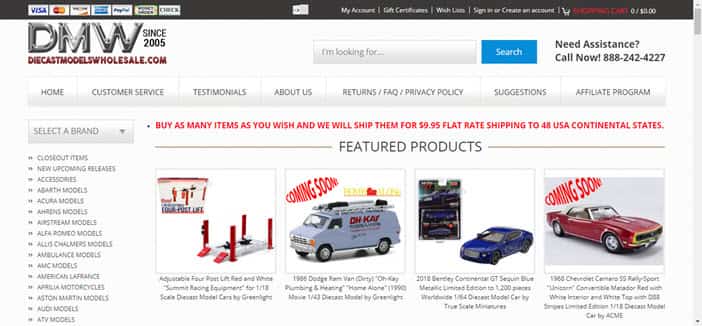 Diecast Models Wholesale is an online direct distributor of diecast model cars since 2001. The company carries collectible diecast models of cars and trucks from all over the world.
Diecast Mules Wholesale is in a specific niche. It targets a smaller and older audience group. But collectors are willing to spend big compared to general toy buyers.
The average order of DMW is $130. Diecast Models Wholesale teamed up with ShareASale to manage its affiliate program.
#3 Seedling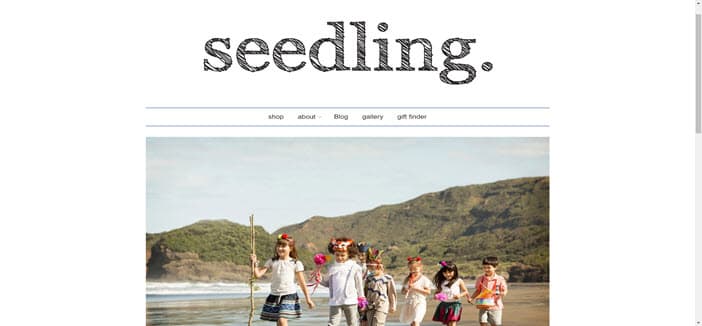 Website: Seedling
Commission rate: 10%
Cookie Duration: 30 Days
Seedling is a New Zealand based company. It offers a wide range of creative and fun toys for kids. Kids can create their toys with Seedling's products.
Seedling's affiliate program is managed through ShareASale.
#4 EZPlay
Website: EZPlay
Commission Rate: 5% to 10%
Cookie Duration: N.A
EZPlay specializes in sturdy handmade wooden playsets, indoor playgrounds and jungle gyms. It includes swings, ropes, monkey bars, and slides. It targets customers who are keen to create an indoor playground.
EZPlay pays 5%- 10% commission to affiliates. The attractive part of the program is the high average order price. It has average sales of $450 to $650.
An important note: EZPlay currently ships only to the U.S customers.
#5 InnovaToys
Website: INNOVATOYS
Commission Rate: 8%
Cookie Duration: 1 Day
InnovaToys is a U.S based online toy store. It specializes in action figures for kids. You can find a great collection of action figures and metal-earth collection at InnovaToys
The average order amount at InnovaToys stores is $80. InnovaToys' web developers are available to help active affiliates if needed or provide artwork.
#6 Lego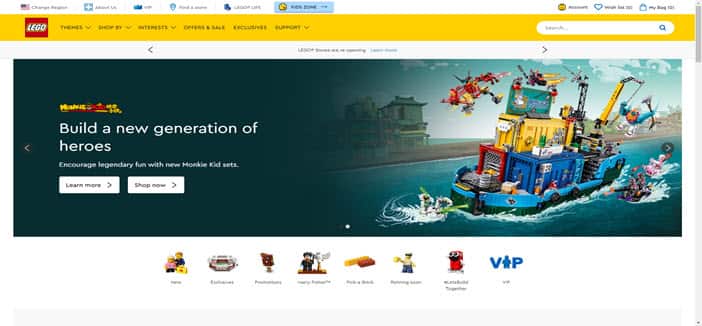 Website: LEGO
Commission Rate: 3%
Cookie Duration: 7 Days
LEGO is one of the most popular brands in the toy industry. It needs no introduction. The colorful plastic building blocks attract both kids and adults. It is a top toy brand and trusted by children and parents globally.
LEGO is available from hundreds of online stores and retailers. However, LEGO.com is the only way to shop online for exclusive LEGO products.
LEGO teams up with Rakuten Advertising to manage its affiliate program.
#7 Crayola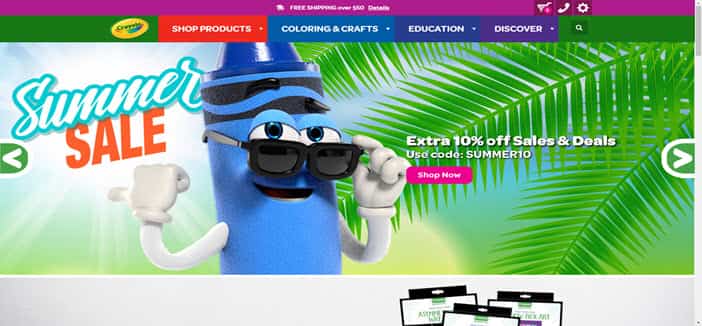 Website: Crayola
Commission Rate: 5%
Cookie Duration: 14 Days
Crayola is another big brand that does not need too much introduction. It is part of the modern generation's childhood. You can find Crayola's products in schools, childcare, and homes.
Crayola started creating crayons in 1903. Crayola's well-known products include crayons, markers, Silly Putter, Color Wonder, and Creative Makers. In addition to that, the company also makes educational toys, drawing tools, and activity kits.
Affiliate program of Crayola is managed through Commission Junction.
Want To Know How Do I Earn An Income Online? Here Is My 4-step Process To A Successful Online Business
#8 Party Toyz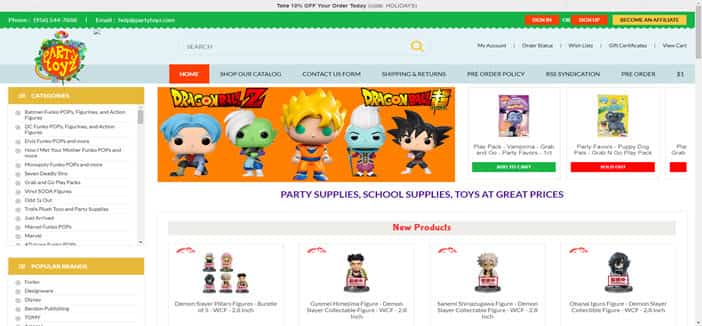 Website: Party Toyz
Commission Rate: 7%
Cookie Duration: 30 Days
Party Toyz focuses on action figures and plush toys. They carry products from companies like Funko and TOMY. Also, Party Toyz offers school and party supplies.
Party Toys teamed up with ShareASale to manage its affiliate program. It offers an Auto approval process for new affiliates. In other words, you can join and start promoting Party Toyz with your new website.
#9 Right Stuf Anime
Right Stuf Anime is the largest North American Anime-specific retailer. It is a publisher, distributor, and retailer. Right Stuf Anime has an independent video publishing division, Nozomi Entertainment. They package and distribute pre-recorded programming such as Japanese anime to English-speaking audiences.
In addition to selling its products, Right Stuf Anime also resells and distributes anime-related merchandise.
Right Stuf Anime's affiliate program is managed through ShareASale. The average order size ranges from $50-$250.
#10 Toy Origin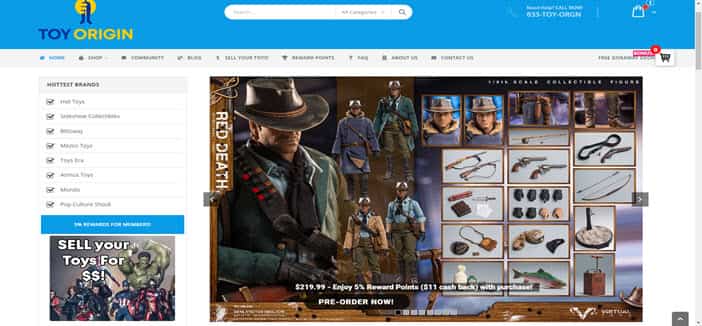 Website: Toy Origin
Commission Rate: 4% (increases with volume)
Cookie Duration: N.A
Toy Origin specializes in collectibles. It is the go-to place on the web for statues, high-end collectibles, and one-sixth scale action figures.
The company carries the best known brands in the collectibles category:
Hot Toys
Sideshow Collectibles
Blitzway
Mondo
Kotobukiya
Prime 1 Studios
ThreeA Toys
Asmus Collectible Toys
To sign up as an affiliate, head to Toy Origin website.
#11 Things From Another World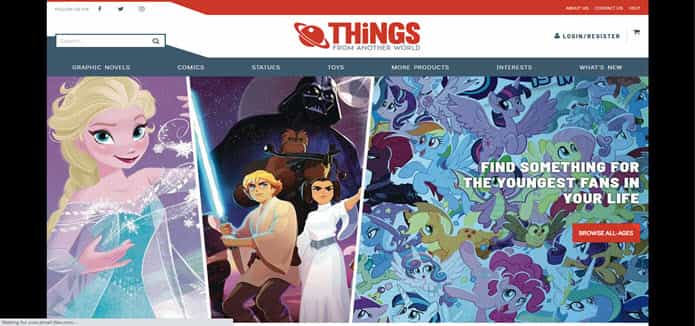 Things From Another World (TFAW) offers over 30,000 pop culture products. That includes comics, toys, statues, apparel, graphic novels, and collectibles. It also carries a variety of entertainment products from manufacturers like DC Direct, Darkhorse, Hasbro, and Marvel, etc.
TFAW requires you to have a website to join its affiliate program. The company prefers affiliates with their registered domains and email address in the domains. The affiliate program is managed through ShareASale.
#12 Amazon
Who doesn't know about Amazon? It is the biggest online shopping arena. You can find almost everything under the sun on Amazon.
Amazon is not a toy manufacturer. However, there is a huge toy department on the platform. It offers a great range of products from toy manufacturers.
Amazon Associates program pays a 3% commission to affiliates. As an affiliate, you will earn a commission on anything your referrals purchase on the Amazon platform within the 24-hour cookie duration.
#13 Fat Brain Toys
Fat Brain Toys is a toy specialist. It focuses on educational toys that teach, inspire creativity, and entertain. It is a retailer as well as a developer of unique specialty toys, games, and gifts.
The company offers toys for all ages. That includes games, puzzles, brainteasers, STEM toys, and outdoor toys.
Fat Brain Toys teamed up with FlexOffers to manage its affiliate program.
#14 Melissa & Doug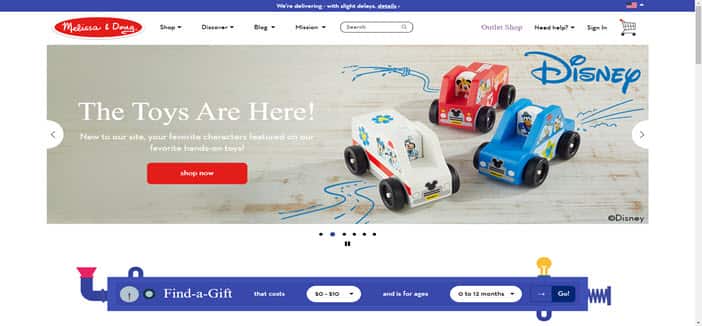 Melissa & Doug designs toys and other products that encourage Free Play, Creativity, Imagination, Learning, and Discovery. They make classic wooden toys, games, and creative crafts.
The company has over 2000 products in 16 categories.
Melissa & Doug partners Rakuten Marketing to manage its affiliate program.
Best Kids Toys Affiliate Programs – Final Words
Here you have it. My list of 14 best Kids Toys Affiliate Programs. Now it's up to you to put in the work and start making money.
You can start by creating a blog in the baby niche, early childhood development, or Toys collectibles, etc. You can check out my FREE Guide to Starting a Blog. I will give you a step by step guide to creating a blog.
If you are new to affiliate marketing and need a free website to get started with, I recommend Wealthy Affiliate.
Wealthy Affiliate is an all in one platform. It offers affiliate marketing training, web hosting, and a support community. It best suits beginners. You can find out more in my Wealthy Affiliate review.
That's it, now over to you.
Do you have any questions? Please feel free to leave me a line in the comment section. I am happy to help.