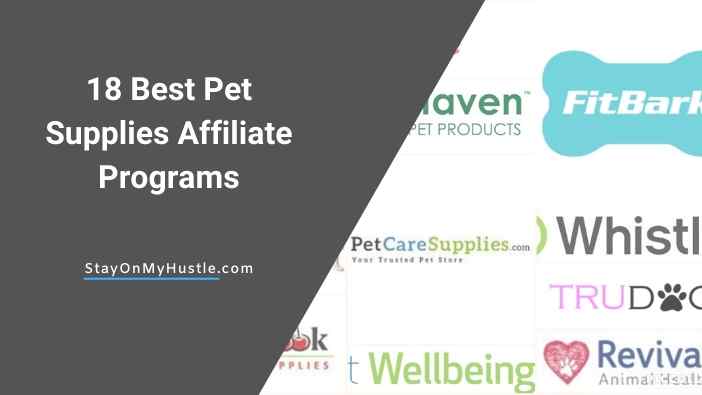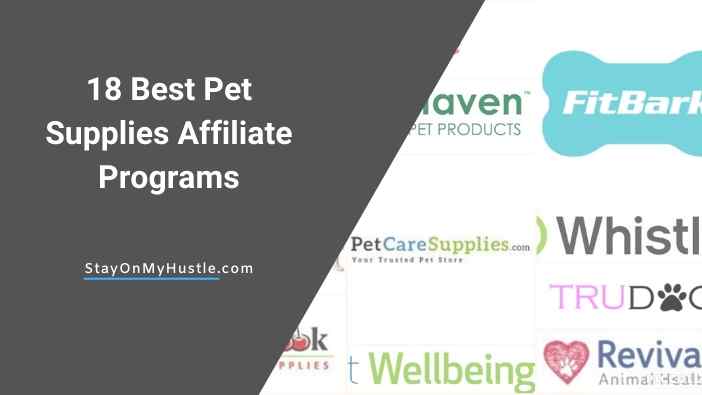 This post may contain affiliate links. Read the disclosure for more info!
The pet niche could be profitable. It has a huge audience and it is considered an evergreen niche.
To pet lovers, a pet is one of their family members. Pet lovers could spend a good amount of money on their cute and cuddly family members. From food, insurance, medical treatments to accessories. Anything that can make a pet happy and healthy!
According to APPA (American Pet Products Associate), it is estimated that $99 billion will be spent on pets in the U.S.
$38.4 billion will be spent on pet food and treats and $19.8 billion on supplies. That's a sign of great demand.
What do pet owners like to purchase? Pet products like toys, pet houses, dog hair accessories, pet beds, cages, and treats are on top of the shopping list.
Here is the good news for affiliate marketers. There is a good number of pet supply companies that offer affiliate programs. In this article, I want to show you 18 pet supplies affiliate programs that you can join and start making money.
Before we get into the list of pet supplies affiliate programs, here are a few notes I want to mention:
Some companies manage affiliate programs by themselves, while others might team up with affiliate networks such as ShareASale, ClickBank, or Commission Junction.
Cookies track your affiliate link and tell stores where to send commission. Cookie Duration is how long a cookie will last from the last click.
Without further ado, here is the list of best pet supplies affiliate programs.
Want To Learn More About How I Make Money From Affiliate Marketing? I Reveal The EXACT Process I Am Using.
18 Best Pet Supplies Affiliate Programs
PetCube
Website: PetCube
Commission rate: 10%
Cookie duration: 60 days
Petcube is a company that focuses on pet care. It makes the best-selling pet cameras and software, connecting people to their pets. With PetCube products, pet owners can see, talk, and play with their pets from anywhere.
PetCube products are available in over 18 countries and in more than 2500 retail locations.
Revival Animal
Revival Animal Health is a pet health supply company. It specializes in providing quality health products such as supplements, medications, and vaccines.
There are currently over 1500 pet products offered on the Revival Animal Health website.
Petco Supplies
Petco is an established pet specialty retailer. It employs more than 25,000 people in over 1500 locations across the US, Mexico, and Puerto Rico.
Petco supplies some unique and hard-to-find pet care products. The uniqueness of the products offered, it improves the affiliate conversions.
Petco's affiliate program is managed by Commission Junction.
FitBark
Website: FitBark
Commission rate: 12%
Cookie Duration: 60 days
FitBark specialized in the health monitor for your dogs. Fitbark monitors your dog's everyday location, activity, and sleep. It turns the data into actionable behavioral and medical insights.
FitBark teamed up with ShareASale to manage its affiliate program. FitBark offers products that are gradually gaining attention among pet lovers. Affiliates can benefit from it.
Brain Training For Dogs Affiliate Program
Brain Training For Dogs is a 7-module video training course. The course is created by a professional and certified dog trainer, Adrienna Farricelli.
The affiliate program is managed by ClickBank.
Ollie Pet Affiliate Program
Website: Ollie Pet
Commission rate: $60
Cookie Duration: 30 days
Ollie is a premium dog food producer. It delivers fresh and healthy dog food. Ollie dog food is made from human-grade meats and tailored to your dog's breed, age, and activity level.
An affiliate earns a flat $60 commission for every new customer referred to Ollie.
King Kanine
Website: King Kanine
Commission rate: 15%
Cookie Duration: 30 days
King Kanine is an innovative company with a mission to promote pet wellness. It is also the leading manufacturer and retailer of CBD products for pets.
King Kanine teamed up with ShareAsale to manage its affiliate program.
Holistapet
Website: Holistapet
Commission rate: 20%
Cookie Duration: 30 Days
HolistaPet is a company that focuses on providing natural remedies to reduce your pet's discomfort. The company sells a range of CBD-infused edibles, treats, and ingestible oil for pets.
Holistapet's goal is to enable you to treat your pet's health without worrying about side effects. You can achieve this by using Holistapet's products.
HolistaPet's products are available to shop globally 24/7.
Want To Know How Do I Earn An Income Online? Here Is My 4-step Process To A Successful Online Business
FurHaven Pet Products
FurHaven specializes in pet beds. It is something that pet owners are happy to spend on. FurHaven has a conversion rate of 9.24%. This means, about 1 in 10 of your visitors purchase FurHaven products.
FurHaven teamed up with ShareASale to manage its affiliate program.
PetCare Supplies
Pet Care Supplies is a leading online pet store. It brings a wide array of pet products ranging from dog supplies, cat supplies, homeopathic supplies, and more. It also offers a variety of pet health care products.
Pet Care Supplies teamed up with Commission Junction to manage its affiliate program. It has an average order value of $90.
Pet Pro Supply Co.
Pet Pro Supply Co's main target audiences are professionals like groomers, vets, or dog trainers. It offers products like bathtubs for dogs, cage dryers for groomers, and animal hair clippers, etc.
For regular pet owners, Pet Pro Supply Co also offers products like cages, doors, or whelping boxes.
Pet Pro Supply Co supplies high-quality products for pet professionals but at an affordable price, and various payment plans.
Professional-level products are expensive but that also means higher commissions for affiliate marketers.
Pet Pro Supply Co teamed up with ShareASale to manage its affiliate program.
Whistle Pet
Website: Whistle
Commission rate: 10% and up to 20% for high performers
Cookie Duration: 30 Days
Whistle Pet is one of the leading pet wearables suppliers. It offers high-quality pet trackers. The products make it easy for pet-owner to create a precise fitness and nutrition plan for his/her pet.
Whistle offers both GPS and Fitness trackers. In addition to the product price, the user needs to pay a monthly or yearly subscription to connect the wearable to the cellular network.
Whistle offers up to 20% commission and up to date creative. The average order value is around $100.
Pet Wellbeing
Website: Pet Wellbeing
Commission rate: 10%
Cookie Duration: 60 Days
Pet Wellbeing works with veterinarians to ensure only the highest quality ingredients are used for their natural pet health products.
The company offers natural supplements for the treatment of over 120 pet diseases. To pet owners, pet's health is just as important as other family members'. The spending on pet's health is growing steadily.
Pet Wellbeing's affiliate program is managed through ShareASale.
Embark Vet
Website: Embark Vet
Commission rate: up to 10%
Cookie Duration: 30 Days
Embark Vet offers home DNA testing kits. The testing kits include bread identification kit and breed plus health kit. Dog owners can pre-empt any health problems their dogs might face in the future.
Each testing kits cost between $129 and $199.
The Embark Vet affiliate program is managed through ShareASale.
Pets Warehouse
Website: Pets Warehouse
Commission rate: 8% to 10% per sale
Cookie Duration: 15 Days
Pets Warehouse started in 1974 with breeding birds. Today, it has developed into one of the top pet retailers.
The company offers a wide range of pet products and variety of pets.
Pets Warehouse teamed up with ShareASale to manage its affiliate program.
Cherrybrook
Website: Cherrybrook
Commission rate: 6%
Cookie Duration: 45 Days
Cherrybrook started by selling grooming products at dog shows. It has since developed into one of America's most respected sources for premium pet products.
You can sign up CherryBrook's affiliate at ShareASale or AvantLink.
Animal Den
Website: Animal Den
Commission rate: 12-13%
Cookie Duration: 45 Days
Animal Den is an online gift store for animal and pet lovers. It offers a wide variety of animal-related gift items.
Animal Den's products include coasters, jewelry, shirts, and mouse pads, etc.
The affiliate program of Animal Den is managed by Commission Junction. Affiliates have access to banner ads, links, tracking tools, and team support.
TruDog
Website: TruDog
Commission rate: 10%
Cookie Duration: 90 Days
TruDog provides healthy, wholesome foods, treats, supplements, and grooming supplies for dogs. It is a family-owned business that aims to provide the best quality food for your pets.
TruDog Affiliate Program is managed through ShareASale.
18 pet supplies affiliate program – Final words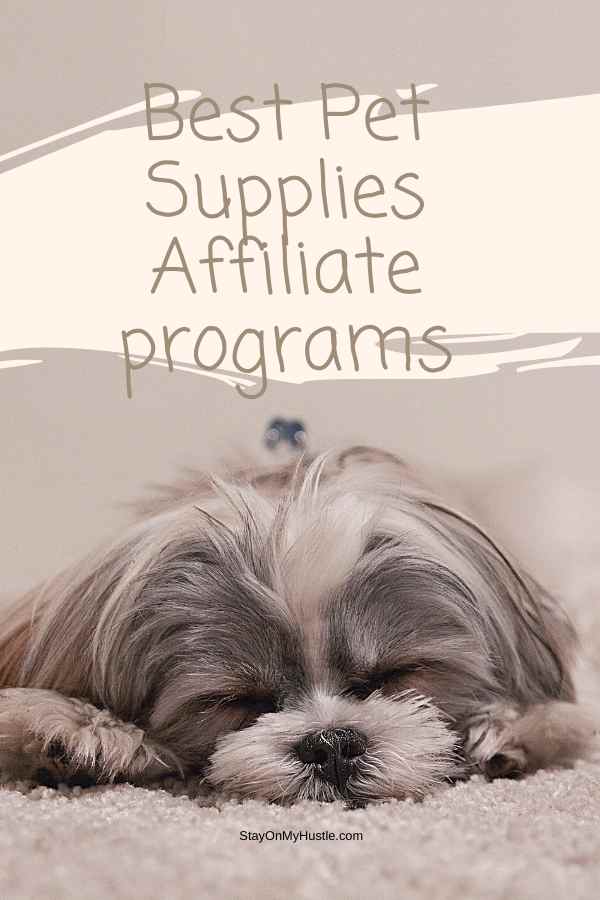 Here you have the list of 18 best pet supplies affiliate program. Now it is your turn to put in the hard work and start making money.
The pet niche is growing and evergreen. Pet owners are willing to spend big for their hairy companions.
New to affiliate marketing? You can get started by blogging. You can check out my free guide on starting a blog. The guide will give you all the steps you need to create and grow your blog.
If you are looking for affiliate marketing training, check out my recommended training courses. These are the courses I have gone through and happy to recommend to my readers.
That's it. It is your turn now.
Do you have any questions? Or comments?
Please feel free to drop me a line in the comment section. I am happy to help.