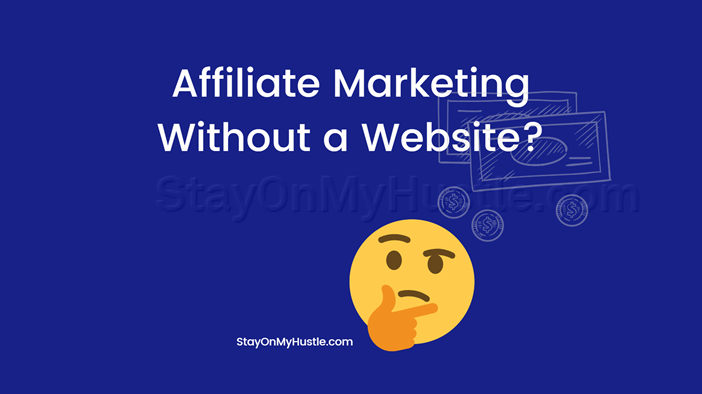 This post may contain affiliate links. Read the disclosure for more info!
Are you thinking of starting Affiliate Marketing but do not want to build a website? You are in the right place.
In this post, I will show you ways to do Affiliate Marketing without a website.
Do you need a blog to do Affiliate Marketing?
The short answer is NO.
You can do affiliate marketing without a website, but that's not the best way to do it. There are ways to run an affiliate marketing business, and building a website is one of the most effective methods.
The advantages of having a website for your affiliate marketing business
A website is your asset. Its value grows over time.
A website is the storefront of your business. It builds trust and authority.
A website with authority gains trust from your customers.
With a website, you own the content you create.
Having control over your content is crucial.
For example, at the end of December 2019, Google decided to remove hundreds of bitcoin and cryptocurrency-related videos from YouTube.
Although YouTube later admitted the removals were by mistake, this shows the danger of leaving your content on a platform without a back-up plan.
Nobody can remove you from your website.
How difficult is it to start a website?
It is a simple process.
I want to invite you to set up your first free website here. Setting up a website can be done within minutes.
Are these reasons enough to change your mind?
NO? All right, let's look into other ways to run your affiliate marketing business without a website now.
How to do affiliate marketing without a website?
#1 Affiliate marketing by posting links in forums
---
An online forum is a great place to promote your affiliate products. But the strategy to do so has changed.
Simply signing up to a list of forums, mixing affiliate links into your replies no longer works. It is almost a sure-fire way to get banned from the forum now.
Can you still do affiliate marketing in forums?
Yes, you can.
Take Quora as an example. You are not allowed to post an affiliate link on Quora. However, you can post a link to your quality content such as your blog post or YouTube video which links to your affiliate products.
Bear in mind that, Quora does have the final say if your post is considered as SPAM. Make sure you are posting something with value and good quality.
#2 Affiliate Marketing by starting a YouTube Channel
---
Get this, YouTube is the second largest search engine behind Google with 3 billion searches per month.
Building a YouTube channel is a great way to gain traction quickly. It works on any niche.
You could produce videos of product reviews, a series of tutorials, or video journals, etc.
The goal is to build your following by producing quality content.
The caveat is, you are publishing your content on borrowed space. The platform owner, such as Google has the right to remove your content or the whole channel for any reason.
I see successful bloggers, such as Miles Beckler, who uses Youtube as one of the channels he delivers his contents. He runs a website, Youtube channel, and Podcasts. This is a proven long term strategy.
#3 Affiliate Marketing by Starting a Podcast
---
Podcasting is another popular way to promote your affiliate product.
Podcasting is the audio version of your content. You can produce episodes of a product review, interview or telling a story.
Benefits of podcasting:
Reach the audience who does not read a blog post
Your audience can listen to Podcasts anywhere
Podcasts can be monetized effectively
You can record the audio episode of your content and distribute it to podcasting platforms such as iTunes, Spotify, Sticher, and Overcast, etc.
If writing is not for you, Podcasting might be a good alternative for you.
#4 Affiliate Marketing by writing an eBook
---
This might sound like an old fashion strategy, but it is an effective strategy.
No, I am not talking about selling an eBook.
Write an eBook with useful, engaging content, and then give it away for free.
There are two main benefits of giving away a free eBook:
An eBook is a great way to gain trust and establish authority. It is also an opportunity to promote your affiliate product. It is easier to get your readers to click on your affiliate link when you have gained their trust.
The second benefit of writing and giving away an eBook is to collect email addresses. Email marketing is another effective way to do affiliate marketing with/without a website. We will look into Email Marketing later in this post.
#5 Promoting your affiliate product using Social Media
---
If you already have a good number of followers on social media, this method is very straightforward for you.
Monetizing your social media followings.
If you have recruited a good number of followers on your social media account, that means you have gained their trust. Your followers like what you do, or you are solving their problems. They are likely to spend money on the products that you promote.
#6 Affiliate Marketing on Web 2.0 sites
---
Blogger.com, WordPress.com, Tumblr, Steemit, and Medium are examples of Web 2.0 sites. At the time of writing, Medium.com is leading the charge of free blogging platforms.
With Medium, you can create content, review and build authority without maintaining your own website. It is a good alternative for those who want to blog but not interested in setting up a website.
Medium has a big audience base and its content ranks on Google. It is free to sign up. Medium.com allows you to use affiliate links in your content as long as your readers are aware of them.
#7 Affiliate Marketing by Pay-Per-Click Advertising
---
You can promote your affiliate products by sending paid traffic via Pay-Per-Click advertising to your affiliate offers. As the name suggests, you pay for every click you receive on your link.
This strategy could be costly if you don't know what you are doing.
Pay-Per-Click affiliate marketing space is highly competitive. Many marketers are competing for users' attention.
Imagine there are so many affiliates promoting the same product!
The bottom line is, you need money to test and find your profitable ad campaign.
Neil Patel wrote in one of his article about PPC advertising:
"Once your affiliate marketing business starts to pick up steam, you can start thinking about paid advertising."
"Only do this once you have a way of making back your money"
"Conversions are all that matters here"

What is affiliate marketing
While you can do affiliate marketing by using PPC advertising. It works best when you have a website or landing page that you can send your visitors to. You can gain their trust, lead them into your sales funnel, and collect their email addresses.
#8 Affiliate Marketing by Email Marketing
---
Email marketing works. It is a proven digital marketing strategy.
You need an email list to get started. You can either build an email list or purchase one.
The recommended way is to build your own email list.
Your readers sign up to your list because you are providing value and solution to him. It is easier to promote your affiliate products to them.
Final Thoughts
Here you have the 8 ways to do affiliate marketing without a website.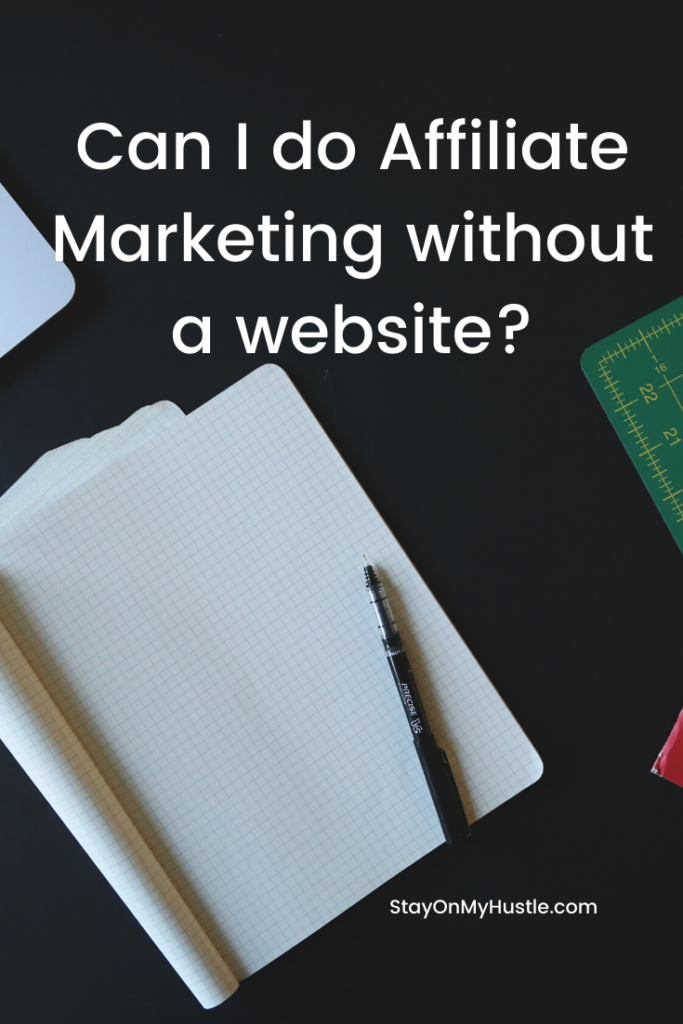 It is possible but not easy.
If you are interested in setting up your affiliate marketing website, I recommend Wealthy Affiliate for the start. It is an All-In-One platform at a low cost. It offers marketing training, web hosting, blogging tools, and a supportive community. Check out my review here.
Are you running an affiliate marketing website?
Do you have experience with the strategies mentioned in this post?
Do you have experience doing affiliate marketing without a website?
Do drop me a line in the comment section, I would love to hear from you.