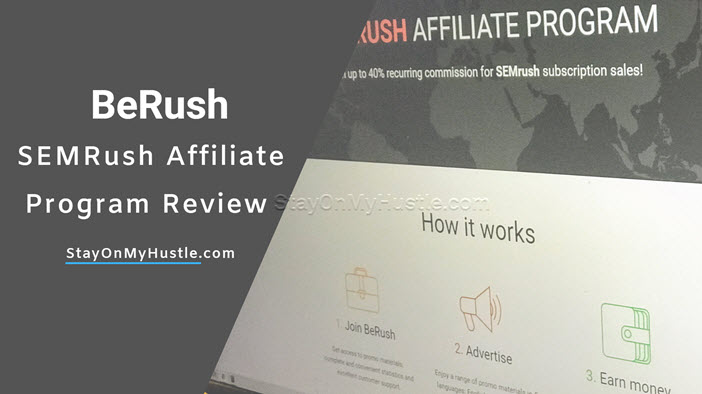 This post may contain affiliate links. Read the disclosure for more info!
As part of my effort to help readers, I continue my search for the best affiliate programs. In this post, I focus on quality programs that pay recurring commissions.
If you have been blogging for a while, you probably heard of SEMRush. SEMRush is a premium SEO tools and service company. How about its affiliate program?
In this post, I want to show you what is SEMRush Affiliate Program, and why you should join.
Why recurring commission?
Recurring commissions are paid to affiliates as long as the referrals continue their subscriptions. It provides affiliates residual income.
It is very important to choose the right program. Customers are more likely to continue using or subscribing to a product or service that is of high quality.
For the same reason, I prefer to work with a company that is reputable and offers high-quality products and services. SEMRush fits well into this category.
What is SEMRush Affiliate Program?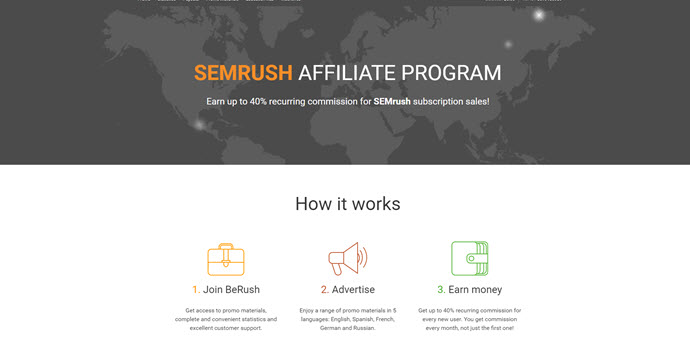 SEMRush's affiliate program is called BeRush. It is a revenue-sharing partnership between SEMRush and affiliates. It gives you opportunities to earn residual incomes through affiliate marketing.
You as an affiliate drives traffic to SEMRush. When your website visitor completes a purchase at SEMRush, you get a commission for any and every SEMRush subscription he/she buys.
Let's start the BeRush review by looking at the upsides and downsides of the program.
What are the upsides of BeRush?
#1 Generous recurring commission
SEMRush pays 40% recurring commissions on every successful sale. You will get paid every month as long your referral continues paying for his subscription.
#2 Highly reputable and quality product with top-notch customer support
SEMRush is one of the most popular SEO brands in the industry. SEO tools offered by SEMRush are widely used by professionals. The quality speaks itself. You can be confident about the products you are promoting.
#3 Flexible payment options
BeRush pays affiliates twice a month on the 10th and 25th each month when account balance meets the minimum threshold.
The minimum payment threshold for Paypal is $50, and $1000 for Wire Transfer.
#4 Easy to get started
It is free to join BeRush. The application and approval process is simple and quick. You don't need to have a blog or website to get started. You can start promoting through social media or youtube videos.
Besides, SEMRush offers a 7-day free trial. It is a good opportunity for affiliates and customers to understand SEMRush tools better. This potentially leads to more conversions.
#5 Good variety of promotional materials
To help affiliates achieve success, BeRush offers a good range of tools and promotional materials.
What are the Downsides of BeRush?
#1 Great products, but with the steep price tags.
SEMRush tools are top of the line SEO products, it is not cheap. Especially for beginners.
The cheapest plan starts from $99.95 monthly. This price might not be affordable for a new blogger who has yet to make any money.
#2 Downside of the first cookie attribution model
BeRush uses the first cookie attribution model. It is useful if a visitor originally landed on SEMRush from your referral link.
However, there is a chance you the first cookie attribution model might work against you. You will not earn a commission if the visitor had clicked on other's referral link before visiting your website.
Ready to Join BeRush?
Need to know more? Read on.
Let's have a closer look at the inside of BeRush.
What is SEMRush?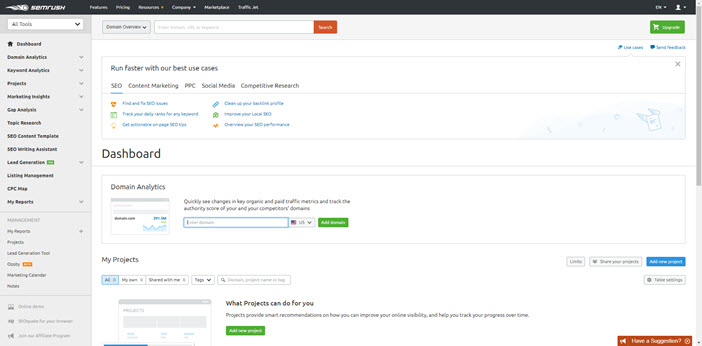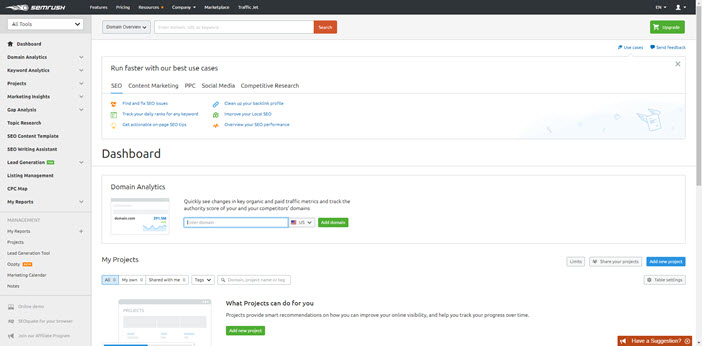 SEMRush is the leading competitive research service for online marketing. It offers an all-in-one too suite to help users improve online visibility and discover marketing insights.
It is trusted by professional bloggers, content marketers, online entrepreneurs all over the world.
How do I sign up for the affiliate program?
The signup process is straightforward.
Head to the BeRush signup page and complete registration.
Once your account is activated, you are ready.
All traffic and sales to SEMRush are tracked by your unique Referral code (also called Ref ID).
All promo materials are coded with your unique referral code. You can use them to promote right away.
How much can I earn?
As a SEMRush affiliate, you will earn a 40% commission for all newly acquired SEMRush subscriptions purchased through your referral link.
You will continue receiving a commission every month as long your referral remains as SEMRush paid subscriber.
SEMRush offers 3 subscription plans:
Pro: $99.95 per month or $999.36 per year – Affiliate earns a commission of $39.98 per month or $400 per year.
Guru: $199.95 per month or $1999.40 per year – Affiliate earns a commission of $79.98 per month or $800 per year.
Business: $399.95 per month or $3999.40 per year – Affiliate earns a commission of $159.98 per month or $1600 per year.
As you can see, it is a very generous commission plan.
When and how do I get paid?
BeRush offers two payment methods: Paypal and Wire Transfer
The minimum threshold of Paypal payment is $50, and for Wire Transfer is $1000
BeRush pays affiliates via Paypal on every 10th and 25th of the month if account balance meets the minimum threshold.
What are the tools and promo materials available?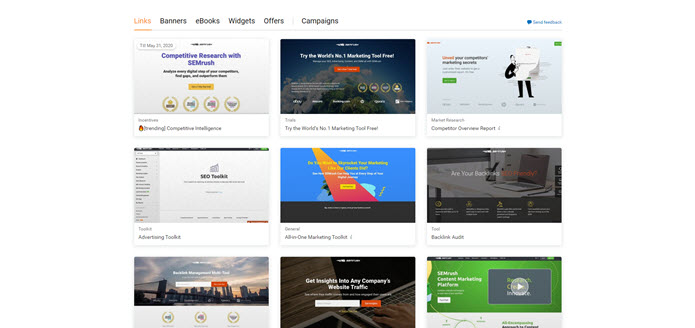 BeRush offers a wide range of promo material for affiliates.
Promo materials include:
Links – Links to specific landing pages of SEMRush products
Banners – Banners of different products. Affiliates are able to select sizes and colors of banners.
eBooks – A good collection of ebooks. It covers different SEO related topics.
Widgets – A handful of website widgets you can implement on your website to improve conversion.
Conclusion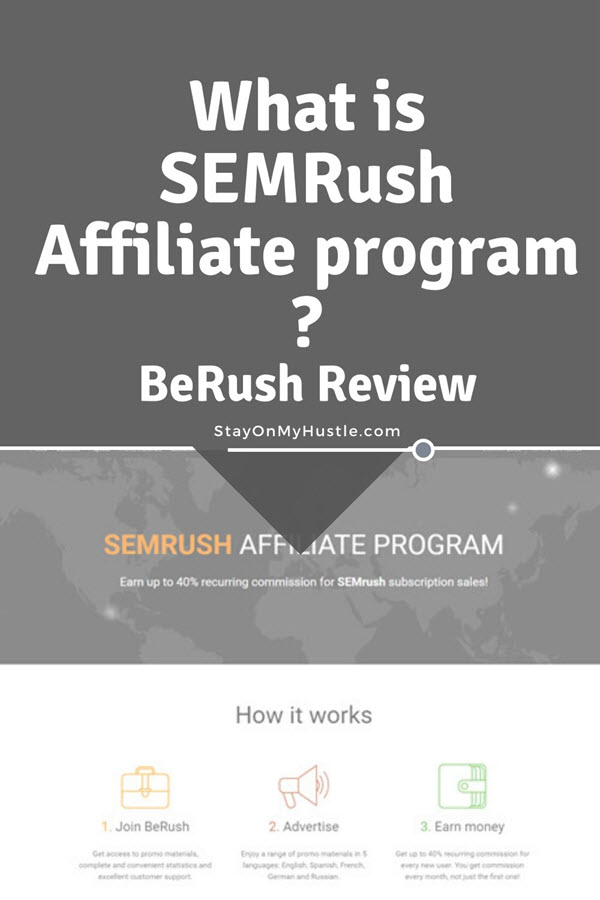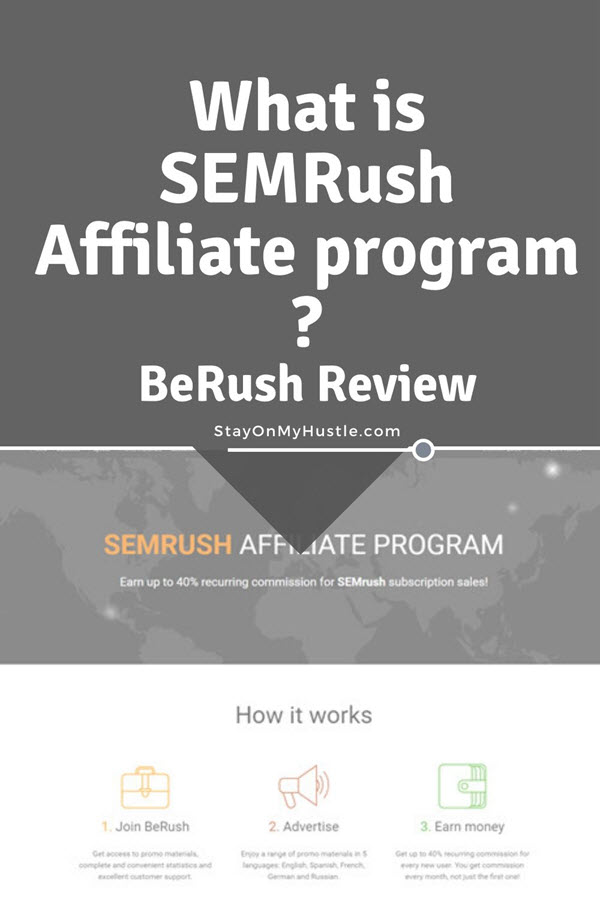 SEMRush offers top-notch SEO products. It is highly recommended by professional bloggers and content producers.
Although the starting cost might be too high for beginners, the quality products are likely to keep retain customers for a long time. In other words, a long period of recurring commissions for affiliates.
Are you interested in learning more about Affiliate Marketing?
Check out my recommended Affiliate Marketing training.
Do you have experience with BeRush?
Do you have any questions?
Please feel free to drop me a line in the comment section. I am happy to help.