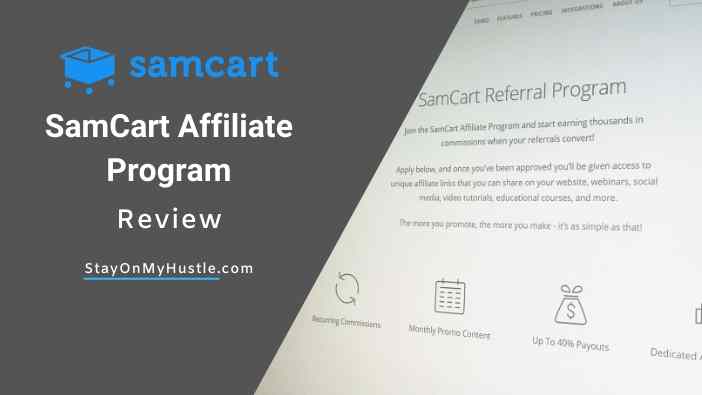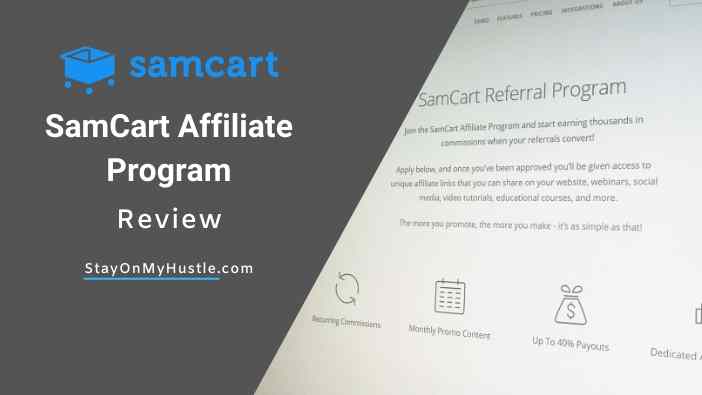 This post may contain affiliate links. Read the disclosure for more info!
SamCart is a premium web-based checkout platform. It is a unique eCommerce solution that focuses on a one-page sales funnel. The service is recommended by many online entrepreneurs.
How does SamCart Affiliate Program fare? In this review, I will walk you through the SamCart Affiliate program (or SamCart Referral Program) and discuss if it is worth joining.
The benefits of joining SamCart Affiliate Program
First, let's look at what you will get from the affiliate program.
#1 SamCart pays recurring affiliate commissions
SamCart pays a generous 40% recurring commission to affiliates. As long as your referral stays as a SamCart paying customer, your earning will continue.
#2 SamCart is a product of high quality
SamCart has made its name in the eCommerce space as a reliable and quality product. You can be sure that you are promoting a quality product to your audience.
#3 You are promoting an unique solution to your audience
SamCart's one-page funnel is a funnel building strategy that stands out from its competitions. You have a unique selling point for your audience.
#4 SamCart offers free trial and demo
Free trial and product demo is a great feature to capture new customers. Nothing better than gives customers a taste of the product instead of hard selling.
Things that I don't like about the program
Now we know about the benefit of the program, let's talk about some negativity of the program.
#1 Lack of promo creatives materials
There is no promo material listed in the affiliate dashboard. You are only provided with affiliate links for SamCart products. This is not a huge issue, just an inconvenience for those who prefer banners and ads.
#2 Commissions are withheld for 45 days
SamCart withholds your commission for 45 days. SamCart offers its customers a 30-day money-back guarantee, you will only get paid after the guarantee period. It is a bit long, but not a showstopper.
All right. We have discussed the benefits and the negatives of the affiliate program, if you are not sure, let's look into the details now.
What is SamCart
SamCart is a web based checkout platform that features 1-click upsell, order bump, subscription and payment plans capabilities.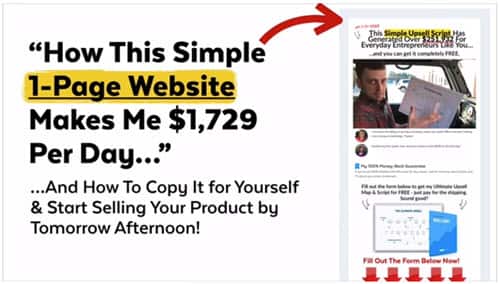 I first learned about SamCart from Brian Moran's 1-Page Funnel webinar. I highly recommend the free webinar to anyone who wants to learn a simple yet effective way to build a sales funnel.
Brian Moran is the co-founder of SamCart. He founded SamCart together with his brother back in 2014.
The selling point of SamCart is the ability to create a one-page sales page. Coupled with Brian Moran's 1-page Funnel training, it makes SamCart a perfect product for those who prefer simplicity.
How much can you earn with SamCart Affiliate Program
SamCart pays 40% recurring commission for successful sale.
How do I sign up for the Affiliate Program
The Sign Up process is simple. Head to SamCart website and apply via the 'become an affiliate' link.
Once approved, you will have access to the affiliate center. You can find affiliate links and tracking information within the center.
When and how I get paid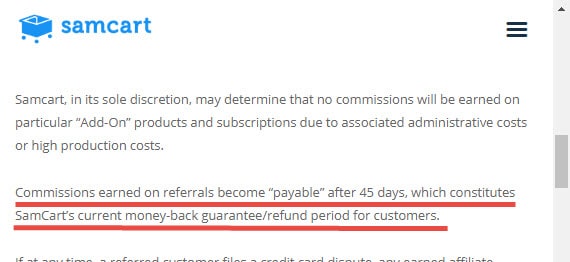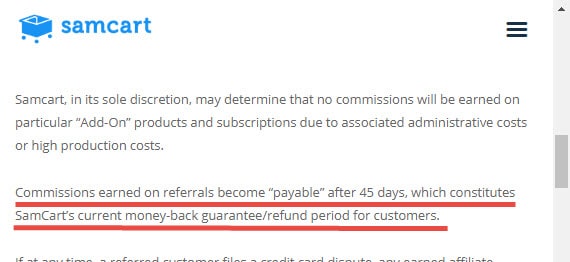 SamCart pays affiliate commissions via PayPal Masspay. You can expect to receive a commission of 45 days holding period.
The holding period is to cater for SamCart's 30-day Money-Back Guarantee to the customer.
What can I promote?
As a SamCart affiliate, you can promote different packages of SamCart software. Besides, you can also promote Brian Moran's 1 Page Funnel Masterclass.
1 Page Funnel Masterclass is a complete funnel building training. The training is bundled with a 12-month access of SamCart.
There's no promo material such as banners. What you can find are affiliate links to the landing pages of different SamCart packages, and Free webinars.
You can share on your blog, webinars, social media, video tutorials, educational courses, and more.
SamCart Affiliate Program – Closing Words
Is it worth joining the SamCart Affiliate Program? Yes. For a few reasons, I think it is worth promoting SamCart.
They pay a recurring commission
SamCart is a quality product
The 1-Page Funnel Masterclass is a legit and excellent training
SamCart is an excellent Checkout page /funnel builder for anyone who wants to make sales online. As an affiliate, you can be assured that you are promoting a product of good quality to your audience.
SamCart affiliate program is a good choice for new and experienced affiliate marketers. If you are looking to learn more about affiliate marketing, have a look at my recommended training programs.
Do you have experience with SamCart?
Do you have any questions? Please feel free to drop me a line in the comment section. I am happy to help!