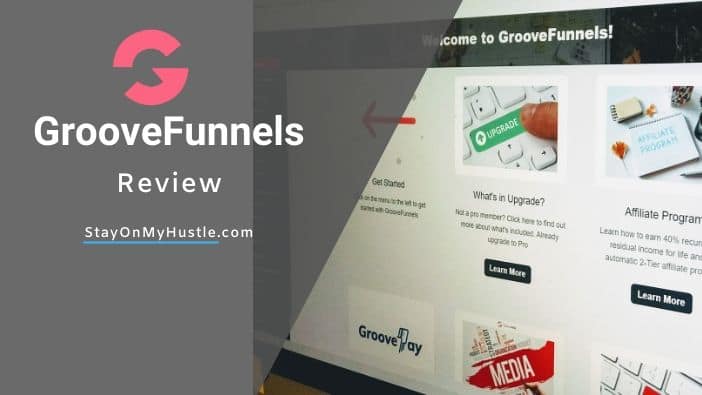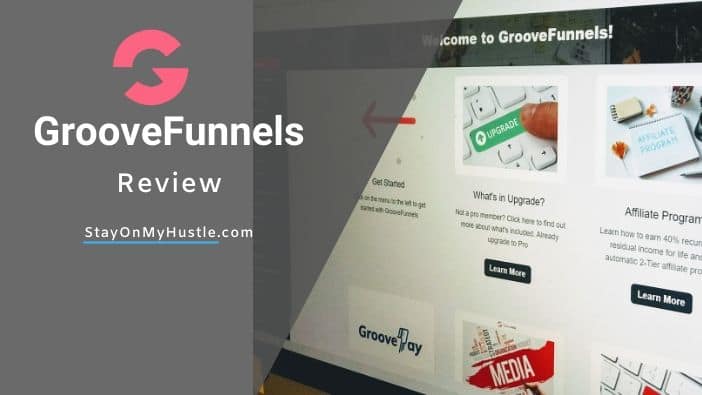 This post may contain affiliate links. Read the disclosure for more info!
Are you looking for an alternative to ClickFunnels? Or just wondering what GrooveFunnels is all about? You are in the right spot.
Here is my GrooveFunnels review.
In this article, I want to give you a review of GrooveFunnels by showing you the following:
What I don't like about GrooveFunnels
Before we go into details of the GrooveFunnels review, I want to show you a couple of things that I don't like about GrooveFunnels.
#1 Too many 'Groove' brands, confusing product names
When I first join GrooveFunnels, I got confused about the product lines of it. There are products like GrooveSELL, GroovePages, and GrooveAffiliate, etc. There aren't too many descriptions for each of them. It could be overwhelming for beginners.
I started to have a better idea after joining the support Facebook group and GrooveAcademy. Don't worry, I will give you a summary of the product in the latter part of this post.
Tips: Both the Facebook group and GrooveAcademy are excellent resources to learn about the products and marketing. Make sure you check them out after joining GrooveFunnels.
#2 Confusing pre-launch events and offers
There are offers like limited time offer, lifetime membership offer, or COVID-19 limited time offer, etc. Some of them might be referring to the same promotion, it is just difficult for a beginner to his head around.
There are ambitious plans for the future product releases, so you will see a number of products within GrooveFunnels dashboard with "coming soon" messages.
What I like about GrooveFunnels
Ok, so we have gotten the negative points out of our way. Now let's look at what I like about GrooveFunnels.
#1 Team of experts
In case you didn't notice, behind GrooveFunnels is a team of SaaS (Software as a service) experts. Co-founder Mike Filsaime was also the co-founder of Kartra. The founding team consists of marketing veterans like John Cornetta, Matt Serralta, and Matt Naus.
They bring in experience and technology to develop an awesome product.
#2 Free GrooveFunnels account available to everyone
For those who are new to sales funnels, or online business in general, GrooveFunnels offer a great opportunity to jumpstart.
The free account allows you to access GrooveSell, GrooveAffiliate, and GroovePages LITE. You can create your landing pages (up to 3 sites) or start a website to start selling your own products.
#3 GrooveFunnels is an All-In-One platform for digital marketers
GrooveFunnels is a powerful software suite that covers all aspects of the websites and funnels building. You have all the tools you will need to build an online business in one place.
#4 GroovePages is SEO friendly
Landing pages built with GroovePages are optimized with on-page SEO elements and fast loading. GroovePages makes sure your sites are mobile-friendly, and fits Google's Mobile-First indexing requirement.
#5 GrooveFunnels costs less for more functions than its competitors
For the start, GrooveFunnels offers GrooveSell, GrooveAffiliate, GroovePages LITE to free members. With the pre-launch offer, the platinum membership currently costs 12 monthly payments of $188.
No more future payment is required after that. In the long-term view, this is a bargain and cost-savings for your business.
Don't let the opportunity slip away
Want to know more? No problem, please keep reading.
What is GrooveFunnels and who is behind it
GrooveFunnels is a software suite that consists of several apps. They are also called GrooveApps. The software suite is designed as an all-in-one digital platform to help internet marketers or online business owners.
It is more than just a website builder and sales funnel builder, it is a set of marketing tools.
Currently, there are 3 main applications included in the GrooveFunnel suite. More applications will be introduced starting in late June 2020.
GroovePages – Landing Page Builder
GrooveSELL – Shopping cart
GrooveAffiliate – Affiliate Marketing application
Who is behind GrooveFunnels?
GrooveFunnels is one of the flagship products by GrooveDigital. Behind GrooveDigital is a team of veterans in online marketing and SaaS (Software as a Service) space.
The Founding team of GrooveDigital includes Mike Filsaime, John Cornetta, Matt Serralta, and Matt Naus. Mike Filsaime was also the co-founder of Kartra.
What is inside GrooveFunnels
GrooveFunnels is a software suite that consists of many apps. Each app covers a different aspect of your online business.
Here is the list of apps included in the GrooveFunnels suite and the estimated release dates. GrooveFunnels is currently in the Beta phase, with more launches scheduled starting July 2020.
GroovePages
GrooveSell
GrooveAffiliate
GrooveMail (Late July 2020)
GrooveMember (Late July 2020)
GrooveVideo ( Late July 2020)
GrooveBlog (Late 2020)
GrooveWebinars (Late 2020)
GrooveDesk (Late 2020)
GrooveCalendar (Late 2020)
GrooveSurvey (Coming 2021)
GrooveQuiz (Coming 2021)
GroovePages App For Shopify
Let's have a look at each of the apps included in GrooveFunnels.
GroovePages
GroovePages is the website and funnel builder. It is a sophisticated software tool that allows you to build a complete website, beautiful landing pages, and high converting sales funnels. With mobile-first indexing in mind, GroovePages makes sure your website is SEO-friendly.
GrooveSell
GrooveSell is a digital sales platform for you to sell your digital products, services, or subscriptions online. You can create checkout pages, upsells, downsells, affiliate programs, etc.
GrooveSell is FREE for all members.
GrooveAffiliate
GrooveAffiliate is an affiliate marketing platform that allows you to recruit and manage affiliate marketers who are interested in promoting and selling your products. It works hand-in-hand with Groovesell.
GrooveAffiliate allows you to create affiliate links, track commission amounts, refunds, clicks, and likes. It is easy to use. GrooveAffiliate is also FREE for all members.
GrooveMail
GrooveMail is planned to be launched in July 2020. It is an email marketing solution CRM or autoresponder. GrooveMail is comparable to ActiveCampaign.
It is included in all paid GrooveFunnels plans. It allows you to have and mail up to 25,000 contacts for free. This is another saving you could potentially have by using GrooveFunnels.
GrooveMember
GrooveMember is a membership platform. Think Teachable or Kajabi. With GrooveMember you can create and run your membership platform. You can create accounts with different membership levels such as Free, Gold, Silver, and Platinum.
GrooveMember allows you to host videos, downloads, and drip content, etc. It is planned to be launched in July 2020.
GrooveVideo
GrooveVideo is a hosting app that will host your videos. It is like the premium version of Vimeo or Wistia.
You can upload videos, split test videos, see analytics, control the player controls, and manage splash images, etc. GrooveVideo is integrated with the rest of GrooveFunnels' tools.
You could time-stamp a video and send follow-up messages via GrooveMail to the viewer.
GrooveBlog
GrooveBlog is a blogging platform. If you do not already have a WordPress blog or for any reason, you want to get away from WordPress, GrooveBlog is for you.
With GrooveBlog, you can publish, update your content, and have excellent SEO. GrooveDigital team aims to give you the ability to ditch WordPress (which I don't agree with, but we shall see.).
It is important to note, you can still use WordPress together with GrooveFunnels.
GrooveWebinars
GrooveWebinars is another powerful feature of GrooveFunnels. It is scheduled to be launched later in 2020.
GrooveWebinars allows you to host both automated and live webinars. With advanced streaming technology, you can run meetings, classes, or sales presentations with ease.
If you are familiar with the expensive webinar platforms such as StealthSeminar or EverWebinar, here is the good news: GrooveWebinars is included in the GrooveFunnels platinum plan with no extra cost.
GrooveDesk
GrooveDesk is going to be a useful tool for your online business. It integrates helpdesk with your sales system. GrooveDesk being part of GrooveFunnels suite makes it easy for you to look up customer history and manage transactions.
GrooveDesk will be available at the end of 2020.
GrooveCalendar
GrooveCalendar is a time and task management tool. It allows you to schedule meetings, sell consultations, create open office hours, and manage appointments, etc.
As part of the GrooveFunnels suite, it allows you to automate follow-up sequences with your clients/students using GrooveMail.
It is planned to be launched in late 2020.
GrooveSurvey & GrooveQuiz
The GrooveSurvey and GrooveQuiz are using the same technology. The tools allow you to create surveys and quizzes for your landing pages, funnels, or websites, etc. They are planned to be launched in 2021.
GroovePages for Shopify (an Shopify App)
GroovePages for Shopify is a Shopify app that will be available in the Shopify App marketplace in mid-July 2020.
Shopify users can design and publish their site using GroovePages' drag-n-drop technology and beautifully designed professional templates.
How much does GrooveFunnels cost?
It is free to sign up for a GrooveFunnels Base account. The Base account gives you free access to GroovePages Lite (up to 3 sites), GrooveSell, and GrooveAffiliate.
To take the full benefits of GrooveFunnels software, you may want to upgrade to one of the paid memberships.
Have a look at the price structure of GrooveFunnels after official launch (estimated 1st July 2020)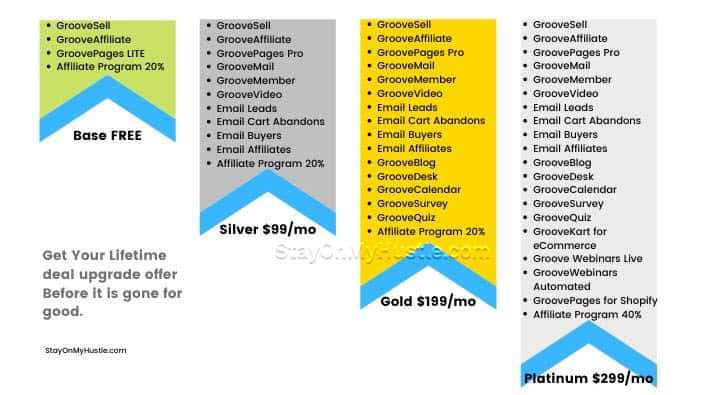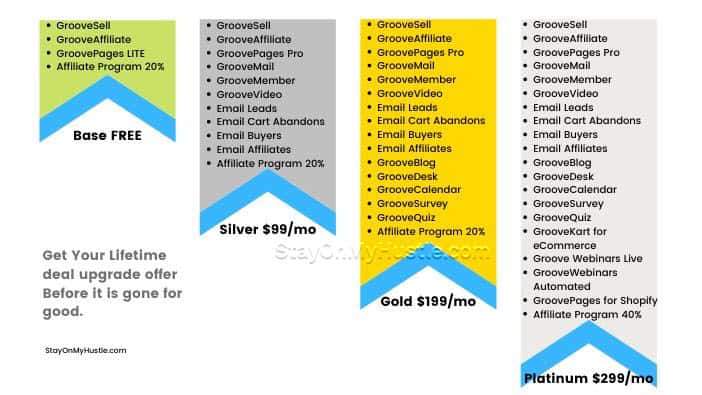 GrooveFunnels Platinum Lifetime Plan Offer
For a limited time, GrooveFunnels is offering a lifetime deal to upgrade to the platinum plan. With one time payment, you will have lifetime access to ALL GrooveFunnels products without a monthly subscription.
The payment as below:
3 payments of $497 or
6 payments of $288 or
12 payments of $188 or
1 full payment of $1397
The offer won't last long. It is part of GrooveFunnel's pre-launch promotion. After the official launch of GrooveFunnels, the platinum plan will cost $299/mo.
Why you should sign up for a FREE GrooveFunnels account now?
You should really sign up for a FREE GrooveFunnels account now, because IT IS FREE! Right?
Of course, there are more than that.
With free access to GrooveSELL, you can sell your digital products, service, or subscription easily and free.
The FREE or BASE account allows you to create 3 websites with GroovePages LITE.
You are allowed to have a custom domain added to your website. All you need to do is to register your domain name (which costs around $10- $13 yearly).
Besides, all GrooveFunnels users are automatically signed up to the GrooveFunnels Affiliate Program. Base account members can earn up to 20% commission for a successful sale. Platinum plan subscribers earn up to 40% commission.
You can find my detailed review of the GrooveFunnels Affiliate Program Here.
You have nothing to lose and a lot to gain.
What types of support can I expect from GrooveFunnels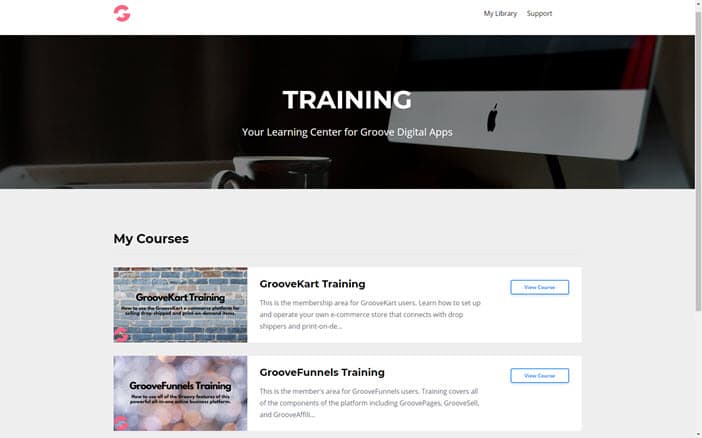 There are multiple support channels available to GrooveFunnels users. You can seek help via submitting a ticket to HelpDesk, researching the KnowledgeBase library, calling a toll-free support number, and joining the private Facebook Group.
For those who are interested in learning more about GrooveDigital products and marketing, GrooveDigital Academy is a great free resource for you. You can find marketing training, webinar replays, product walkthrough, and courses. It is free to join.
I want to give a special mention to the private Facebook group. I found the group to be very helpful. There are experienced marketers sharing experience. You can also find educational webinars in the Facebook group.
GrooveFunnels Review conclusion – Is GrooveFunnels worth it?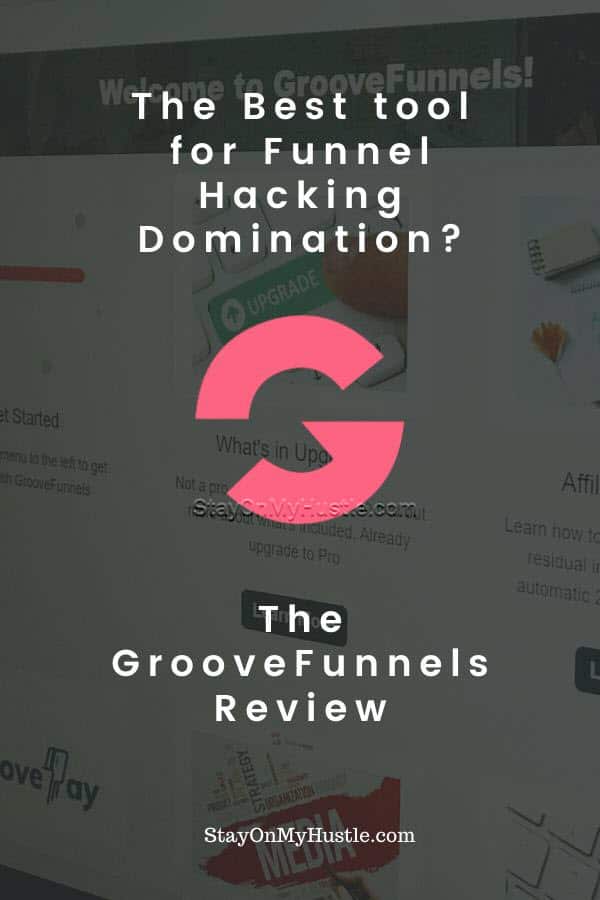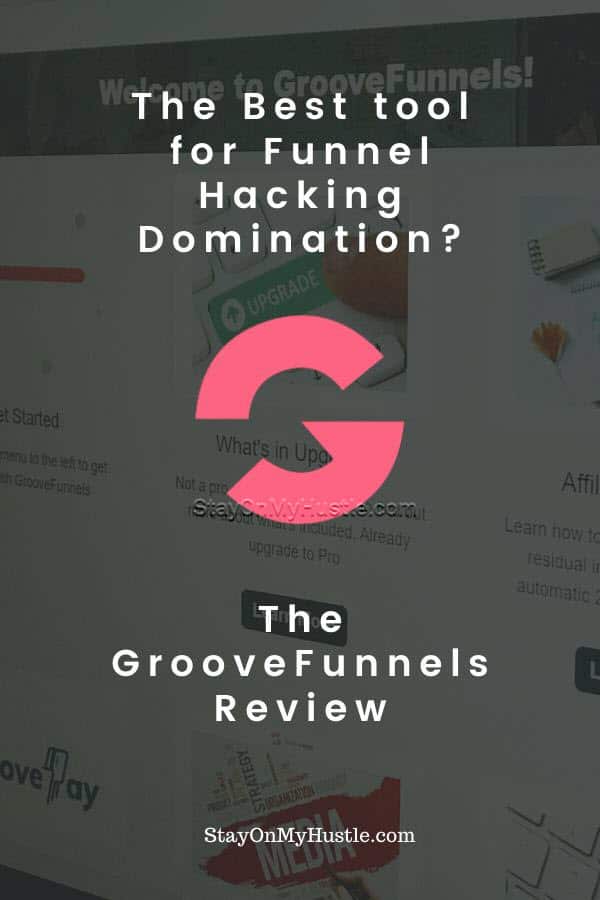 Before I wrap up this GrooveFunnels review, let's answer this question: Is GrooveFunnels wroth it? Yes. It is worth joining GrooveFunnels now.
The Base account offers great value for FREE. In the long term, you could save more by taking up the lifetime deal.
The GrooveAcademy and the private Facebook group are active and resourceful. There are resources to help you learn to use the software effectively and online marketing.
The team behind GrooveFunnels are both marketing and technology experts. It is not hard to see GrooveFunnels stands out from its competition in the foreseeable future.
The Free account offer and the lifetime deal upgrade are a great early adopters bargain. So it is worth joining GrooveFunnels, now it is the best time to do it.
Frequently Asked Questions about GrooveFunnels
That concludes my GrooveFunnels review. Let's look at some frequently asked questions about GrooveFunnels.
Is GrooveFunnels free?
Yes and No. It is FREE to join GrooveFunnels where you have access to GrooveSell and GroovePages LITE. For more advanced features, you will need to upgrade to one of the paid plans.
There is a lifetime deal promotion going on now. Check out
this section for details
.
Is GrooveFunnels better than ClickFunnels?
It depends. However, in my opinion, you can take GrooveFunnels as a better and more affordable version of ClickFunnels.
Is there an Affiliate Program for GrooveFunnels?
Yes. All GrooveFunnels members are automatically signed up as an Affiliate. You can earn up to 20% commission. For members of the Platinum plan, you can enjoy a commission of 40%.
Should I move my WordPress Blog to GroovePages?
It depends. If your WordPress blog is up and running, and with articles ranked in Search Engines, then my answer is NO. Keep it. GrooveFunnels can be used along with WordPress.
If you are new to blogging, GroovePages and GrooveBlog are two good options for you.
Does GrooveFunnels offer free hosting?
Yes, GrooveFunnels hosts your landing pages and websites for free. With unlimited bandwidth and storage.
Is GrooveSell free?
Yes. GrooveSell is free. There is no hidden fee. All you need to do is sign up for a free GrooveFunnels account here.
Is GroovePages SEO friendly?
Yes. GroovePages builds pages with light and efficient code. It includes On-Page SEO elements such as Open Graph, site and page SEO titles, and Meta tag settings. It focuses on the Mobile-First Indexing principle.