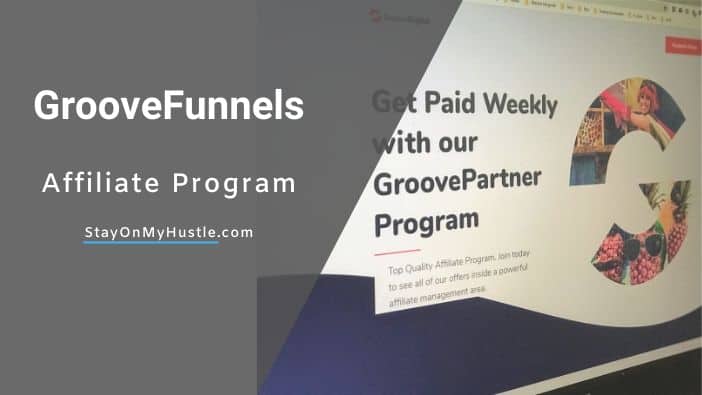 This post may contain affiliate links. Read the disclosure for more info!
GrooveFunnels is the better and cheaper version of ClickFunnels. It is currently in the late phase of Beta. Is it worth promoting GrooveFunnels?
GrooveFunnels Affiliate Program is a lucrative program. It is legit and definitely worth joining. In fact, now is the best time to join. In this article, I will show you why.
You also can find my full review of GrooveFunnels here.
In this article, I want to show you the details of the programs by looking into the following:
Why should you join the GrooveFunnels Affiliate Program now?
Here are the reasons why you should seriously consider joining GrooveFunnels Affiliate program.
#1 Lucrative 2-Tier commission
First, GrooveFunnels Affiliate Program is one of the best affiliate programs now. It pays a lucrative 40% commission (for Pro members), and a 10% Tier-2 commission.
#2 It is a gold rush
GrooveFunnels is new, and they are pushing hard to gain market share. Besides, there's a hype of online sales funnel software, the product is gaining a lot of attention.
#3 Converting free product is easy
GrooveFunnels offers free access to GroovePages Lite and GrooveSell to all free members. Who doesn't like free products? Not to mention, these are free and high quality products.
Many free members will eventually upgrade to Pro memberships sometime in the future.
#4 High conversion
According to GrooveFunnels, 1 in 5 people that click on your link will become a GrooveFunnels user. That's a 20% hit rate.
#5 Lifetime hardcoded affiliate tag
Even if a free member takes some time before upgrading to a Pro member, you will still earn a commission. There is no expiry for your effort. The affiliate tag between you and your referrals lasts for a lifetime.
No one can ever get credit for this upgrade other than you. The First Tag Wins policy secures your referrals under your name. No blog posts, webinars, bonuses, or live events can take credit for your referrals.
It is important to start as soon as possible to acquire new members under your name.
Ready to start?
Still not sure? Don't worry, keep reading.
What is GrooveFunnels?
GrooveFunnels is the flagship product of GrooveDigital. It is an all-in-one platform for digital marketers. It handles funnels, sales, affiliate management, email marketing, membership site, and video marketing with a low monthly payment.
GrooveDigital is co-founded by Mike Filsaime, a veteran internet marketer. Filsaime was responsible for several well-known software platforms, such as Webinar Jam, EverWebinar, Kartra, DealGuardian, Butterfly Marketing, EvergreenBusinessSystem, and PayDotCom.
GrooveFunnels was launched in May 2020 and continues to evolve. Currently, there are 5 main products
GroovePages
GrooveSell
GroovMail
GrooveMember
GrooveVideo
* Currently, it is FREE to join GrooveFunnels. It offers GroovePages Lite and GrooveSell for free. The usual price is $99 per month.
What is The GrooveFunnels Affiliate Program?
GrooveFunnels Affiliate program is FREE to join, and you get GrooveSell and GroovePages Lite Free just for joining.
You are automatically signed up to the Affiliate program when you join GrooveFunnels.
GrooveFunnels Affiliate program is a two-tier program and it is available to both Pro (paid) members and free members.
The Two-Tier structure:
To explain the two-tier program structure, let's use a Pro member as an example.
When you refer a new member to GrooveFunnel, you earn a commission of 40% (Tier 1 commission).
And that's not all. When the new member also recruits a new referral, you will make a commission of 10% (Tier 2 commission).
With the two-tier structure, you can build a downline and get paid for other people's efforts.
Lifetime affiliate tagging – First tag wins
One of the benefits of the GrooveFunnels Affiliate Program is the First Tag Wins policy.
What this means is that, once you refer a new member you "own" them for life. In other words, GrooveFunnels locks the new member you refer to them with an affiliate tag to you.
How does it work?
The new member could just sign up for a free account at the beginning. He/she decides to upgrade his/her membership after visiting other websites in the future, you will still earn the commission.
As long as you were the first one who referred him/her to GrooveFunnels.
The affiliate tagging is hardcoded. There is no time or device limit. At any time your referral decides to upgrade his/her membership, you will earn a commission.
The same rule also applies to your downline. Whenever your referral's recruit upgrades his/her membership, you will also earn a commission.
How to sign up for GrooveFunnels Affiliate Program?
Sign up process is simple.
First, create a FREE GrooveFunnels account by following this link.
Once you have signed up, log in to your GrooveFunnels account. This is the main Dashboard of your GrooveFunnels account.
You can access all services that are available for your membership level.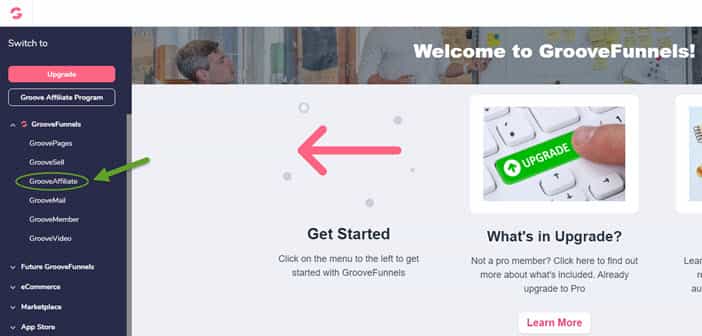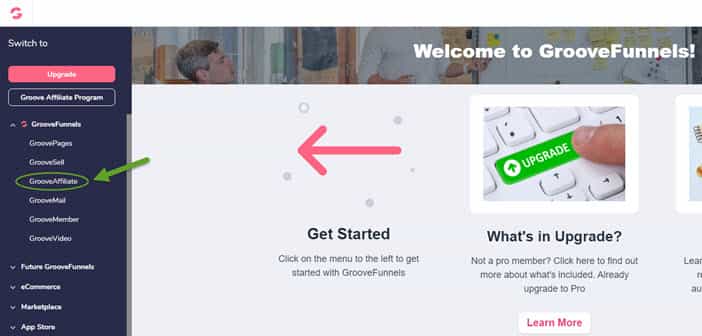 To access your Affiliate information, click on the GrooveAffiliate link at the left sidebar.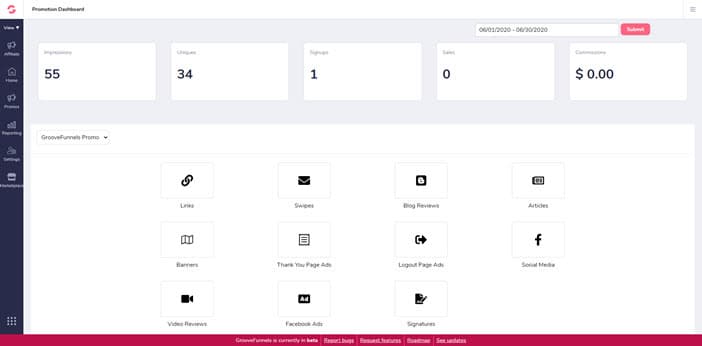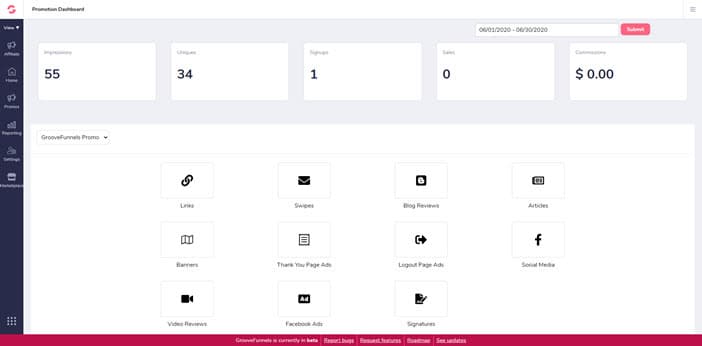 GrooveAffiliate is the place that you can view your affiliate statistics, obtain affiliate links, and promo materials.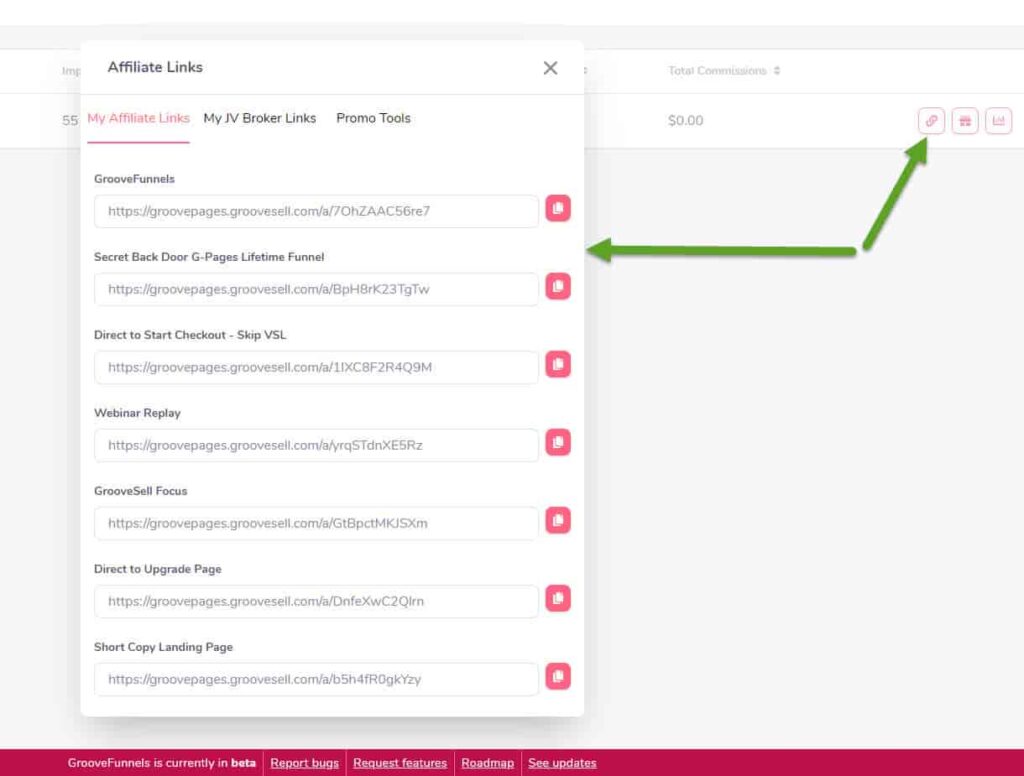 How much can you make as a GrooveFunnels affiliate?
The commission rate for GrooveFunnels affiliate differs depending on your membership level.
As a free member, you make a 20% Tier 1 residual commission and a 5% Tier 2 commission from your downline.
To enjoy the full benefit of the affiliate program, you may choose to upgrade to a Pro membership.
Pro membership members have access to all GrooveFunnels products. Besides, you make a 40% residual commission for a successful sale. You will also make a 10% Tier 2 commission from your downline.
When and How do you get paid?
GrooveFunnels pays affiliates once per week after 2 valid sales. The commissions are released after 37-days (30 days + a 7 day refund buffer period).
There are currently two payment methods available. The Commission is paid via Paypal and Wire transfer.
How do you promote GrooveFunnels?
You can promote GrooveFunnels by starting a blog, a Facebook group, running paid ads campaigns, or via email marketing.
If you do not currently have a website, you can get started by using the FREE GrooveSell account. You can sign up for the FREE account here.
GrooveFunnels also provides free webinar training, tutorials, and free marketing resources for you to learn affiliate marketing.
GrooveFunnels offers several promo tools to help you achieve the best results.
What are the Promo tools available?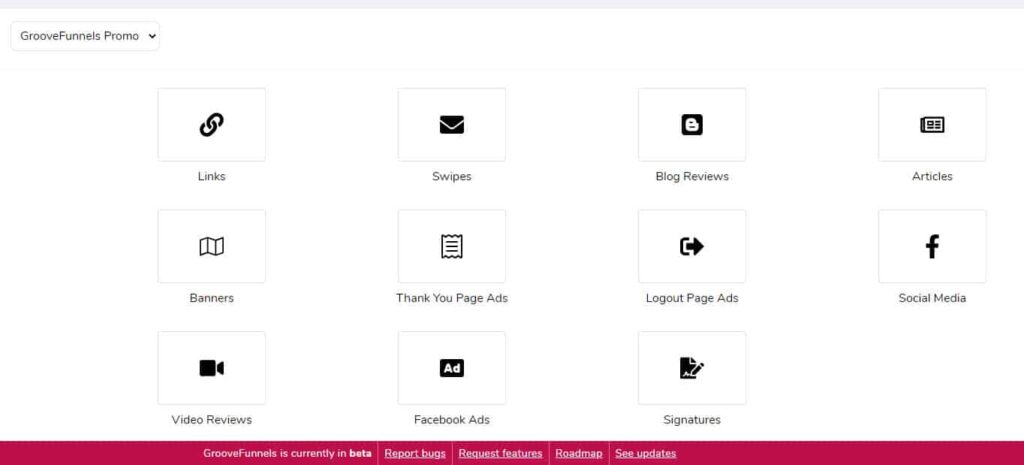 GrooveFunnels offers a number of high-converting, pre-made, copy-and-paste promotional tools.
Regardless of what channels you are using to promote, you can find some promo tools to use.
Here are the promo tools available:
Stats for clicks referrals, and sales
Pre-made high converting email swipes
Blog reviews
Banners
Thank you page ads
Logout page ads
Facebook ads
Social media posts
Articles and press releases
Video reviews
Email signatures
Final words- Is it worth joining GrooveFunnels Affiliate program?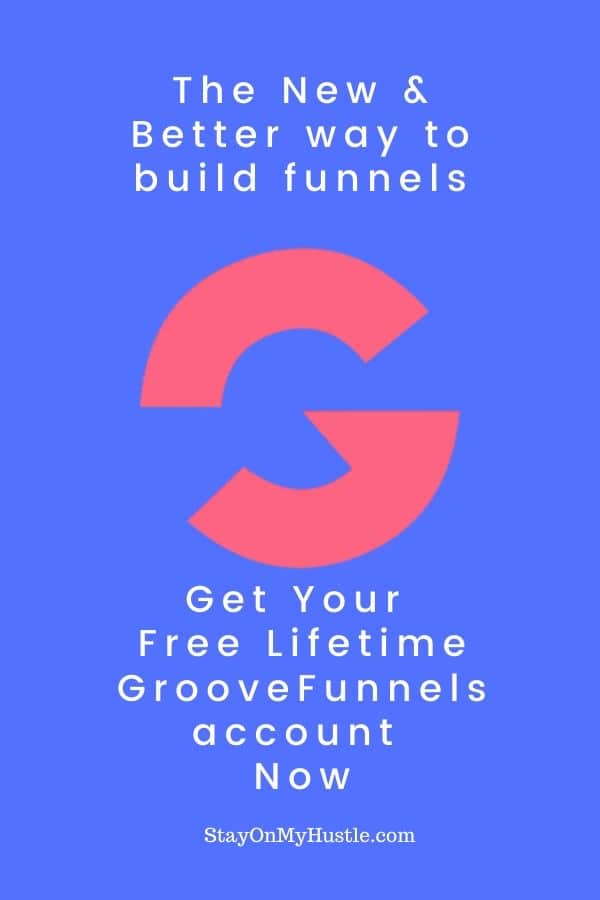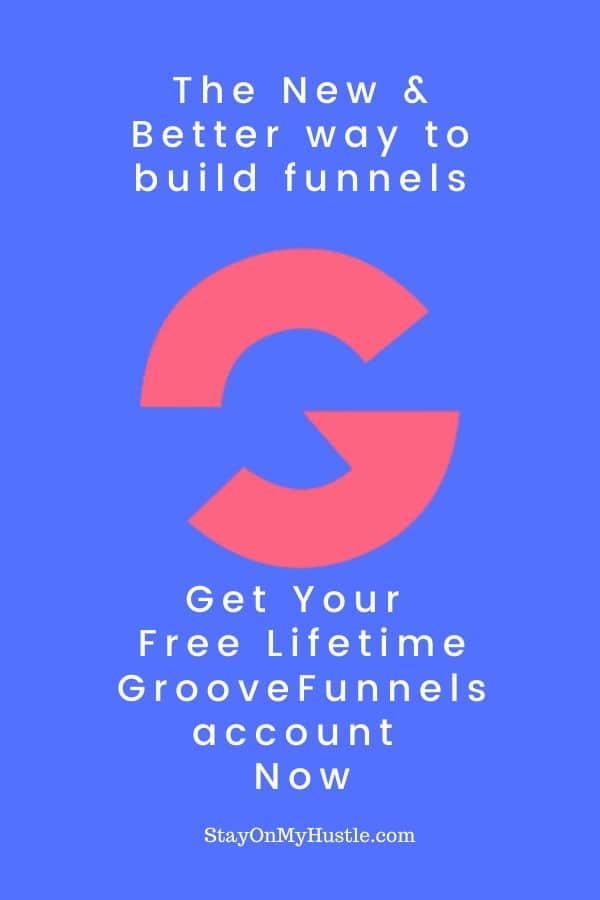 It is worth joining the GrooveFunnels affiliate program. GrooveFunnels is like the early days of ClickFunnels. But at an accelerated pace.
The program offers attractive payouts and materials to help affiliate to success. The success of the affiliates means greater market share acquisition. This is their current priority.
During the early days of the company, GrooveFunnels offers great free lifetime access to GrooveSell and GroovePages. These are very attractive incentives which will definitely help to improve conversions.
Besides, both free and pro members enjoy lucrative 2-tier commissions.
Overall, I think this is a great opportunity for both experienced and new marketers.
Remember the first tag wins! Start now by signing up for a free account here.