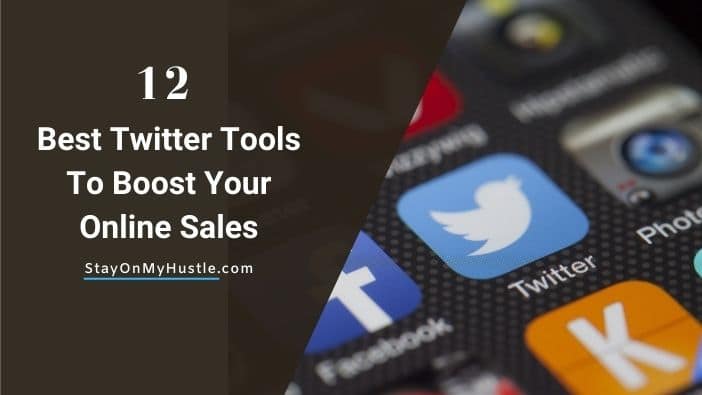 This post may contain affiliate links. Read the disclosure for more info!
Do you know Twitter is one of the great tools that can be used to boost your online reach and product sales?
Twitter is a great social media platform for businesses and marketers. It can be used to improve your online presence and engage with your audience.
However, for some reason, the twitter platform offers limited features that businesses need.
The good news is, this problem could be solved by third-party Twitter tools.
There is a great number of Twitter Tools available. Each of them offers a unique feature, while some fall short of expectation.
It takes time to comb through the great variety of tools that can help your business. I have done the heavy lifting for you.
In this blog post, I want to show you the 12 best Twitter tools that you can use to boost your online sales.
#1 Hootsuite
HootSuite is one of the most popular Twitter tools. It offers features that can help to keep your social networking organized. It is one of the best social media management tools around.
HootSuite can be used to publish tweets, Facebook posts, and LinkedIn updates. You can use HootSuite to manage multiple social media accounts.
One of the great features of HootSuite is scheduling tweets and automatic retweets. HootSuite offers Free and Premium versions.
Overall, HootSuite is one of the must-have twitter tools if you are using twitter for your business needs.
#2 TweetDeck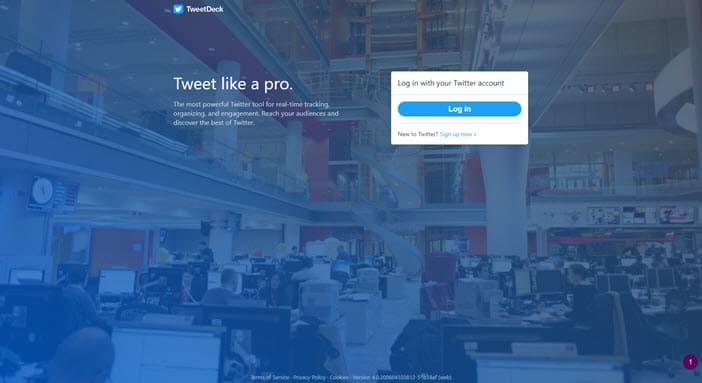 TweetDeck is one of the most powerful Twitter client platforms. It was acquired by Twitter in 2011 for $40 million.
With TweetDeck, you can manage multiple Twitter accounts in one dashboard. TweetDeck makes it easy to tweet, follow, and retweet from multiple accounts easily.
The key features of TweetDeck include Scheduled Tweets, Team management, multiple Twitter account management, list creations, and tweets curations, etc.
If Twitter is all you need for your business, TweetDeck is the best FREE option around.
#3 Buffer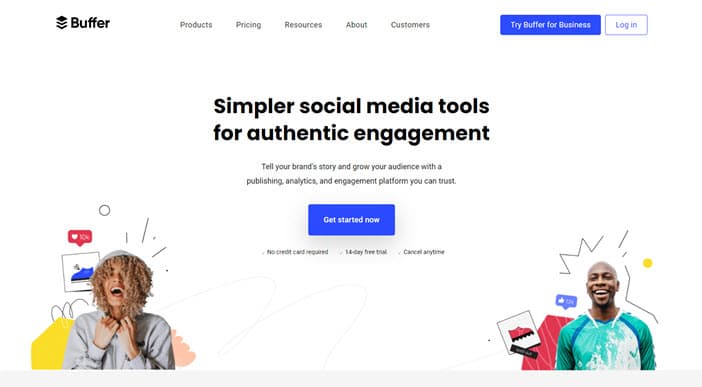 Buffer is a social media manager. It allows you to schedule tweets and posts to a variety of social media accounts. You can use Buffer to post to a Facebook page, Facebook group, Instagram, Twitter, and LinkedIn.
The platform gives you the flexibility to plan, collaborate, and publish content that drives meaningful engagement.
Buffer offers both limited feature FREE accounts and paid versions.
#4 SocialOomph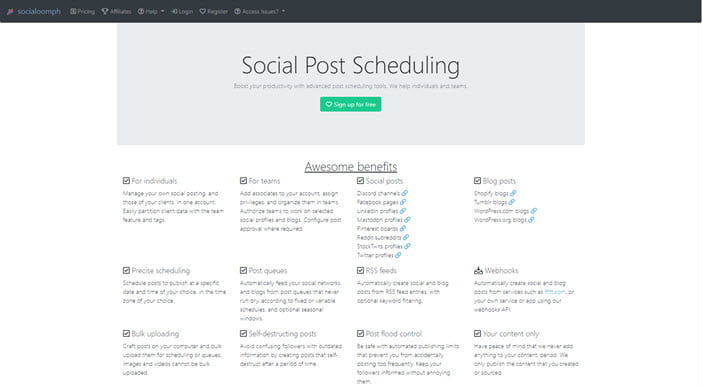 SocialOomph offers a long list of services that help you to manage your social media marketing work.
It allows you to manage both you and your clients' social media posting in one account.
In addition to scheduled tweets, SocialOomph allows you to create automated reply messages to those who follow you and schedule self-destructing posts.
SocialOomph offers FREE and Paid versions. It also provides a 30-day FREE trial.
#5 Tweriod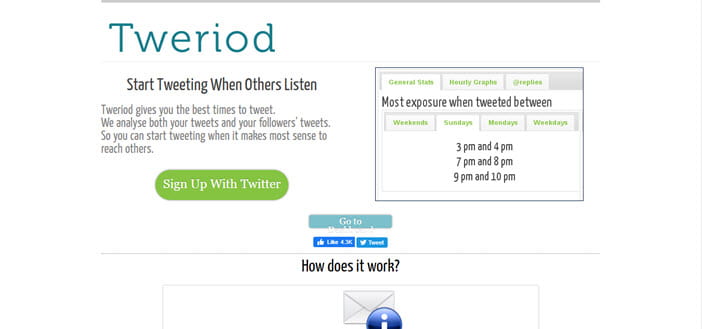 Tweriod is an analytic tool. It analyzes both your tweets and followers' tweets. It gives you the best times to tweet to maximize followers' clicks.
It is free to use Tweriod. The free analysis will analyze up to 1000 of your followers. Tweriod also offers a premium analysis that costs from $4 to $15 a month.
#6 Tweepi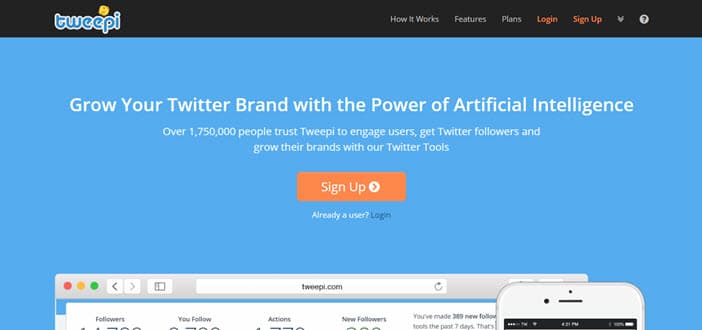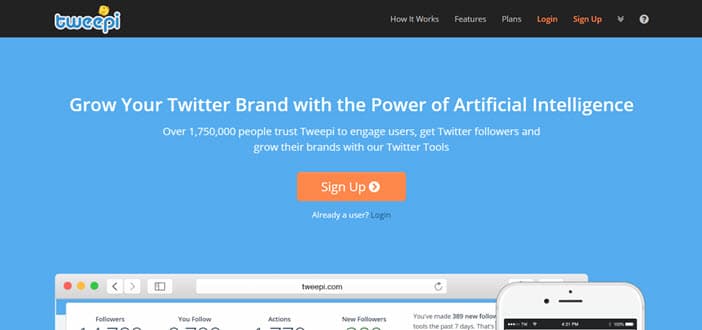 Tweepi is a housekeeping tool for your Twitter account. It helps to keep track of your followers. It helps to discover accounts that have stopped following you, accounts that do not follow you back, and accounts that you do not follow back.
It provides tools for you to remove accounts that have unfollowed you or accounts that are inactive.
Besides, Tweepi also recommends accounts that you might be interested in following.
#7 Audiense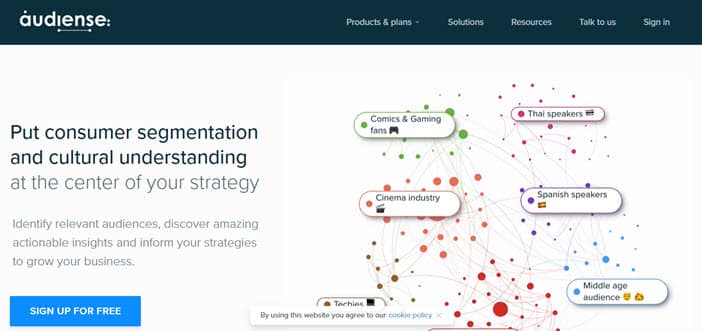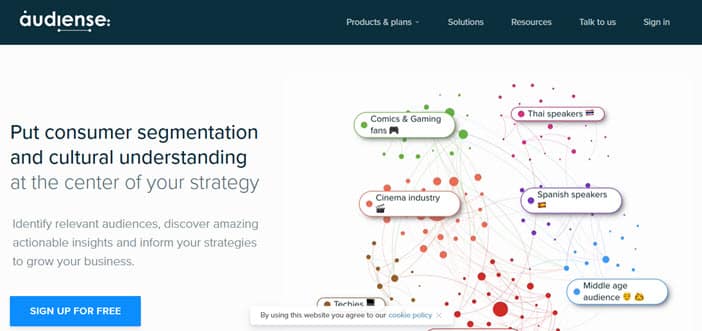 Audiense is an advanced audience intelligence solution. It helps to identify, understand, and connect the audiences that matter to your business.
Audiense platform offers two products:
Audiense Insights: A powerful tool that helps to identify and understand your audiences. It helps you to make decisions and grow your business.
Audience Connect: It is a Twitter marketing platform. It allows you to monitor conversations, hashtags relevant to your business, and know your Twitter community.
It offers FREE and paid versions.
#8 TweetStats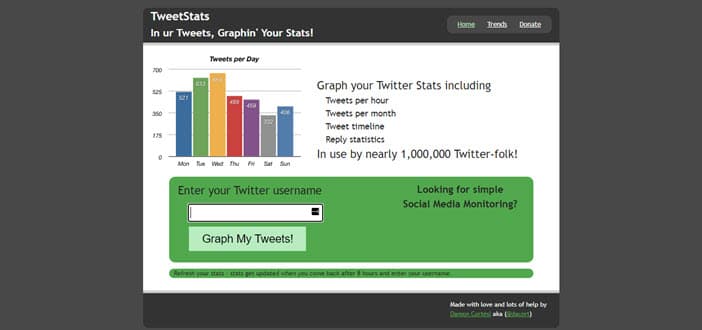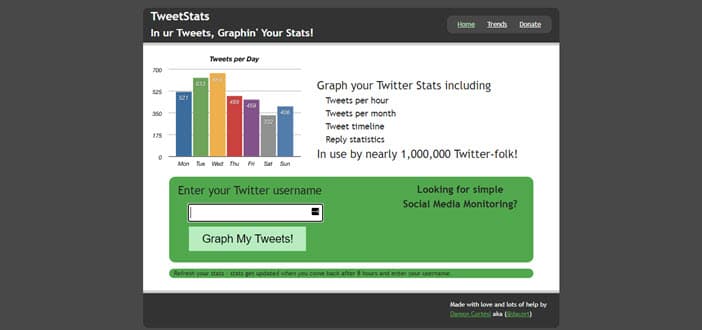 TweetStats is a free analytic and reporting tool. It provides you with interactive charts of your tweet activities.
TweetStats offers Tweet Stats, Tweet Cloud, and Follower Stats.
The details of Tweet Stats are amazing. It gives the breakdowns of your activities such as aggregate daily tweets, numbers, and details of retweets and replies, and interface used, etc.
#9 TweetReach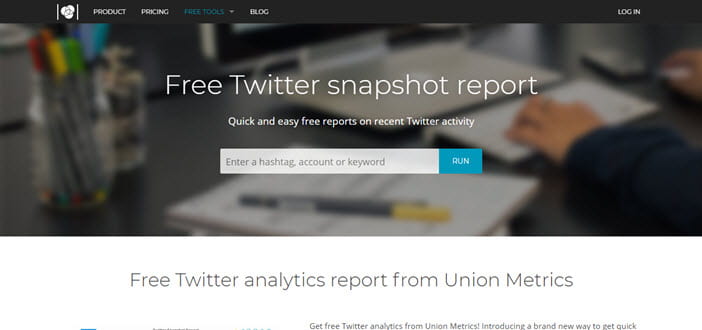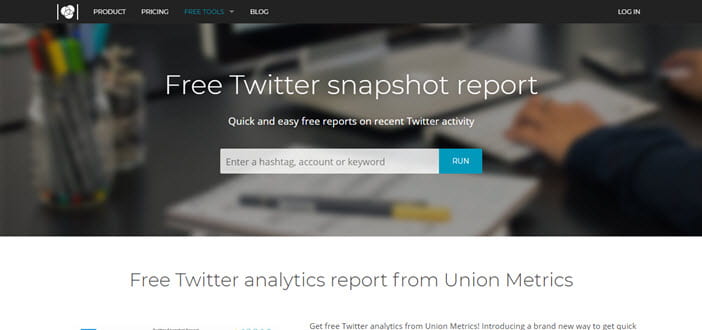 TweetReach is a Twitter analytic tool that offers both Free and Paid versions.
The service provides you snapshot reports of your tweets. The reports give you an insight into the reach of the conversation about your search terms.
You can search for a hashtag, a Twitter account name, a set of keywords, or even an URL.
TweetReach also shows you what Tweets made the biggest impact and who contributed the most impressions, etc.
The FREE version includes unlimited free snapshot reports of up to 100 Tweets posted in the past few days.
The paid version costs $99 a month.
#10 Twilert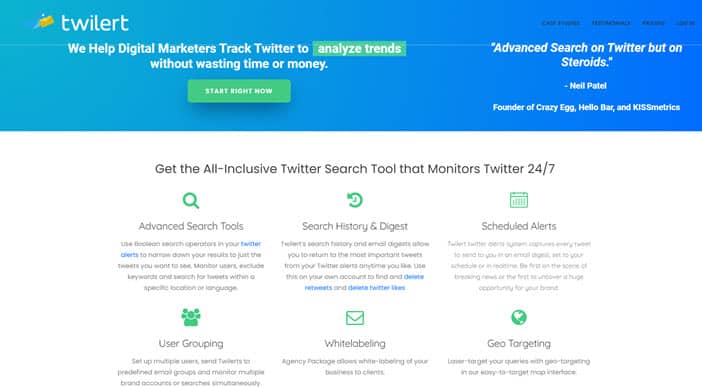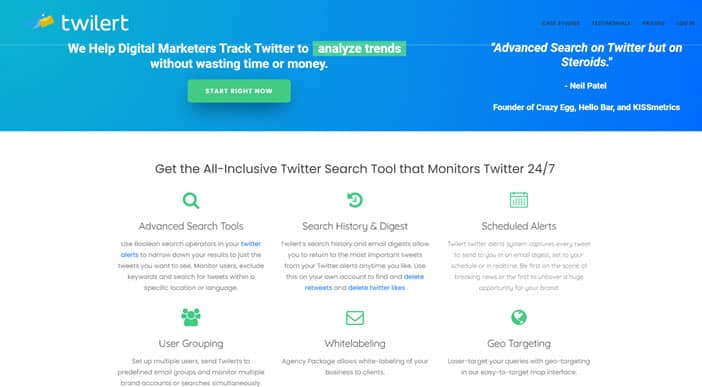 Twilert is Google Alerts for Twitter. It helps digital marketers to track and monitor keywords, hashtags, or your business name mentioned on the Twitter platform. It notifies users via regular email updates.
The app tells you what others are saying about your brand or products, your competitors, and industry, etc. It is a great tool for you to keep track of the discussion around your brand and manage your business reputation on social media networks.
The paid version costs from $9 to $97 monthly. It also offers a free daily alert service.
#11 Circleboom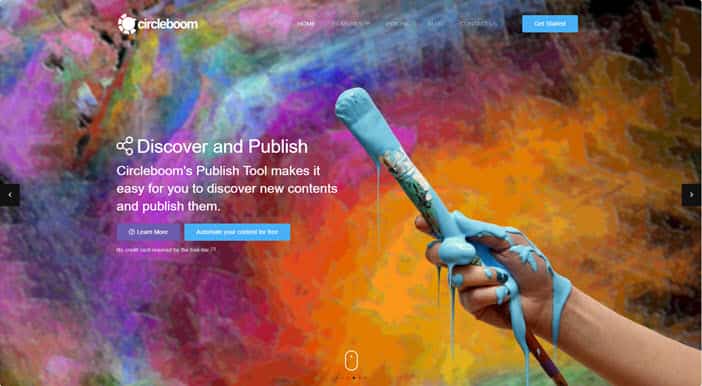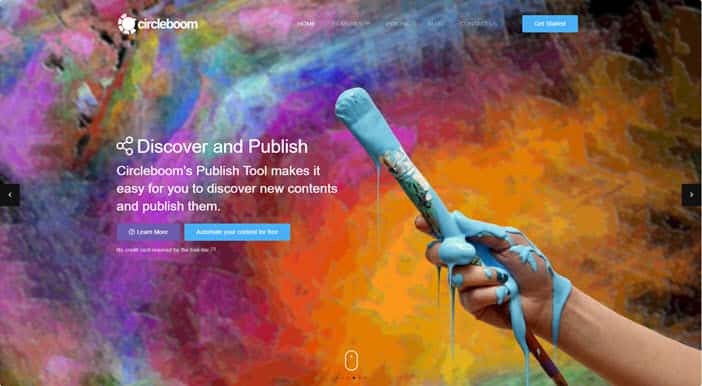 Circleboom is a social media management tool. It enables digital marketers, brands, and SMBs to grow and strengthen their social network.
It is a complete solution for Twitter users.
Circleboom offers a great range of tools like Publish Tool, Search Tool, User Analytics, and Tweets Tool, etc.
With Circleboom, you can filter followers, do live keyword and hashtag search, manage your "likes", tweets and retweets, etc.
Paid versions cost from $7 to $149 monthly. You can also start with the FREE version which is limited to 1 profile and other limitations.
#12 Triberr
Triberr is a powerful content marketing suite for influencers and bloggers. It helps to amplify your content and improve your social presence.
Triberr imports your blog content into the Triberr community for members to share with their audience. In return, you share other members' content to your social accounts.
Triberr is a great tool to promote your content. Your content will enjoy a wider reach when one of the influencers within the community shared it with his followers.
Triberr's membership is by invitation. You can start by registering for FREE now, follow a tribe within the community, and wait for an invite to a tribe.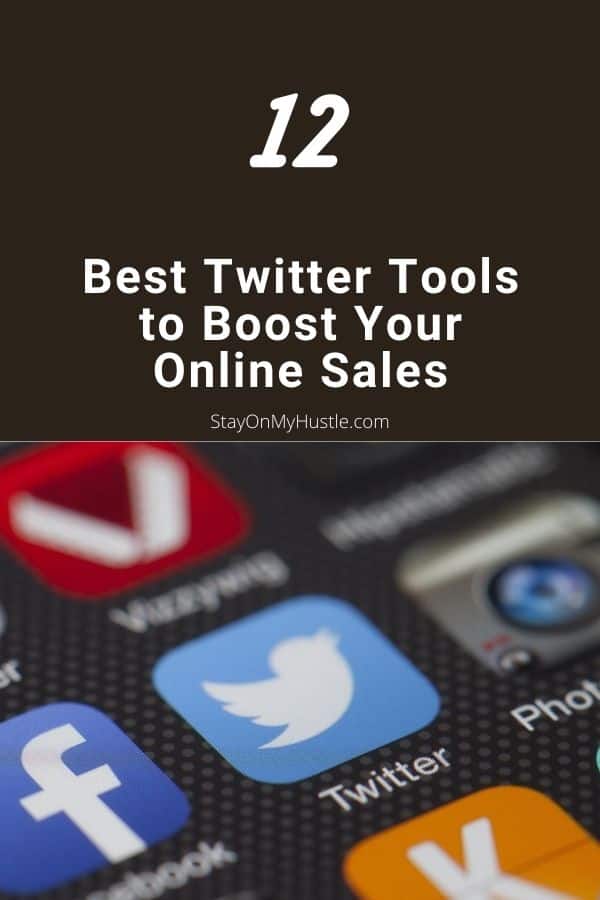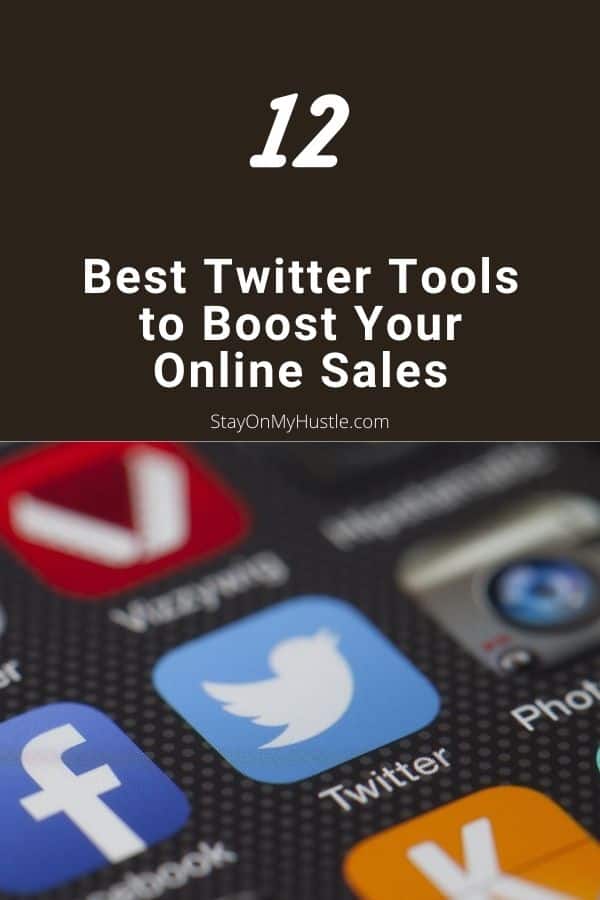 Best Twitter Tools for Business – Closing words
There you have it. The 12 Best Twitter Tools for Business that you can use to improve your social presence, manage your Twitter accounts, or promote your blog content.
Twitter is a great marketing platform. I hope this blog post gives you a good head start.
You don't have to use it all. Pick one or two that are relevant to your needs and make the most out of the Twitter platform.
Read Next: How do I make money online.