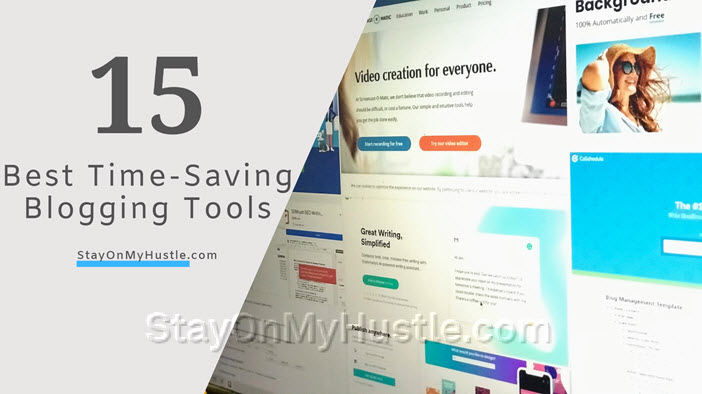 This post may contain affiliate links. Read the disclosure for more info!
To run a successful blog or online business takes a lot of time and effort. Especially for Solopreneurs, you want the tools that help you get your work done quickly.
That's the purpose of this post. If you are searching for tools that can help you work faster and easier, you have come to the right place.
I am going to show you 15 best time-saving blogging tools that can make your Solopreneur life easier.
Some people might think a blogger's jobs are just writing and publishing. Well, that's not true.
There is so much work involved behind the scene. Content curation, keyword research, graphic design, copywriting, on-page SEO, and social engagement, etc. Just to name a few.
And most of the time, as a Solopreneur, we are doing it all by ourselves. There is never enough time!
The tools mentioned below are designed to help you work, focus, and manage your time in a faster and more efficient way. 
Besides, most of them are FREE!
You don't have to use all of them. Pick one or two that best fit your requirements.
Without further ado, here are my favorite blogging tools.
#1 Trello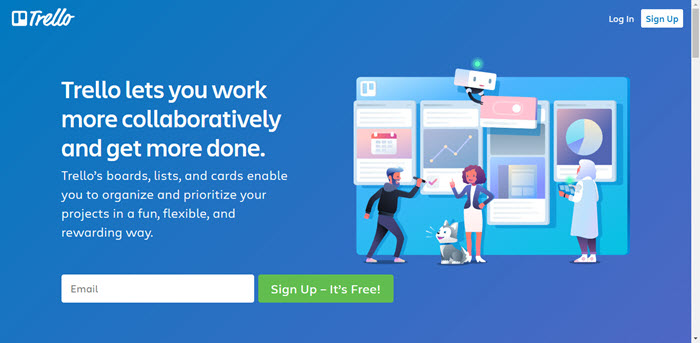 Website: Trello
Category: Planning, Management
Price: Free
Trello is a terrific task or project management tool. It is straightforward to use.
You can use Trello to organize projects with your team or use it to plan your blog content.
As an independent blogger, you can use Trello to construct a checklist for items that you want to include in a blog post. You can also create a list of tasks that you want to complete before publishing.
You can also use Trello to record your post ideas, curate content, or tracking progress by creating checklists or calendars. Suzi W offers a detailed explanation of how she goes about using Trello for her blogging. Check out the video here.
#2 WorkFlowy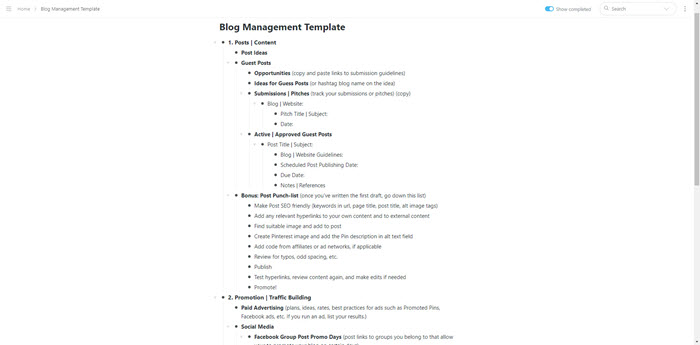 Website: WorkFlowy
Category: Planning, Brainstorming, Organizing
Price: Free
WorkFlowy is one of my favorite mind-mapping tools. WorkFlowy is not a mind-mapping tool, it is a powerful list-making application.
WorkFlowy is extremely simple. It allows you to create a zoomable list (or nested lists). WorkFlowy offers search, drag-n-drop, and hashtags functions.
When you have too many ideas in mind, try to organize them into small lists. WorkFlowy is designed to do that efficiently.
#3 SimilarWeb
Website: SimilarWeb
Category: Web Analytics
Price: Freemium
SimilarWeb is an analytic tool that provides a comprehensive analysis of your website. With SimilarWeb, you can analyze data
visitor locations
search traffic you are getting
social traffic
keywords you are ranking for
competitions
Just to name a few.
SimilarWeb offers Free and paid versions. With the Free version, you get everything that the paid version does, with a restricted time range. For the free version, you get up to 3 months worth of data.
#4 Google Docs
Website: Google Docs
Category: Writing & Editing, Cloud Storage
Price: Free
Google Docs has been my go-to application for the past 2 years or so. It is feature-rich and easy to use.
The cloud-based application allows me to work anywhere. I often work on my computer when I am in the office and on my phone or tablets when I am on the move. You can use Google Docs in both online and offline mode.
For those who work in a team, Google Docs is a perfect collaboration tool.
Google Docs is one of the best word processing tools around, and it is FREE of charge.
#5 Removebg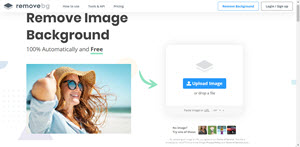 Website: Removebg
Category: Graphic Design
Price: Freemium
Removebg is a photo processing service that helps to remove the background of your photo. Simply upload your photo and the service will take care of the rest.
It is a handy tool and could save you a lot of time and money.
#6 ResizeImage.net
Website: ResizeImage
Category: Graphic Design
Price: Free
Large image size is one of the biggest culprits of slow websites. Slow page load time affects the SEO of your website.
ResizeImage is a free service. You can use it to crop, rotate, resize, or compress your images.
#7 Canva.com
Website: Canva
Category: Graphic Design
Price: Free
I started using Canva about a year ago. And now I can't live my blogging life without it. It is a time saver when it comes to graphic design.
When you signed into Canva, it keeps track of your designs. You can re-use your design with minor adjustments for your new blog posts.
This not only saves your time, but it is also a good practice to keep the graphic designs for your blog consistent.
It is free to use, or you can choose to go for a premium membership for additional functionalities and features.
#8 Grammarly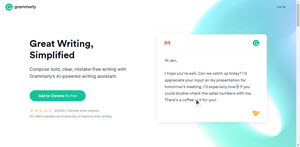 Website: Grammarly
Category: Writing Assistant
Price: Freemium
Grammarly is one of the best online writing assistants. It is an AI-powered online spelling, grammar, and punctuation checker. It helps to proofread articles, emails, books, and blog posts, etc.
Grammarly goes beyond grammar and spelling checks. It checks the tone of your message. This reassures that your reader will react the way you expect based on your intended tone.
You can choose to install the Grammarly Chrome extension or download the free desktop editor.
It is free to use, with the option to upgrade to premium membership for advanced features such as plagiarism check.
You can find my full review of Grammarly here.
#9 SEMRush SEO Writing Assistant
I recently discovered SEMRush SEO Writing Assistant (SWA) and I am loving it.
SEO Writing Assistant is a G Suite extension. It provides instant recommendations for content optimization based on the best-performing articles in Google top 10.
The tool provides you instant feedback for Readability, SEO, Tone of voice, and Originality.
Besides, SEO Writing Assistant offers you a list of Recommended keywords (related to your Target keywords). You can enrich your text to get better SEO results.
SEO Writing Assistant is not free. With a Free SEMrush account, you can create one recommendation set for a single document. 
You can check out the offer from SEMrush here.
#10 Screencast-O-Matic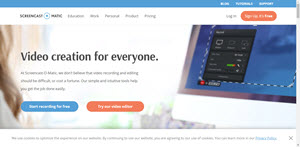 Screencast-O-Matic is a screen recording software. It can record everything on your screen. The tool is free for recording under 15 minutes.
You can use the tool to create, edit, and upload to your Youtube channel or create your video course.
#11 GTmetric For site speed
Website: GTmetrix
Category: SEO
Price: Free
Site speed is an important SEO component. You want to be aware of any potential issues your site might have, and act on any optimization opportunities.
GTmetrix is a free tool that analyzes your site's speed. It generates scores for your website and offers actionable recommendations on how to fix them.
#12 Asana.com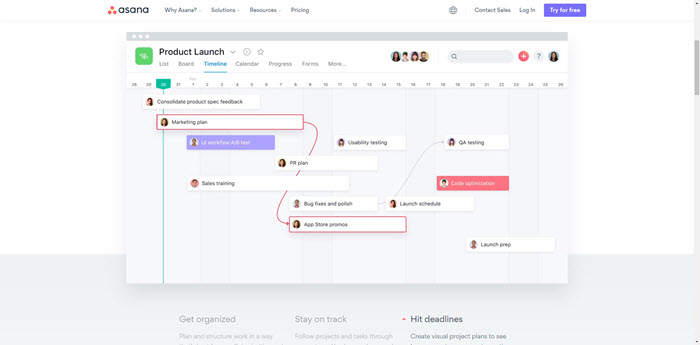 Website: Asana
Category: Project management
Price: Free
Asana is a project management tool. It offers you a set of powerful features to help you stay focused at work and make your everyday job easier.
With Asana, you can create visual plans, track time and expenses, and assign tasks to team members, etc.
Asana is free for individuals or teams who are just getting started with project management.
#13 Quora
Website: Quora
Category: Content Curation
Price: Free
Quora is a question-and-answer forum. You can discover a lot of blogging ideas, by searching for questions that are related to your niche or focus keywords.
Questions on Quora show the problems of your target audience. You can help by providing an answer on the forum or writing a blog post on your website.
The forum is also a great place to engage with other people and build your network.
#14 E.ggTimer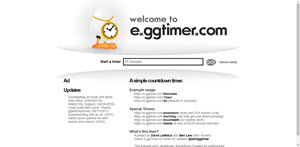 Website: e.ggtimer
Category: Focus, productivity
Price: Free
E.ggtimer is nothing more than a simple online timer. Why is it on this list? 
I practice the Pomodoro technique to help me focus. Pomodoro technique is a time management method that breaks down work into intervals of 25 minutes.
E.ggtimer provides a clean interface without distracting features. 
#15 Headline Analyzer Tool
There are more people reading headlines than body copy. A headline is usually the deciding factor that visitors click on your link and visit your site.
Headline Analyzer by coschedule.com is designed to help you write better headlines. The tool analyzes your headline by scoring it for the overall structure, grammar, and readability.
The 15 best time-saving blogging tools – Conclusion
Blogging could be a demanding job. There is only so much time we have in a day. With the right tools, we can improve the quality and productivity level of our blogging business.
You do not need to use all the tools mentioned in this post. Instead, pick one or two that suits you. I hope some of the tools mentioned in this post help you.
Do you have any experience with the tools mentioned above?
Do you have any questions? Please feel free to drop me a line in the comment section. I am happy to help.