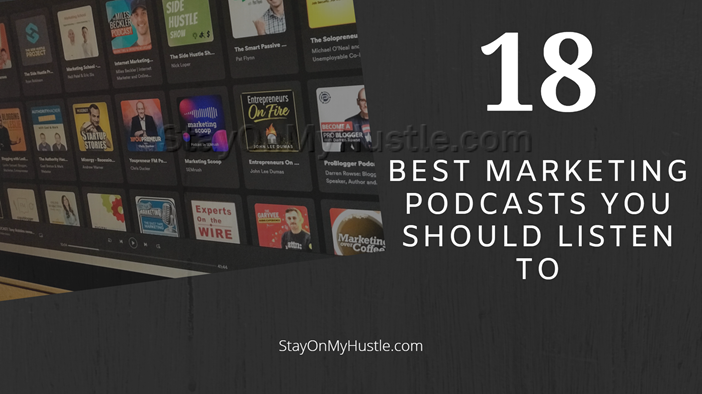 The COVID-19 pandemic has definitely changed the way we live. Cities or even countries are locked down. I hope you are healthy and safe.
You are reading this, I guess you are likely to be at home and have some free time on hand. There are many resources available online for us to continue learning and improve as a marketer.
A podcast is one of my favorite online learning channels. It is portable and easy to access. I love listening to a podcast while driving.
In this article, I am going to show you a list of 18 best marketing podcasts that are worth listening to. 
Bookmark this post and check them out. These podcasts will help to improve your marketing skills or online business while staying at home.
18 Best Marketing Podcasts you should listen to in 2020
#1 The GaryVee Audio Experience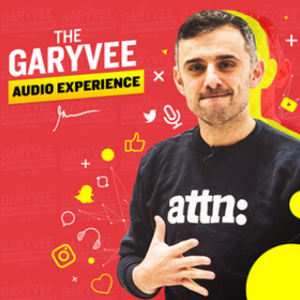 You don't want to miss out on Gary Vaynerchuk's media productions if you are looking to learn marketing and Entrepreneurship. 
Gary is an Entrepreneur, CEO, the best-selling author, thought leader, and influencer. His Youtube channel The GaryVee Video Experience has over 2.6 million subscribers.
On GaryVee Audio Experience podcast, you will find a mix of his #AskGaryVee show episodes, keynote speeches on marketing and business, segments from his WEEKLYVEE videos series, interviews, and his thoughts/wisdom audio recordings.
He recently started a new series of Q&A sessions between him and his followers. Tea With GaryVee while he is #StayHome during this pandemic lockdown.
Highlights of GaryVee's podcast
23 Minutes of Advice That Every Young Hustler Should Hear
6 Reasons Why Patience Is the Driver Of Success
How I Manage My time
#2 Copyblogger FM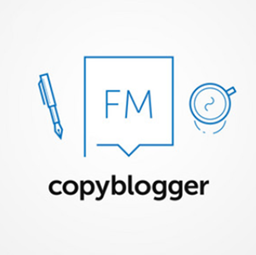 Copyblogger FM is a weekly broadcast. The podcast focuses heavily on copywriting and content marketing. It also covers email marketing, conversion optimization, mindset, and much more. 
The podcast is in an interview format. Each week, the host and a cast of rotating experts analyze the week and share their thoughts.
Highlights from Copyblogger FM
Consistency Will Take You Further
How to Get More of the Right Things Done
How to Write an Epic Blog Post, Part 1, Part 2, Part 3
#3 Content Heroes
Content Heroes is relatively new. The first episode was aired in October 2019. The host, Josiah Goff interviews bloggers, podcasters, Youtubers, Instagrammers, and others who have built profitable online businesses.
Through the interviews, you will learn about attracting your target audience, building authority online, creating content that drives sales, and how to turn your passion into a thriving business.
Highlights from the Content Heroes podcast
Building Profitable Affiliate Sites with Miles Beckler
Behind the Scenes of a 7-Figure Content Strategy with Troy Dean
#4 Marketing School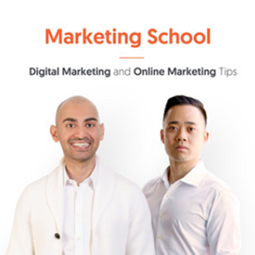 Marketing School is different from the usual long-winded podcasts. 
Each episode is about 10 minutes. Neil and Eric offer actionable marketing advice to listeners every single day.
Both Neil Patel and Eric Siu are successful online entrepreneurs. Outside Marketing School, they are running their own online businesses. You can expect practical and straight to the point tips and tricks in the podcasts.
Highlights from the Marketing School:
How to Drive More Paid Signups In Your Funnel
How to Stay Consistent With Your Content Output
7 Actionable SEO Tips for 2020
#5 The Authority Hacker Podcast
The Authority Hacker Podcast is hosted by Gael and Mark. The podcast is the format of conversations and interviews.
Gael and Mark are both online marketing veterans and entrepreneurs. They offer their point of view on SEO questions, blogging, and sharing their experience running authority sites.
Highlights from The Authority Hacker Podcast:
Actionable Tips to Keep Your Content Fresh and Your Rankings High
Busting Online Business Myths With Veteran Entrepreneur Miles Beckler
Can Google's new "Nofollow" Rules Kill Blog Comments
#6 The Miles Beckler Podcast
Miles Beckler's podcast is the audio version of his popular Youtube channel. If you did not have time to watch his videos, this podcast might help.
Miles has been a full-time internet entrepreneur since 2010 and has been earning income online since 2003.
The Miles Beckler Podcasts cuts through the noise and focuses on the key things that will help you to start and grow your online business.
Highlights from The Miles Beckler podcast:
Steal My 9-Step process To Create Blog Posts That Dominate Google & Drive Traffic
The "Shotgun SEO" Plan Of Attack! Beginner Friendly SEO Plan Of Action
SEO & Organic Traffic! Learn The Keys To Success Driving Traffic From Search
#7 The ProBlogger Podcast
Darren Rowse is a full-time blogger from Melbourne, Australia. He has been blogging since 2002 and making a full time living from his blogs for over a decade. His blogs Digital-Photography-School.com and ProBlogger.net are read by over 5 million readers per month.
The ProBlogger Podcast focuses on helping listeners to build a better blog. The podcast provides you a mixture of teaching, case studies, and actionable challenges. Darren teaches you how to create compelling content, gain traffic, deepen engagement, and make money blogging.
Highlights from The Problogger Podcast:
The Secret to Building a Better Blog
9 Types of Killer Filler Content that are Easy to Create
Deadlines- Are they Good or Bad for Your Blogging
#8 The Side Hustle Project
The Side Hustle Project Podcast is hosted by Ryan Robinson. Ryan is a writer, part-time entrepreneur, and content marketing consultant. His writing is regularly featured on websites like FastCompany, Forbes, Entrepreneur, Business Insider, and Inc.
The podcast is conducted in the form of interviews. Ryan explores the nitty-gritty details behind what it takes to start and grow a profitable side hustle through interviews with successful online business owners, bloggers, and entrepreneurs, etc.
You will learn about the business challenges he faced, hands-on tactics, and proven strategies.
Highlights from The Side Hustle Project:
SEO Veteran Tommy Griffith on How to Rank Your Blog Content #1 in Google Search
WordPress Side Blogger Brian Jackson on Content Creation, SEO and Monetizing Blog
How to Monetize a Niche Blog and Generate $55,000 in 1 Week with Mike Pearson
#9 Marketing Over Coffee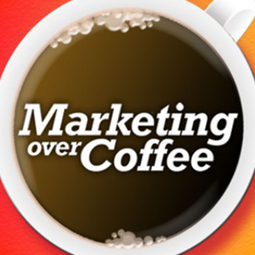 Marketing Over Coffee podcast is a weekly podcast. It is presented in two formats: Interviews and topics of the week. 
Each week John and Christopher discuss the hottest marketing topic and share their thoughts. You will find the podcast to be informal and casual. Just like two friends chatting.
The podcast also features interviews with people like Seth Godin, Simon Sinek, Ann Handley, David Meerman Scott, and more.
#10 The Smart Passive Income Online Business and Blogging Podcast
Pat Flynn from The Smart Passive Income Blog started the podcast back in 2009. Fast forward today, Smart Passive Income podcast is now multiple awards winning podcast and attracts over 60 million downloads.
The Smart Passive Income Podcast is a mixture of weekly interviews, special co-hosts, and solo shows from Pat.
Highlights from The Smart Passive Income Podcast
SPI 407: How to Raise a Kid Entrepreneur
SPI 335: Creating Evergreen Sales Funnels (And What to Watch out For) with Amy Porterfield
SPI 243: How to Create Your Life Vision Plan with Michael Hyatt
#11 Everyone Hates Marketers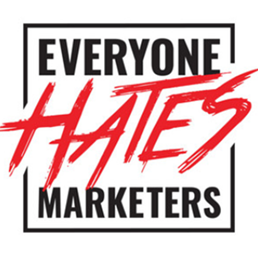 Everyone-Hates-Marketers is a weekly podcast. It started with the host Louis Grenier, who just wanted to chat with no-nonsense marketers and learn how they were "doing" marketing the right way.
Every week Louis Grenier publishes a new episode. It could be an interview of a marketer or sharing his thoughts on marketing topics.
Highlights from the Everyone Hates Marketers Podcast:
Seth Godin's Marketing Secrets to Launching a New Business
4 Steps to Creating a Rock-Solid Marketing Strategy With Mark Ritson
3 Steps to Write Copy That Converts with Joanna Wiebe
#12 Mixergy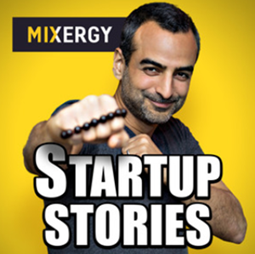 According to the host, Andrew Warner on his website, Mixergy is a place where successful people teach ambitious upstarts. And that's what Mixergy is about.
Andrew has interviewed over 1500 entrepreneurs, marketers, startup founders, and investors. Some notable guests include Gary Vaynerchuck, Jimmy Wales, and Gregg Spriridellis.
Highlights from Mixergy:
Wikipedia's Founder on How The Site Was Built & Promoted
The JibJab Story. Maybe the Most Inspiring Mixergy Interview Ever
Copywriter Ray Edwards trades in a 100-hour workweek to run a million-dollar company
#13 The DigitalMarketer Podcast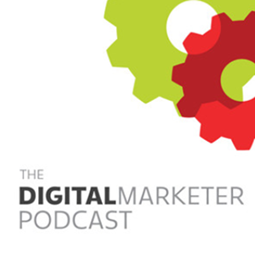 The DigitalMarketer is a weekly show produced by DigitalMarketer. 
Garret and Jenna interview the key players in the digital marketing industry, diving deep into the topics that digital marketers can use to improve their skills and grow their businesses.
Highlights from The DigitalMarketer Podcast:
EP88: Technical SEO For newbies with Geoff Atkinson from Huckabuy
EP84: Mastering Youtube & Instagram with Sunny Lenarduzzi
EP62: How ActiveCampaign Grew over 600% in 3 years by Thinking Different w/ Jason VandeBoom & Adam Johnson
#14 Online Marketing Made Easy with Amy Porterfield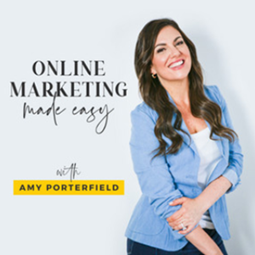 Host(s): Amy Porterfield
Topics: Entrepreneurship, Digital Marketing, Email Marketing
Listen on: Apple Podcasts, Stitcher, Spotify
Amy Porterfield is a best selling author, social media expert, and online entrepreneur.
In the Online Marketing Made Easy podcast, she interviews experts in the online business circle, shares her mini execution plans and behind-the-scenes secrets of her launches.
You will find actionable advice and strategies to start, scale, and automate your online business.
Highlights from Online Marketing Made Easy:
#295: How To Create Atomic Habits with James Clear
#291: Master Live Video: How to Shift Your Mindset And Build Your Confidence
#299: Say Goodbye to Imposter Syndrome and Skyrocket Your Business Success
#15 Entrepreneurs On Fire: Inspiring interviews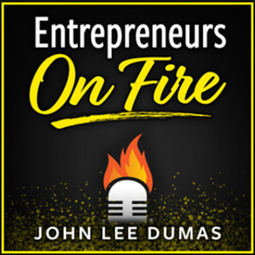 If you are a fan of podcast interviews, you have to check out the Entrepreneurs On Fire podcast.
John interviews successful and inspiring entrepreneurs in the podcast. He has interviewed over 2000 successful entrepreneurs, including Tony Robbins, Seth Godin, Gary Vaynerchuck, and Tim Ferriss.
Highlights from the Entrepreneurs On Fire podcast:
Tony Robbins shares how YOU can become a knowledge broker on FIRE
How To Build A 7-Figure Side Hustle Without Quitting Your Full-Time Day Job with Shaan Patel
#16 Marketing Scoop Podcast
Marketing Scoop is a weekly podcast. Every week, the host presents case-based stories about marketing growth from local to global brands like Google, Vodafone, SAP, IKEA, Uber, etc.
She interviews people behind successful, integrated marketing campaigns. In the podcast, you will learn the latest news, tools, strategies, and techniques that will improve your digital marketing skills.
Highlights from the Marketing Scoop Podcast:
Boosting Traffic with Quora as an Additional Marketing Channel
Growing a Blog from 0 to 150k Monthly Organic Visitors in 8 Months
How do you recover from a Google Penalty?
#17 Digital Marketing Podcast by Exposure Ninja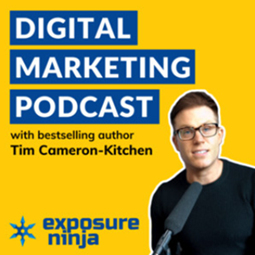 Tim is the best selling digital marketing author and Head Ninja at Exposure Ninja. 
In the Digital Marketing Podcast, Tim goes behind-the-scenes of the world's most successful digital marketing campaigns to find out what the entrepreneur and marketers did to achieve their success.
Highlights from the Digital Marketing Podcast:
#129: What You Can Learn From Airbnb and PayPal's SEO Strategies
#120: Copywriting Guru john Carlton on How to Write Copy That Forces People to Buy From You
#132: Lessons Learned from the World's Most Successful Email Marketers
#18 Experts On The Wire (An SEO Podcast)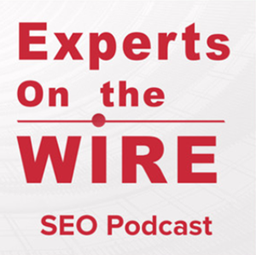 Experts On The Wire is a monthly SEO-focused podcast. The podcast is hosted by Dan Shure, an SEO consultant, and blogger at Evolving SEO.com
The Experts on The Wire podcast started in 2016. It has since been downloaded over 500,000 times. Being an SEO consultant, Dan digs deep into SEO, technical challenges, growth stories, and more in the show. 
Over half of the shows focus directly on SEO, and the other explores topics like content marketing and social media.
Final Thoughts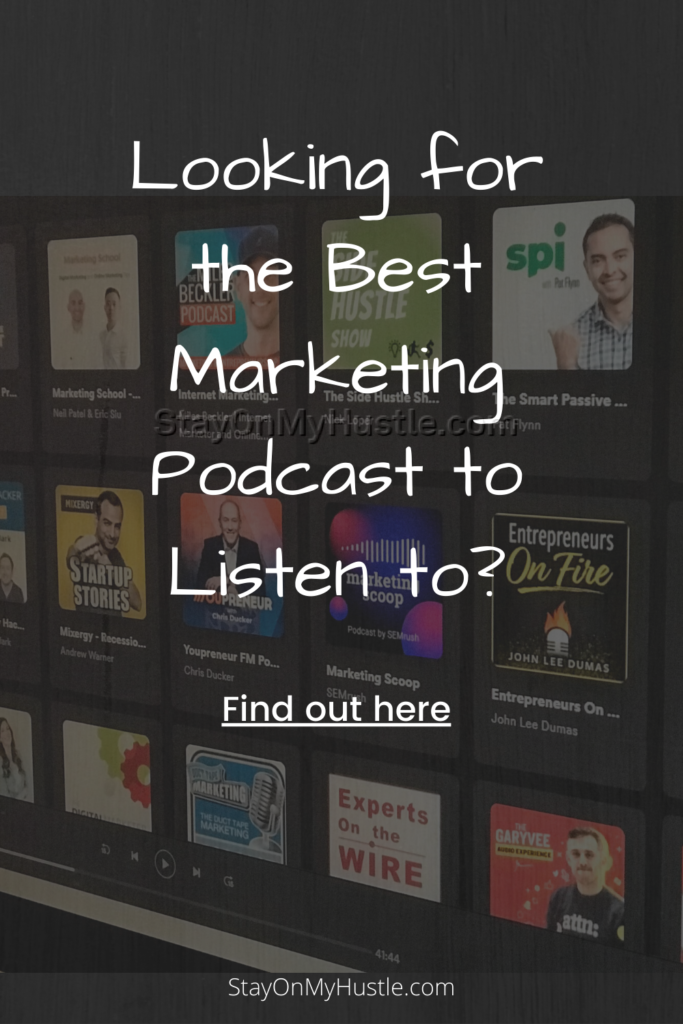 There you have it. My list of 18 Best Marketing Podcast you should listen to in 2020. Why not spend some time check them out. I am pretty sure you will discover 1 or 2 of them that are useful to you.
If you are looking for the Best Marketing Youtube Channels, check out my post here.
What is your favorite marketing podcast?
Do you have any questions? Feel free to drop me a line in the comment section. I'm happy to help.