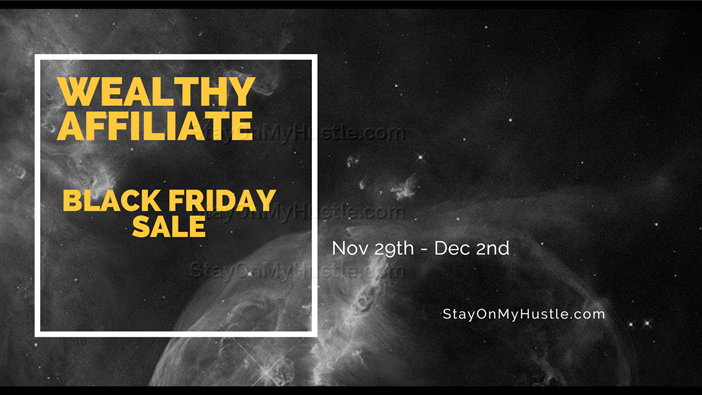 This post may contain affiliate links. Read the disclosure for more info!
Black Friday is approaching soon. It is one of the biggest shopping days of the year. If you are considering joining Wealthy Affiliate, you are in the right place. In this post, I want to show you the latest Wealthy Affiliate Black Friday deal, and why it is the best time to join now.
When is the Black Friday sale?
---
This year's Black Friday sale event runs for 4 days from 29th November 2019 to 2nd December 2019 11:59 pm PST (Pacific Time) the following Monday (It is known as Cyber Monday as well).  
Wealthy Affiliate Black Friday Sale – The perfect time to invest in your online business
---
A good training program can improve your skills and knowledge as an online entrepreneur. The right tools and services can save you a lot of troubles and money when running a business. Making purchases at the right time could save a good amount of money.
Joining Wealthy Affiliate during its Black Friday sale offers all these benefits.
Let's look into the details of Wealthy Affiliate's Black Friday deals and find out why it is the perfect time to join now.
What's included in Wealthy Affiliate Black Friday Sale 2019?
---
Wealthy Affiliate is one of my recommended training programs. 
It is an all-in-one service that offers Affiliate Marketing training, website hosting, community and blogging tools. 
There are so many features offered by Wealthy Affiliate. It could be overwhelming for new members. Below is a summary of what to expect from Wealthy Affiliate membership.
Wealthy Affiliate offers two membership options: Free Starter Member and Premium Member.
Features included in Wealthy Affiliate Starter membership:
---
The 7-day free trial of Premium features
2 Free websites with SiteRubix domain
Beginner Training Course
Personal Affiliate Blog within Wealthy Affiliate platform
Affiliate Bootcamp Training (Limited to Phase 1)
Keyword Research Tool (Up to 30 Searches)
Training Classrooms (up to 2 classrooms)
You can find out more about Wealthy Affiliate and the reason I recommend it in my review here.
Important features that are exclusively for premium members:
---
Weekly Live Interactive Classes
Over 300 Hours of Expert Education
Full Access to Affiliate Bootcamp Training (70 lessons)
Full Access to Online Entrepreneur Certification (50 lessons)
Earn Revenue by Creating Your Own Training
Your Own Authority WA Blog
SiteSpeed, Amplify Your Website Speed
SiteProtect, Increased Spam Protection
Free SSL certificates for your website
Jaxxy Keyword Research Tool
24/7/365 Site support
Live & Instant support
Why Should You Take Advantage of Wealthy Affiliate's Black Friday Deal?
---
The short answer is, it is a good bargain for a quality product.
Regular Premium membership of Wealthy Affiliate costs $49/month, which is $588 a year if paid monthly.  
During the Black Friday Sale event, Wealthy Affiliate is offering $299 for a yearly premium membership.
This deal would save you $289 a year.
With the Black Friday discount, you are only spending $0.82 a day.
To me, this is an attractive bargain. With less than a dollar a day, I have enrolled myself in the quality training program, managed WordPress hosting service, a powerful keyword research tool, and being part of an active and helpful community.
How's that sound to you? Read on, there are more in offer.
What else do you get from Wealthy Affiliate's Black Friday sale?
---
If the heavily discounted price is not enough for you, there are more.
The Wealthy Affiliate Black Friday 2019 deal also comes with 4 exclusive bonuses:
Bonus #1: The Path to Affiliate Stardom in 202 – AMA (Ask Me Anything) live class by one of the Wealthy Affiliate founders, kyle.
Bonus #2: Building an Incredible Internet Business 2020, the White Paper
Bonus #3: Creating a Thriving Authority Website in 2020 (5 weeks of Live Training)
Bonus #4: Early 2020 Beta Access to New Platforms
There is one more huge perk of this year's Black Friday sale. By joining Wealthy Affiliate during Black Friday, you will lock in the same price forever as long as you stay on this membership. That means more savings for you. 
Is it worth to join Wealthy Affiliate?
---
It is. And here is why.
Wealthy Affiliate was founded in 2005. It is an established marketing training platform and is continuously improved. Bundled with web hosting and additional blogging tools, it makes the service very competitive.
The Wealthy Affiliate community is very active. You can almost get the response to your question within minutes.
Before making an investment in purchasing business tools or subscriptions, I always follow a simple checklist:
Does it keep my business cost low?
Is the support, especially technical support such as web hosting, prompt?
Are the training materials complete and updated?
Is there a channel for me to seek help when needed?
Wealthy Affiliate ticks all the boxes.
If you are serious about learning and creating an online business, Wealthy Affiliate is one of the best choices. And Black Friday is the best time to join.
How to get started with the Wealthy Affiliate Black Friday deal?
---
You can get started by creating a new Free Starter Account which will give you 7 days' access to the premium features. 
If you are happy with the service you can take advantage of the Black Friday deal before the end of 02 December 2019 11:59 pm PST (Pacific Time) by upgrading to Premium Membership.
How do I obtain the bonuses?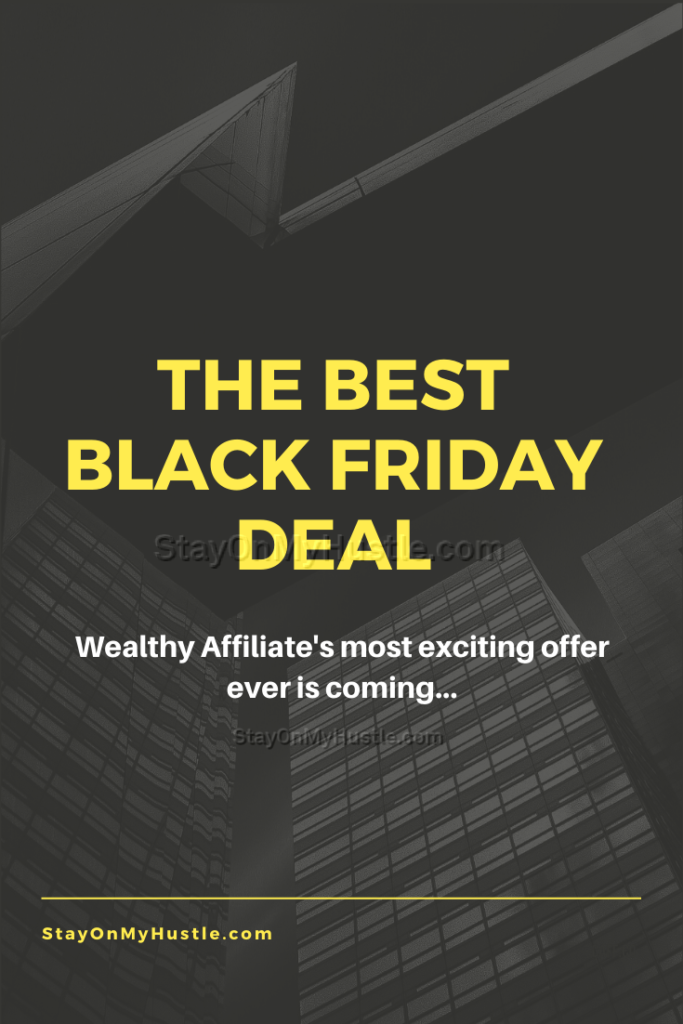 All bonuses are sent to you immediately upon completing the Black Friday signing process. This includes all downloadable and live-class schedule.
Final Thoughts
If you are interested in learning and building an online business, Wealthy Affiliate is a starting point. It offers a very well-structured training program, good quality managed WordPress hosting service and very responsive site support.
The Wealthy Affiliate community is enthusiastic and very helpful. With the live chat service within the platform, there's always someone you can talk to.
I recommend Wealthy Affiliate. And Black Friday is the best time to join the service.
Take Action Now! Make 2020 your best year yet. Don't miss out on this Limited time offer
Take Advantage Of The Most Exciting Offer Ever From Wealthy Affiliate